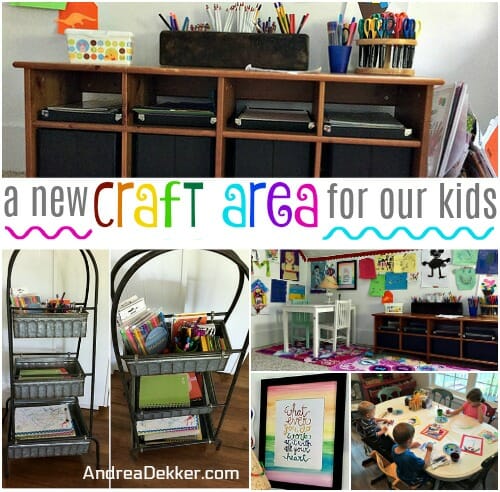 Over the last 5 years, it has become VERY apparent that crafts (and loads of craft supplies) would be a big part of our lives for quite some time.
Miss Nora is such a crafty little lady — that girl would work on some type of craft project every spare moment if I let her! She has lots of really great ideas and some sort of crazy ideas… all of which are fairly "messy" in terms of lots of paper scraps to clean up and stuff to put away.
As you can imagine, Nora's love for crafts has transferred down to the boys, who always want to do whatever Nora does — so we now have 3 avid crafters who all hate putting their craft things away when it's time to eat (or use the kitchen table for anything other than crafts).
You see, our previous craft storage system was to store ALL our craft supplies in the corner of our dining area — specifically the bottom half of the red hutch and the cute metal caddy.
This storage solution worked very well for our family for almost 5 years… and then it stopped working as well.
With 3 crafty kiddos, it became apparent that we needed more space for them to do crafts and more space to display their beloved artwork. I also wanted to move the craft space away from the kitchen table so we wouldn't need to pack EVERYTHING up and wipe up the table and chairs before every meal.
Eventually, we'd like to turn the nursery into a big craft zone; but since our nursery is still in use day and night, we opted to turn a corner of the play bedroom upstairs into a craft zone.
It's not perfect, but the kids LOVE it, and I love that most of their crafty "mess" is out of my kitchen!
As an added bonus, we spent ZERO dollars on this project, only using things we already had — score!
The little white table and chairs (it has 4 chairs) was already in this room, and the bench was moved from our mudroom after my uncle built us a custom storage bench. I also had a bunch of black storage boxes that fit PERFECTLY in the bench cubbies and are great for organizing little supplies.
Nora's "Rules for Art"
1. Don't use too much paper
2. Be Careful
3. Keep body to yourself
4. Listen to the teacher
5. No water
6. Do not break things
7. Read books after you are done
8. Be nice
Oh, and that antique sugar mold… amazing addition to our craft space, right!?! I've had it for YEARS and YEARS — just waiting to be stuffed with crayons and markers in a little kids' craft area.
I had that idea years before Joanna Gaines! 🙂
.
My most favorite part of the new craft area (aside from the sugar mold) is the cute little sign I framed for the space — using a matte and frame we already had in the house, of course!
.
Now, before you start freaking out about the fact that we allow our 2, 4, and 6, years olds to use scissors and markers unsupervised, let me just assure you that our kids are fairly well behaved when it comes to using craft supplies.
Also, we still keep ALL the painting supplies, gak, and PlayDough in the kitchen storage cabinet for use at the table only.
And yes, I do need to vacuum up tiny scraps of paper every few days — but it seems a small price to pay for the amount of enjoyment they get from this space, and the fact that I don't need to persuade them and "fight" with them to move their craft stuff every time we're ready to sit down to eat.
The "mess" is upstairs, I don't have to look at it in my kitchen all day long, and we can simply pick it up once a day before bed.
.
I definitely do NOT think this system would work well for every family or every age child… but the point I hope I make with today's post is that if something isn't working for you, for your family, for your home, for your current stage of life, CHANGE IT!
Don't complain about the fact that it's not working.
Don't continually THINK about how you'd like there to be a change.
Don't wish for a better way.
Just get up and make the change yourself.
It might not be perfect, you might change you mind again in a few months or years, but you might also surprise yourself with how much you like the change or how much more functional and practical the change is for your home or your life.
.
I'm certain we will not keep our craft area in this bedroom forever. Eventually, once Clara is old enough to move upstairs, we'll have a girl's bedroom and a boy's bedroom upstairs… and then (as I mentioned above) we'll hopefully turn the nursery into a dedicated craft space back on the main floor.
By then, the kids will be a little older and even more capable of working on their own. Plus, the nursery has hardwood floors so I don't need to worry about spills or stains as much!
If you have a space in your home that isn't functioning well for your current stage of life, start thinking of ways you could change that space, move the space, create a different space, or repurpose another space to better fit your needs.
You might be pleasantly surprised with what you come up with!!