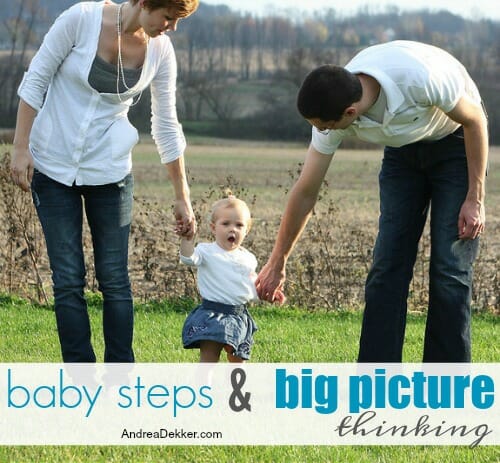 As many of you know, I regularly encourage baby steps and small-but-steady forward progress… and although it might sound like an oxymoron, one of my favorite ways to make small but steady forward progress is what Dave and I call "big picture thinking".
In fact, it's probably one of Dave and my favorite "hobbies" (if you can really call it a hobby). We love thinking, talking, goal-setting, and dreaming about what our lives might look like 5, 15, or even 50 years down the road.
What types of home and yard projects do we want to tackle?
What types of vacations might we want to take with our children (or without our children!)
What would our dream jobs be? And where do we see ourselves working in 5, 15, or 50 year? (hopefully NOT working in 50 years!)
What financial goals and commitments might we want to make?
Will we have any major fitness or nutrition goals to work towards?
Will we ever get a pool? And if so, where exactly will be put it and how will we arrange the rest of our yard to work with the pool?
Would we ever consider buying income properties — like a duplex or a 4-plex to rent out?
Do we see ourselves ever buying an RV or a cottage and traveling for longer periods of time in the summer?
These are a just a few of the things Dave and I have recently talked about — sometimes for just a few minutes, sometimes for longer periods of time after the kids are in bed or when we're driving.
While we rarely ever act on our big picture goals or plans right away, I'm positive that the fact we talk about them regularly helps us to make gradual forward progress towards eventually reaching these big picture goals and dreams.
For example…
If we wouldn't have talked about and searched for our "dream" farmhouse regularly throughout the first 5 years of our marriage, I'm positive we wouldn't currently be enjoying our almost fully renovated "dream house". In fact, I remember telling an older person about our dream to renovate an old farmhouse about 3 years after we were married. Their response was, "well, you'll probably need to wait until your kids are out of the house to be able to afford all that." Little did they know we'd find our dream house before we even had our first child!
And speaking of homes, one of our goals has always been to pay off our mortgage before our first child enters Kindergarten. This goal was put to the test when we sold our much smaller house and purchased a fixer-upper farmhouse 6 years ago. We didn't know if we'd be able to keep up with our aggressive monthly payments on a larger house with more property while also paying cash for all our home renovations, yard work, etc. In fact, many people told us we couldn't do it. However, here we are — mere months from paying off our mortgage… and Nora starts Kindergarten next fall!
I'm often asked how we plan ahead and budget for all our house projects — and while I don't have a step-by-step answer for these questions, I know that the majority of our "planning" and "budgeting" happens in short-but-regular conversations over the course of many weeks, months, and even years. In fact, we planned our current project (one of the upstairs bedrooms) almost 2 years ago. We decided we wanted to take a break from house projects last summer, but that our very first project this spring would be to finally gut and completely renovate the last bedroom in our home.
When it comes to planning any sort of vacation or trip, we don't have a ton of experience yet. Aside from a handful of family vacations with both Dave and my extended families, we haven't done much traveling. However, we would really like to travel more once our children are all sleeping well, potty trained, and slightly more self-sufficient 🙂 Dave and I regularly talk about buying (or renting) some type of RV and traveling for several weeks at a time during the summer. We're not sure if this is actually something we will enjoy, but we sure enjoy dreaming about it now!
I regularly think and dream about what I could do to grow or expand my blog and VA business once all my children are in school and I have a bit more discretionary time. I know I'll be busy in other ways once the kids are older, but I feel somewhat confident that I'll have more time and energy to devote to my own business and hobbies (whatever those look like in a few more years). I know nothing is going to happen any time soon, it's just fun to think and dream about all those 'what ifs' now.
I could continue… but the point I want to make is that even though we don't always take action or see immediate results, the fact that we constantly revisit our big-picture goals and dream makes them feel more real, and it helps us to continue thinking about them and slowly make forward progress to eventually realize our big picture goals.
Of course, there are times when our goals and dreams change completely, there are times when we really want something and it just doesn't happen, and there are times when we're fairly overwhelmed with the "everyday aspects of life" that we don't have any time or energy left to even consider our big picture goals and dreams. HOWEVER, I'm positive that the time we DO spend talking and thinking about these big picture plans is time well spent.
Over the past 11 years, Dave and I have met so many of our big picture goals — thanks in part to our baby steps approach, which makes all those long-terms goals and plans seem so much more reachable!
How do you work through your big picture goals and dreams?