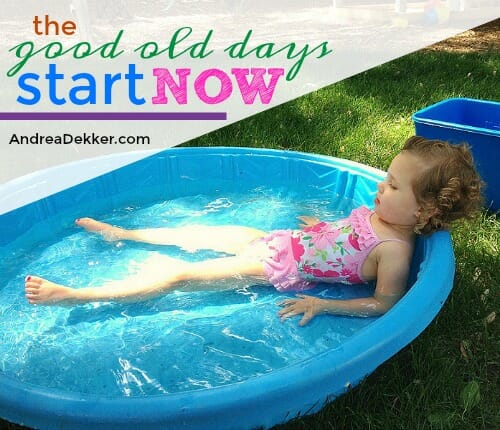 Every year around this time, I start seeing all sorts of blog posts, Facebook memes, magazine articles, and "rants" from others who apparently think today's youth are growing up in a horrible world and wish to time-travel back to whatever decade they feel was "the best" in order to re-live the "good old days" when life was simpler, people were nicer, schedules were slower, and everything was better.
You know… the days when kids apparently played outside ALL day long, never bothering their parents except for a bologna sandwich on Wonder Bread for lunch — which they ate with dirty hands and washed down with water from the hose. Then they went back to playing unsupervised with various neighborhood children until it was too dark to see; all the while, their parents had no idea where they were and didn't really care because everything was safe and all their neighbors could be trusted.
Have you read those types of posts before?
They annoy me! 🙂
.
In my personal experience, almost everyone I know from a different generation looks back on their own childhood memories with rose colored glasses, remembering mainly the good old days and how much better everything was "back then" — whenever "back then" was.
I've heard my grandparents tell my parents how their own childhood was simpler and better than when my parents were growing up — "Our parents never had to bring us anywhere, we just walked or hitchhiked."
I've witnessed my parents tell me how much simpler and better their childhood was — "We left with the neighbor kids in the morning and didn't come home again until we saw our porch light come on at night."
And I'll be honest, I've even caught myself thinking similar thoughts about my childhood versus my children's childhood —"When I was younger, I just enjoyed playing community sports. Now days, everyone seems to do club and travel sports that take up their whole lives."
Isn't it awesome that our memories are naturally inclined to remember the good over the not-so-good when it comes to childhood!
Yes!
Of course there are aspects of today's culture and today's youth that are very different from previous generations — but every single generation can complain about this. It's called progress (a.k.a. CHANGE — and change is difficult for a lot of people). However, America did not grow to be the greatest nation in the world because we were satisfied and never ever wanted anything to change.
Also, I'm 100000% positive there are SO many aspects of life today that are vastly improved over previous generations due to this progress and change.
More safety features in homes and cars
More awareness and resources for neglected children, abused women and children, the elderly, veterans, etc.
More efforts towards proper sanitation, clean water, and knowledge about how germs and diseases spread
More resources, support, and accommodations for those with mental illnesses, physical limitations, addictions, etc.
More ability to communicate with, and travel to, friends and relatives around the world
More access to information, education, and resources to help us help ourselves
I could probably list hundreds of examples if I had the time and energy!
The point I want to make is that our world really isn't all that horrible – certainly not exponentially worse than any previous generations.
Yes, there are things I would change if I could, and aspects of our culture and society I think could be better — but most if it is out of my control.
I'm convinced today's youth will grow up into fine adults who can fend for themselves, live on their own, and make a decent life for themselves (despite what all the blog posts and magazine articles try to scare us to believe).
And you know what, in 20-30 years when our little kiddos are raising their own families, I wouldn't be surprised if they think back to their childhood and remember how "simple and carefree" life was back then.
Our children will be just fine — even if they drink filtered water from their very own BPA-free water bottle, eat organic chicken nuggets with freshly sanitized hands, have pre-planned play dates and educational field trips, and are carefully watched by their parents wherever they go.
Just as in every other generation before us, we love our children and want to give them our version of "the best" — whatever that is at our current stage of life.
And just as in every other generation before us, our children will most likely remember all the good times they had growing up… and how much better their childhood was than any other generation.
.
So as you gear up for another summer of fun with your kids — don't let those ridiculous blog posts, magazine articles, or Facebook rants worry you.
You are doing great… and I have a feeling your kids will remember their childhood as "the good old days", just like you remember yours!
Just for fun… what are some of YOUR best childhood memories?