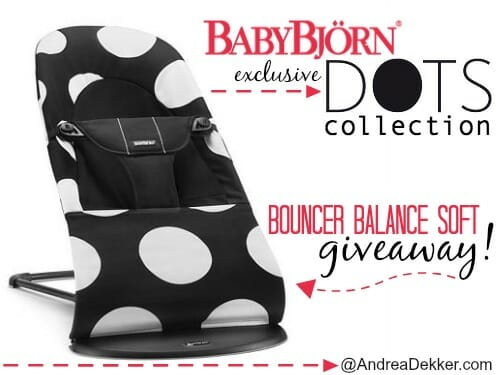 The BabyBjörn Bouncer has been one of my most-loved baby essentials for over 3 years now — basically since about 2 hours after we brought Nora home from the hospital (seriously).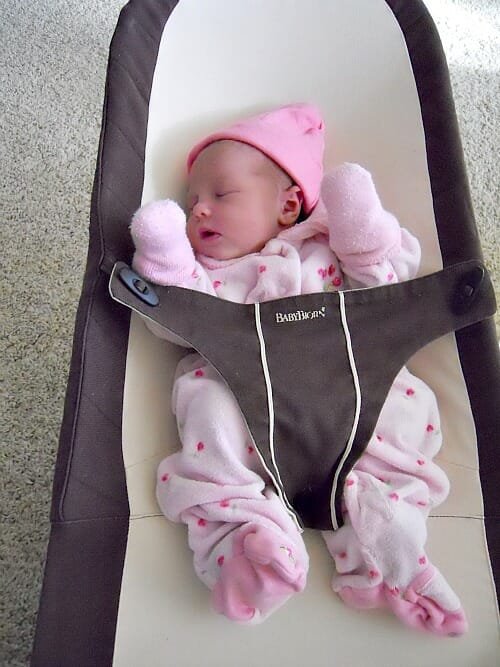 I was introduced to the BabyBjörn brand from a friend even before I found out I was pregnant… and from that moment on, I KNEW I wanted the Baby Björn Bouncer for our first baby.
Thankfully, I was fortunate enough to find an amazing deal on Craigslist about 2 months before Nora was born… and boy have our kiddos bounced more than a few miles in this bad boy.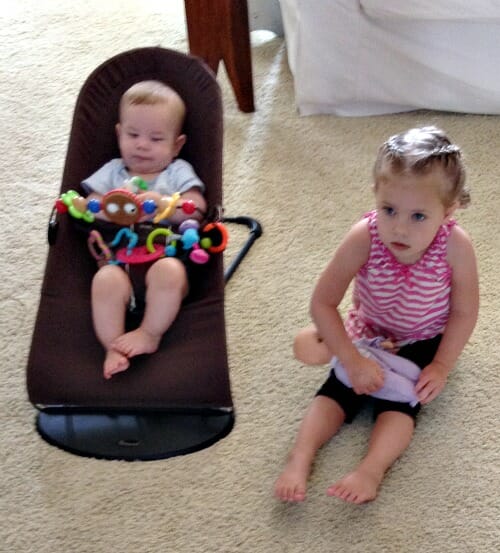 There were many days when this bouncer was my ONLY break from holding Nora 24/7, and nights when she slept in it because it was literally the only way we could get her to sleep for more than 10 minutes at a time.
To this day, she STILL loves "lounging" in her chair… even though she is way too big and practically lays flat on the ground 🙂
Thankfully, we now have 2 bouncers so the kids don't need to fight over them!
Recently, BabyBjörn came out with a brand new collection — called Dots. It's a super cute, exclusive polka-dot pattern that is ONLY available at Kohls.com.
Isn't it pretty?
Simon likes it too 🙂
He's getting so big that he can get in and out himself and doesn't need to be strapped in. However, getting out is still a little rough as his feet don't quite touch the floor — so he basically just "falls" forward into a crawling position. He LOVES not being strapped in though!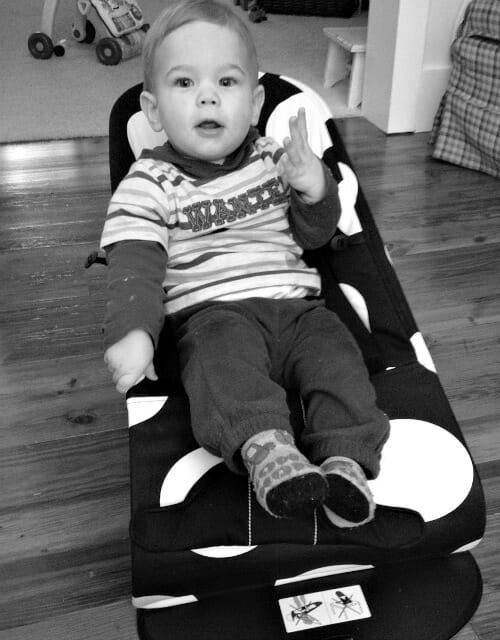 My 5 Favorite BabyBjörn Features:
I've shared this list before, but figured I should include it again in this giveaway — for anyone who hasn't read my professed love of the BabyBjörn bouncer!
1. It folds completely flat and takes up almost no space — very abnormal for baby gear!
2. It's fully washable — just slide the fabric off, wash, dry, slide back on!
3. It has a very long useful "life" — from day 1 all the way through 2 or 3 years old.
4. It's "baby operated" — a.k.a. no batteries to replace, no cord to trip over, nothing to break, no motor to die, and no parent's foot required.
5. My babies LOVE it! You know how frugal I am AND how much I hate clutter. So for me to splurge on a pricier piece of baby gear, it has to be worth it. This bouncer seat is worth every penny and more based on the amount of sanity it has saved me over the past 3 years!
More About BabyBjörn:
BabyBjörn is a Swedish family-owned business started in 1961 by Björn Jakobson. Their business concept was, and still is: To make day-to-day life easier for parents of small children by developing safe and innovative products of the highest quality for children up to three years old.
Read the history of the BabyBjörn Bouncer here.
Visit BabyBjörn on the web:

Website: www.babybjorn.com
Website for the exclusive Dots line:
Facebook: BabyBjörn US
Twitter: @BabyBjörnUS
Pinterest: BabyBjörnUS
YouTube: BabyBjörn1961
Enter To Win This Giveaway!
Today, one lucky reader will win a BabyBjörn Bouncer Balance Soft in the limited-time Dots pattern.
Also, don't forget that the Dots pattern is currently on sale at Kohls.com through February 22, 2015!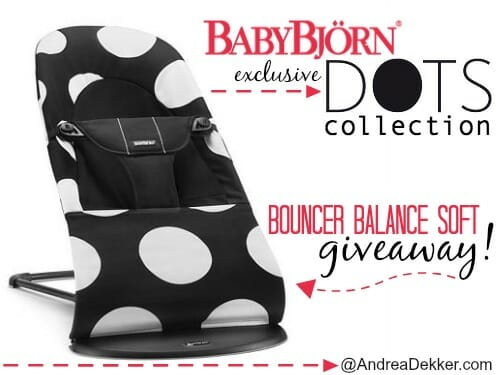 To enter, simply use the Rafflecopter widget below (it might take a second to load).
a Rafflecopter giveaway

This giveaways ends at 11:59 pm EST, Monday, 2/2/2015 and is open to US residents, 18 years or older. The winner will be randomly selected via Rafflecopter and notified via email. I received a duplicate prize package in exchange for hosting this giveaway — all opinions are 100% my own. Please see my full disclosure policy and contact me with any questions you have. Good luck!