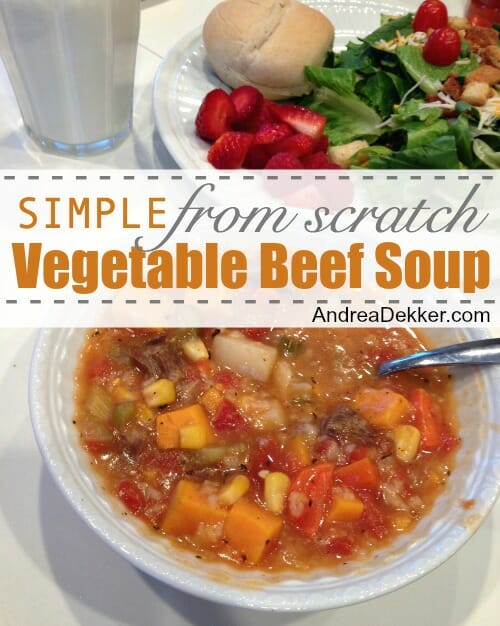 After 3+ weeks of frigid temperatures and lots of snow (we were so spoiled in December with mild temperatures), soup has been in regular rotation on our weekly menu plan.
A couple weeks ago, the ONLY soup I really wanted to make was vegetable beef soup. I had lots of veggies in the house (some that were starting to get a bit wilty) and I knew I had an extra pound of stew beef in the freezer.
The next day, I satisfied my craving for vegetable beef soup — making it in the morning and eating it for both lunch and dinner that day 🙂
I didn't have an exact recipe (I've actually never made this soup from scratch before) but I'm super happy with how it turned out. And since it was a relatively simple, throw-everything-into-the-pot type of recipe, I figured it would be a good one to share here on the blog!
If you have a bunch of veggies to use up and are looking for an easy make-ahead, very hearty meal, I'd recommend giving this vegetable beef soup recipe a try.
Recipe for Vegetable Beef Soup
Serves 8-10
INGREDIENTS:
1 lb. beef stew meat (I cut mine into much smaller pieces than the package provides)
1 onion; diced
1 T. minced garlic
7-10 c. broth or water (depending on how thick you want your soup)
3 carrots; peeled and diced
1 potato; peeled and diced
1 sweet potato; peeled and diced
2 stalks celery; diced
1 to 2 c. frozen peas
1 to 2 c. frozen or canned corn
2 cans (15 oz) diced tomatoes with juice
1/2. c. rice (you could easily do more if you want a thicker soup)
1/2 t. basil
1/2 t. thyme
2 bay leaves
1 t. salt (or to taste)
NOTE: You can add ANY vegetables you like and/or have in the house. If it's too thick, add more water or broth. If it's too thin, add more rice or potatoes.
You can also substitute ground beef for the stew meat — although I think that completely changes the taste of the soup (not bad, just different).
DIRECTIONS:
In a large stock pot, brown stew meat with onions and garlic — stirring to prevent burning. Drain fat (if any) and return meat mixture to the pan.
Add all remaining ingredients (I usually start out with 7 c. of water/broth and add more as necessary) and bring to a boil
Reduce heat, cover, and let simmer for 1-2 hours.
Remove bay leaves and serve.
See, told you it was simple!
This soup is fabulous as leftovers and keeps well in the fridge for several days. It also freezes well — so feel free to make a double batch.
It really hit the spot on a -10*F day and definitely satisfied my Vegetable Beef Soup craving.
What are your favorite cold-weather soup recipes?
Visit my virtual recipe box for more simple, delicious, family friendly recipes!