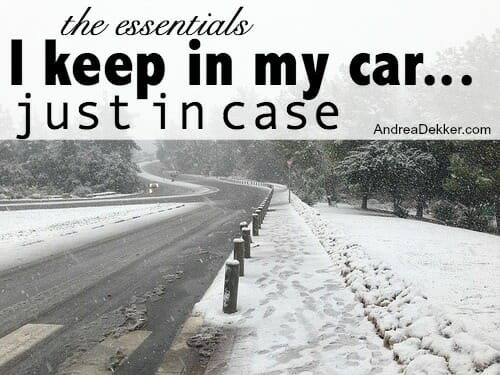 We live in Michigan… more specifically, West Michigan. This means we have pretty nasty winters, thanks to "lake effect" snow, sleet, and ice that blasts our area on a very regular basis ALL winter long.
One of the many reasons I'm SO grateful to work from home is because I absolutely hate driving in bad weather. Even though I have lived in Michigan my entire life and have driven on many, many icy roads, I'm still a nervous wreck every minute I'm driving during adverse conditions. And after having kids, this got much worse as I always dreamed up the worst-case scenario (usually that we would get in an accident and I wouldn't be able to call for help so we would be stranded and the kids would be screaming).
Before kids, I just kept jumper cables and a blanket in my car "just in case". However, after Nora was born (at the end of November — and right at the beginning of bad weather) it didn't take long until I realized that I should probably have more of an emergency kit in the trunk of my car. After all, getting into an accident or being stranded with a newborn baby would be 100 times more stressful than if I was all on my own.
.
Now, after 2 kids and a few more super snowy winters (we had record-breaking snowfall last winter!) I've come up with a pretty good list of items I keep in my car at all times — and while it might seem a little "over the top" to some of you, it sure makes me feel better knowing I'm always prepared (and remember, I live in Michigan!)
I'll often swap out different items based on the time of year and as my kids grow older… but today, I'm sharing everything I keep in my car year-round, as well as the extras I add in during the winter and summer months.
I'm also sharing additional tips and advice from the Allstate Information Team. Lots of good advice no matter where you live — but especially if you live in a cold, snowy climate like we do!
What I keep in my car year-round:
License, registration, and insurance paperwork for the car: obvious, but I figured I should mention it.
Jumper Cables: yes, you should definitely have these in your car!
A rope: usually used to tie down the back of my trunk when I'm carrying a large Craigslist load — but still potentially useful in the event of an emergency 🙂
Umbrella and flashlight: obviously — also, the flashlight is one of Nora's favorite "toys" to play with in the car!
Phone charger: I have this charger. It plugs into the car's AC adapter and also any USB port so I could charge it from a laptop as well.
Sunglasses: for me, for Dave, and for Nora.
Blanket: We have a nice one that is waterproof on one side and warm/fuzzy on the other. It also folds into a pillow. It's similar to this one I found on Amazon — although I got mine when I was in college.
Umbrella stroller: we just got this stroller as a gift over Christmas and I really like how convenient it is to always have a stroller in the car.
Boba Air baby carrier: seriously, this has been life-saving so many times, especially when Simon was smaller!
Smaller blanket for each kid: these blankets have come in handy year round — but they are extra handy in cold winter months.
Plastic grocery bags and reusable grocery bags: I always have a few plastic bags in the car for trash and dirty diapers. I also keep my reusable shopping bags in car for groceries or in case I need to carry something extra.
Diapers and wipes: I always keep 2 or 3 diapers and a package of baby wipes in the passenger seatback pocket. This has come in handy so many times — especially the baby wipes as they can practically clean anything!
Gum, mints, and candy: If you look inside my center console, it's basically like a Halloween party as it's full of gum, mints, Smarties, and other candies. No, I'm not ashamed of this 🙂
Paper and pen: seriously, I can't tell you how many times this has been extremely useful.
Chapstick, lotion, and hand sanitizer: all basic necessities if you ask me!
Bottled water: although we almost always bring our own reusable water bottles with us everywhere we go, I like to keep a few bottles of water in the trunk just in case. These have actually come in handy when I've had to clean something and didn't have access to water!
So that probably sounds like A LOT of stuff to keep in the car at all times — but I promise it doesn't take up much room at all.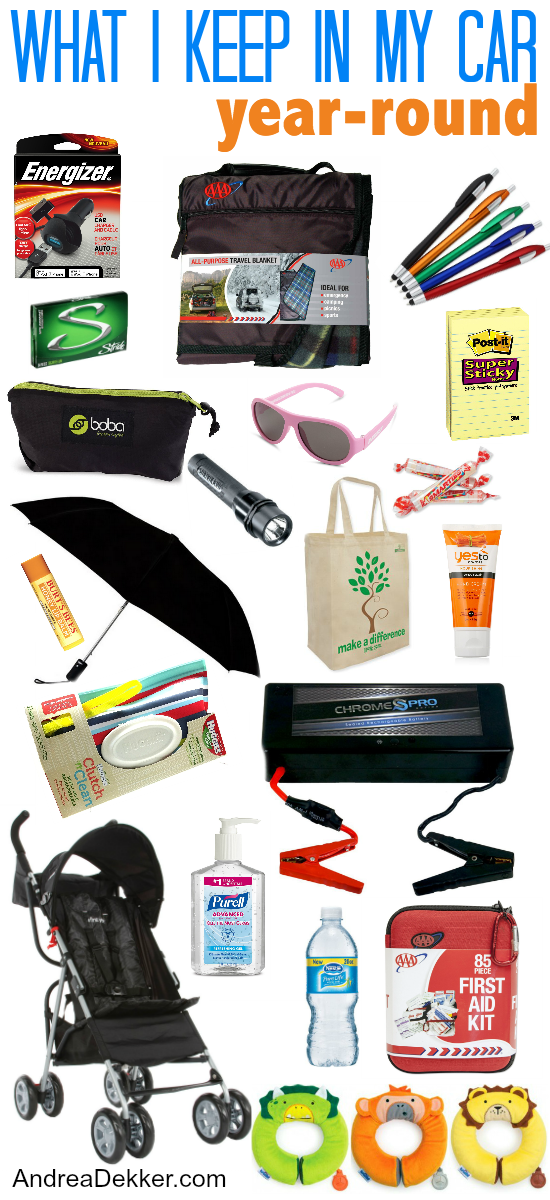 All the car registration and other information is in the glove box; and we have a special sunglasses compartment up by the visors.
The candy, gum, mints, pens, paper, sanitizer, chapstick, lotion, etc. is in the center console; and the phone charger stays plugged in to the AC adapter all the time (it doesn't take energy when the car is not running).
The diapers, wipes, plastic bags, umbrella, and flashlight are in the passenger seatback pocket. The first aid kit is under the driver's seat. The Boba carrier and reusable shopping bags are in the driver's seatback pocket.
We keep the blankets and pillows right in the kids' car seats since they use them every time we travel.
The jumper cables are in a "hidden" compartment with our car jack — kind of under the trunk floor and totally out of the way.
The umbrella stroller is always folded up in the trunk, along with a cute picnic basket that contains the water, larger blanket, rope, and seasonal necessities (which I'll elaborate on below).
Extra Winter Essentials:
During the frigid, icy, winter months, I always make sure my kids (and myself) are wearing good boots whenever we go out — just in case we need to walk through snow. And of course, we have the blankets for each car seat — and all the other "goods" I listed above.
However, in addition to the items I keep in the car year-round, I add in some extra stuff for cold weather. I keep everything inside the picnic basket in our truck so it's very portable and light-weight if I need to carry it anywhere.
Ice Scraper (I think we actually have 2 in each vehicle — and this is the one thing I don't keep in the picnic basket.)
Extra hat, gloves, socks, pants, and sweatshirts for the kids.
A few non-perishable snacks, an extra bottle (with some travel-size formula packs), and an extra sippy cup, just in case we're stranded for a longer period of time.
The folks at Allstate also suggested keeping a container of kitty litter (for traction), extra windshield washer fluid, and an emergency shovel on hand — all of which I never thought of!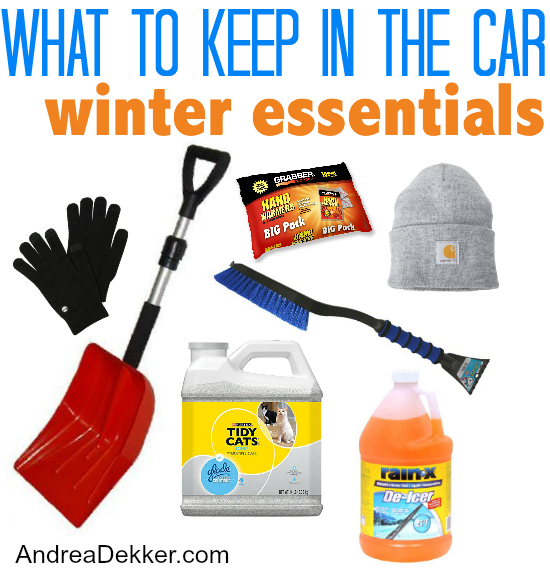 Extra Summer Essentials:
In the warmer months, I swap out our winter essentials for summer essentials (and again, I store everything in the picnic basket in the trunk so it's portable).
Sunscreen (I realize it's not good to keep this in a hot car, but I figure it's better to have something than nothing if I'm really running stuck)
An extra sun hat for each child
A change of clothes for both kids — we get dirty a lot in the summer!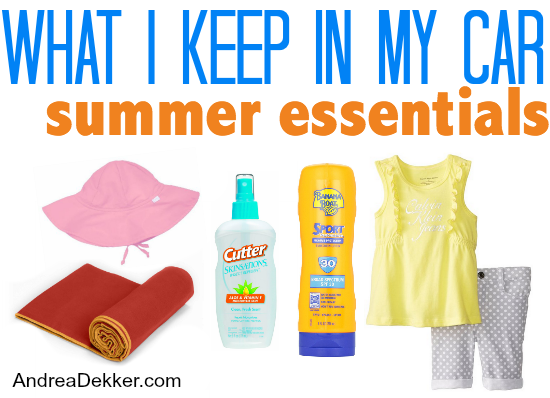 It honestly only takes me a few minutes to swap out the winter stuff for the summer stuff (and then summer for winter 6 months later) and everything else just stays in the car. So while I realize this might sound like a huge list of things, it's something I rarely even think about anymore — it's just there for us when we need it and out of the way when we don't.
In fact, I'm positive it took me longer to write this blog post, listing everything out, than it did to stock our car — or replenish our supply after we use an item.
I'm also positive that the benefits I've gained from always being prepared have far outweighed any small amount of time I've spent packing up our essentials. I'm to the point now where I feel comfortable leaving the house for a quick trip with nothing but my wallet, keys, and phone. I know that IF I need to change a diaper or change clothing for some reason, or IF the kids randomly become starving, or IF someone get's hot/cold, or IF we need to walk further than I thought, I have everything we need "just in case".
And yes, that makes my Type-A momma's brain (and heart) happy!
If you don't already have most of these items somewhere in your car, I would highly encourage you to find a place to stash them — especially the winter essentials if you live in a snowy state!
Better safe than sorry… right!
What essentials do you keep in your car?
This post was written as part of the Allstate Influencer Program and sponsored by Allstate. All opinions are mine. As the nation's largest publicly held insurance company, Allstate is dedicated not only to protecting what matters most—but to guiding people to live the Good Life, every day. For more helpful tips like this, visit the Allstate Good to Know community.