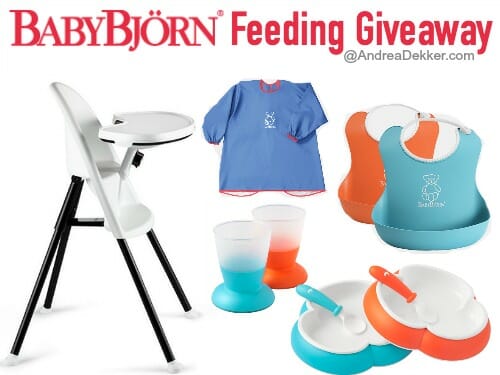 You all know how much I appreciate, enjoy, and utilize the BabyBjörn products on a daily basis (multiple times every day to be exact).
Our BabyBjörn bouncer was one of the very first baby things I purchased (from Craigslist) even before Nora was born — because I KNEW that was the exact bouncer I wanted.
It was just so simple, practical, easy to wash, easy to store, easy to use, no batteries, no cords, no bells and whistles, no fancy gadgets, just a super simple bouncer that both my children have LOVED!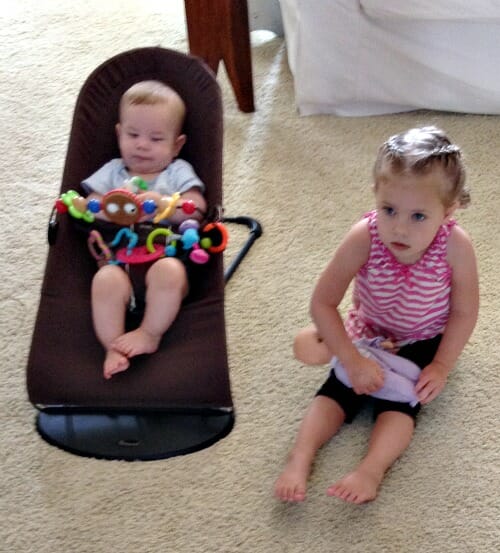 As my kids have continued to grow, I've realized that ALL of the BabyBjörn products are made with the same simplicity that creates easy to use, easy to clean, and easy to store products that are loved by kids and their parents (win, win, win, win).
The BabyBjörn line of Kitchen items for infants and toddlers are (no surprise) top of the line as well, and we've really enjoyed using many of their bibs and feeding items over the last couple of years.
We've been using our BabyBjörn Soft Bibs since Nora was tiny, and they are hands-down the best bib for messy infants and toddlers. In fact, Nora still insists on wearing her bib every time she eats anything — and that's fine by me as it means less mess to clean off the floors 🙂
Simon is at the stage where he can pull the soft bib off (and he is WAY WAY messier than Nora) so for now, we're using the BabyBjörn Eat and Play Smock — which essentially covers his entire body and arms and prevents any food from getting on his clothes!
After we're finished eating (and making a huge mess) I simply rinse out the soft bib and "spray off" the smock, let them air dry, and we're ready to go again.
I can also throw the soft bib in the dishwasher and the smock in the washing machine when they get really messy (I usually do this weekly or as necessary).
.
Nora has been enjoying the Baby Björn plates, spoons, and cups. She's SLOWLY learning how to drink from a "big girl cup" and holy smokes, I'm not sure I have the patience for this!
Simon looks like a big boy in the fabulous BabyBjörn high chair — which, as expected, is super easy to set up, super easy to clean, and incredibly space-saving (it would be perfect for smaller homes and apartments!)
At this point, we're planning to "save" the BabyBjörn high chair for the next baby as I figured it will be nice to have one "newer" thing for him — and we'll need to have 2 high chairs for a while anyway.
In the mean time, we'll be thoroughly enjoying and getting daily use out of ALL of our other BabyBjörn feeding items!
More About BabyBjörn:
BabyBjörn is a Swedish family-owned business started in 1961 by Björn Jakobson. Their business concept was, and still is: To make day-to-day life easier for parents of small children by developing safe and innovative products of the highest quality for children up to three years old.
Visit BabyBjörn on the web:

Website: www.babybjorn.com
Facebook: BabyBjörn US
Twitter: @BabyBjörnUS
Pinterest: BabyBjörnUS
YouTube: BabyBjörn1961
Enter To Win The SIX Giveaway!
Today, one lucky reader will win a BabyBjörn High Chair + Smock (perfect for infant feeding).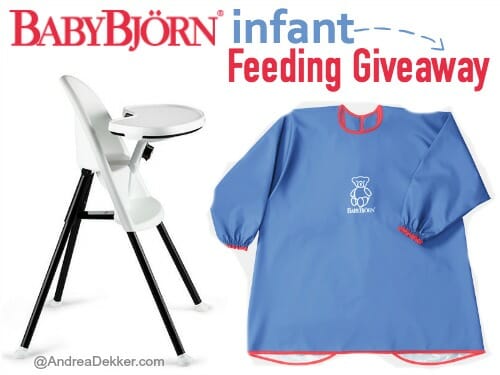 Use the Rafflecopter widget below to enter the infant feeding giveaway (it might take a second to load).
a Rafflecopter giveaway

Another lucky reader will win a 2-pack of BabyBjörn Soft Bibs + a 2-pack of the cups, plates, and spoons (perfect for toddler feeding).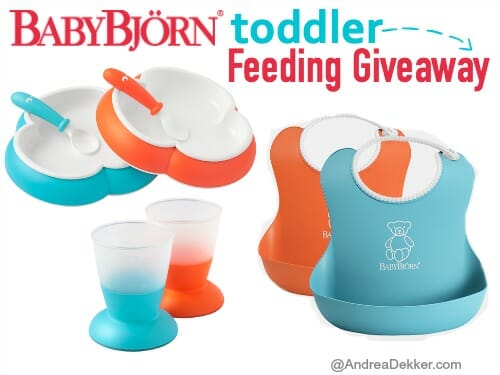 Use the Rafflecopter widget below to enter the toddler feeding giveaway (it might take a second to load).
a Rafflecopter giveaway

Finally, 4 other lucky readers will win either a soft bib or a smock — perfect for any child from birth – 5 or 6 years old!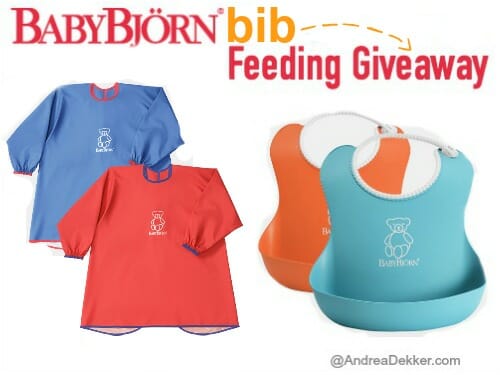 Use the Rafflecopter widget below to enter the bib/smock giveaway (it might take a second to load).
a Rafflecopter giveaway

This giveaways ends at 11:59 pm EST, Monday, 3/30/2015 and is open to US residents, 18 years or older. The winner will be randomly selected via Rafflecopter and notified via email. I received a duplicate prize package in exchange for hosting this giveaway — all opinions are 100% my own. Please see my full disclosure policy and contact me with any questions you have. Good luck!