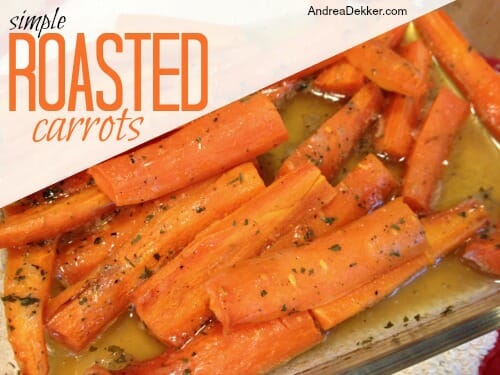 Although neither one of our children has come to appreciate raw or cooked carrots (no matter how I make them) these roasted carrots are a favorite of Dave and mine… and basically my entire extended family (they are a staple at any holiday gathering).
These carrots are SOOOOOOO simple to make, require almost zero hands-on time, and they can even be made in the microwave if you're short on time!
Oh yeah, and they taste amazing!
I've served these carrots as a side dish to almost any any meat — salmon, pork, ham, roast beef, chicken, turkey, Tilapia, and even my famous ham and cheese baked sandwiches!
Of course, I can't speak for everyone, but I dare to bet that even if you THINK you don't like cooked or roasted carrots, you WILL like these. There is just something about them that seems to please most taste buds and works with almost any main dish.
If you're looking for a simple side dish you can pop in the oven with whatever else you're making, I'd highly recommend giving this recipe a whirl 🙂
Recipe for Simple Roasted Carrots
serves 8
INGREDIENTS:
1 pound carrots (either baby carrots or peeled and sliced carrots)
1 package (1 oz.) Ranch seasoning mix
1 stick butter (1/2 c.)
1/4 c. brown sugar
DIRECTIONS:
Preheat oven to 350*F
While oven preheats, put butter in a 9″ x 13″ baking dish and put dish in oven to melt the butter
When butter is melted, add raw carrots to butter in dish and mix until fully coated
Sprinkle Ranch seasoning and brown sugar over buttery carrots
Toss lightly to combine
Put dish back into preheated oven for 45-60 minutes (or until carrots are tender)
NOTE: the cooking length will vary greatly depending on how large your carrots are. If you are leaving them whole or quite large, you'll probably need 60-80 minutes. On the other hand, if you cut them into bite-size rounds, you might only need 35-40 minutes.
Also, I make a MUCH smaller batch for our small family (as pictured above). I usually just toss a handful of carrots in melted butter and sprinkle a little brown sugar and ranch seasoning on top. Nothing scientific — and they've never tasted bad 🙂
In the Microwave:
As I mentioned above, you can easily do the same thing in a microwave dish using the same ingredients, just a slightly different cooking method.
DIRECTIONS:
Put carrots in a covered, microwave-safe dish
Cover carrots with water
Cook on high for 10-12 minutes (or until carrots are tender)
Drain water
Add butter, stirring to melt
Add brown sugar and seasoning and stir to coat
I use my Pampered Chef microwavable pan to do the carrots and it works amazingly well.
.
So there you have it — with about 5 minutes of hands-on time (less if you're using baby carrots) you have a delicious side dish for almost any time of year, any occasion, and any meal.
What is your favorite way to serve carrots?
Visit my virtual recipe box for more simple, delicious, family friendly recipes!