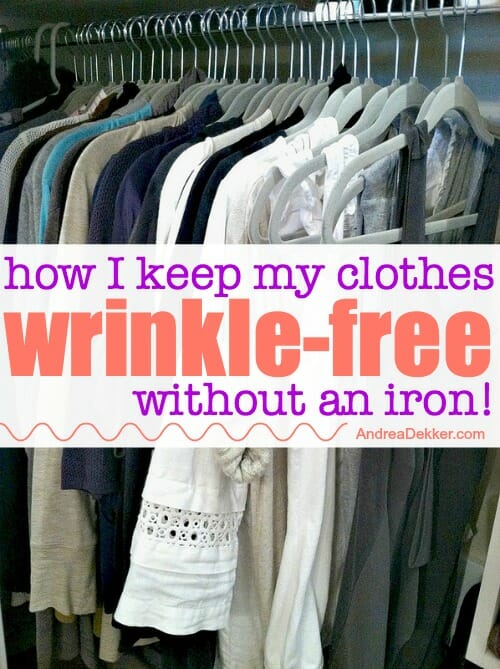 Although Dave irons all his own school clothes every weekend (for the following week, yes, I know I'm lucky!) I can easily count on one hand the number of times I've ironed clothing since we've been married.
I think the final count is 3 times — and all 3 times were for a wedding 🙂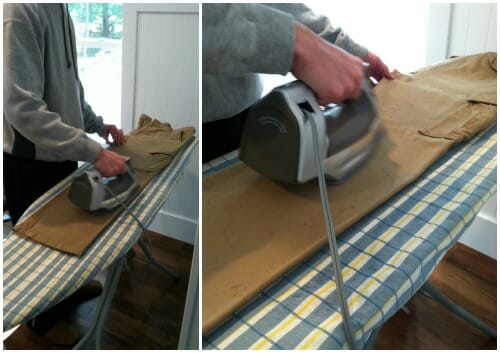 I realize many of you might be thinking "duh, she works from home" but what you might not know is that I used to work full-time outside the home (in the business world) for a few years before my organizing business picked up enough.
I got dressed up every day, plus I get dressed up for church, I occasionally attend special events that require a dressier wardrobe, and even when I am home, I don't necessarily want to look frumpy every day!
That said, I never EVER iron… and I can guarantee my clothes are NOT full of wrinkles either.
One of the key factors in not needing to iron is that I purposely stay away from buying any clothing that requires special care (like hand washing, dry cleaning, or ironing). I choose fabrics that are relatively wrinkle-free… and I'm so thankful for how many choices there are!
However, I also have two REALLY SIMPLE tips that I thought were pretty much common knowledge… until a couple weeks ago when I was talking about it with a group of friends (who also dislike ironing!). They had never thought to do this… so I figured it might be worth sharing here on the blog too.
My "secret tips"???
1. I shake out my wrinkle-prone clothing before putting them in the dryer.
Now, when I say "wrinkle-prone clothing" I mean things like khaki pants and shorts, button-up shirts, dressier t-shirts, Nora's dresses, pillowcases, etc. Basically items that can get wrinkly if they are all clumped up in the dryer.
I certainly do not take the time to do this with jeans, comfy clothes, PJ's, sweaters, etc. because those items rarely show wrinkles (at least by my standards!)
So since I'm usually the only one switching the laundry, I try to quickly scan through the items as I toss them in the dryer and when I come across something that might wrinkle (my clothes, Dave's clothes, or the kid's clothes) I'll quickly shake it out, pull the sleeves and legs straight, fix the collar (if applicable) and make sure the pockets are shoved in properly.
Then, I'll toss it in the dryer with everything else and go on my merry way.
2. I remove items from the dryer immediately.
I'll be honest, this doesn't always happen because I'll often run the dryer while I'm out running errands or even while we're sleeping. But as much as possible, I try to remove the items from the dryer immediately (while they are still warm) and shake out the wrinkle-prone items again.
If something is really wrinkle-prone (like Dave's dress shirts) I might remove them from the dryer when they are still slightly damp, shake them out, and immediately hang them to finish drying.
Like I said earlier, these are super simple tips that you all might already do… but since I have run across a fair number of people who thought these tips were fabulous, I figured it couldn't hurt to share 🙂
What are your best non-ironing, wrinkle-removing tips?
Click HERE for more simple laundry tips!