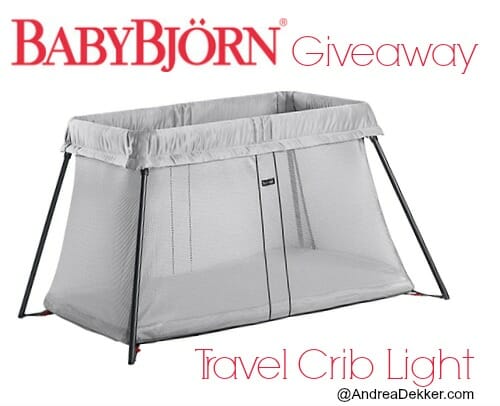 I've been a HUGE fan of all BABYBJÖRN products since the moment I purchased their Bouncer. Nora has sat in that bouncer nearly every day since she was born — and although she will share it with Simon, she won't do it without putting up a stink!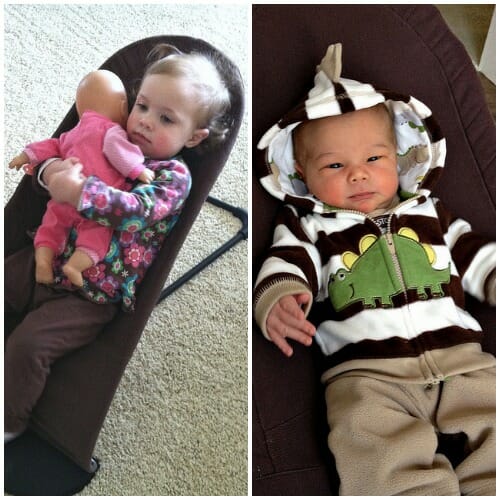 We also adore their Soft Bib — and pretty much everything else they make!
Yes, the BABYBJÖRN brand can be a bit pricey, but their products are so simple to use, so streamlined and "low-profile", so well thought out, and so sophisticated looking (no Winnie the Pooh or Mickey Mouse thank you very much). I also love that their products are gender neutral and tend to "grow with your child" — meaning you only need to buy one thing instead of 5!
The newest BABYBJÖRN product is their Travel Crib Light — a super light-weight, super portable crib that easily accommodates children from birth through age 3.
Here are 5 of my favorite features of the Travel Crib Light:
1. It's Light-Weight and Very Portable:
So this might be an obvious fact based on the name — but it really is SUPER light-weight. It's only 13 pounds (including the carrying case) and its ultra-slim profile makes it easy to stash in almost any close, vehicle, hotel room, airplane, etc.
2. It's Washable:
The entire crib is washable — all the fabric zips off the frame and can easily be thrown into the wash when necessary. There is also a protective covering over the mattress that easily zips off. As far as I know, there aren't any other travel cribs that are completely washable — one feature that has always bugged me in the past, so I'm THRILLED to now have a 100% washable travel crib.
3. It's SO Simple:
When my Travel Crib Light arrived in the mail, Nora was super excited and wanted me to open it right away. I was initially hesitant because I pictured myself struggling for 15-20 minutes trying to get the thing set up. However, without even looking at the instruction manual, I had the entire crib set up in about 2 minutes. Now that I know what I'm doing, it takes about 30 seconds to unfold the legs, flip it over, and pop the mattress inside.
And yes, it's just as easy to fold back up again!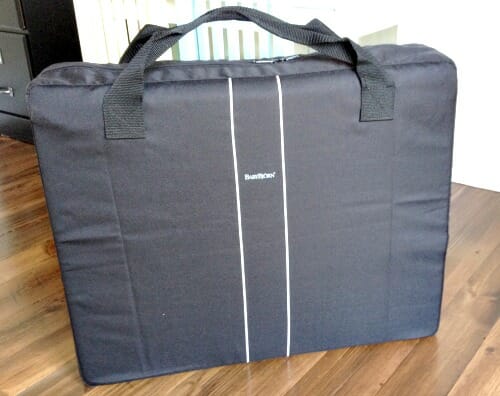 4. It's Attractive:
I realize that baby items should be practical and functional, not necessarily fashionable; but this Travel Crib is all 3. It's lovely black zippered case almost looks like a business bag, and the grey, silver, and black fabric of the crib is so much nicer than pastel strips, plaid patterns, or Disney characters (at least for me). I love that this product looks great and doesn't scream "baby", while still being extremely practical and functional.
5. It's the Perfect Size:
Many of the travel cribs I've tried in the past are either hugely bulky or exclusively for infants — neither of which is ideal for me and my situation. I wanted something that could work for a tiny baby and a larger toddler if necessary… and the BABYBJÖRN Travel Crib Light fits the bill. As you can see by the photos below, Simon is super comfy… and Nora still has a little room to move (and she's in the 95th percentile for height).
The BABYBJÖRN Travel Crib Light is the perfect choice for families who enjoy traveling, families who are always on-the-go, or even those of us who just need an extra kid's bed for Grandma's house.
I would highly recommend this product and am super excited to be offering it as a giveaway today!
Simon is excited too 🙂
More about BABYBJÖRN:
Since 1961, BABYBJÖRN, a family-owned Swedish company, has manufactured high quality, innovative products for infants and toddlers. Best known as makers of baby carriers, BABYBJÖRN has more than 20 products in its portfolio.
Available in 50 countries, BABYBJÖRN is a preferred brand with parents around the world. Their award-winning Swedish product designs guarantee safety, quality and style. The company works extensively to eliminate substances that are hazardous to health or the environment in the materials used in manufacturing BABYBJÖRN products.
Visit BABYBJÖRN on the web:

Website: www.babybjorn.com
Facebook: BabyBjörn US
Twitter: @BabyBjörnUS
Pinterest: BABYBJÖRN US
YouTube: BabyBjorn1961
Enter To Win This Giveaway!
Today, one lucky reader will win a BABYBJÖRN Travel Crib Light, valued at $299.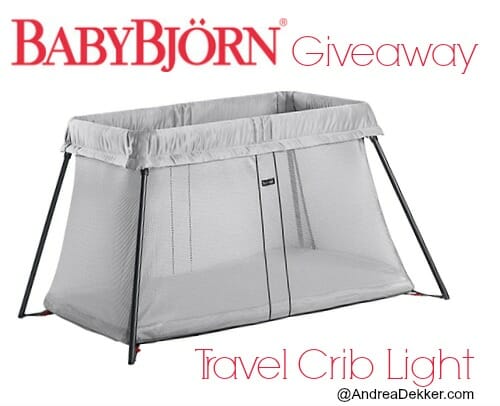 To enter, simply use the Rafflecopter widget below (it might take a second to load).
First, enter your name and a valid email address (so I can contact you if you win) and click "log in" (you are logging into THIS specific giveaway, and I will be the only one who sees your email address.) Next, click "Enter to Win". Finally, click the big green ENTER button!
This giveaways ends at 11:59 pm EST, Saturday, 5/3/2014 and is open to US residents, 18 years or older. The winner will be randomly selected via Rafflecopter and notified via email. I received a duplicate prize package in exchange for hosting this giveaway — all opinions are 100% my own. Please see my full disclosure policy and contact me with any questions you have. Good luck!