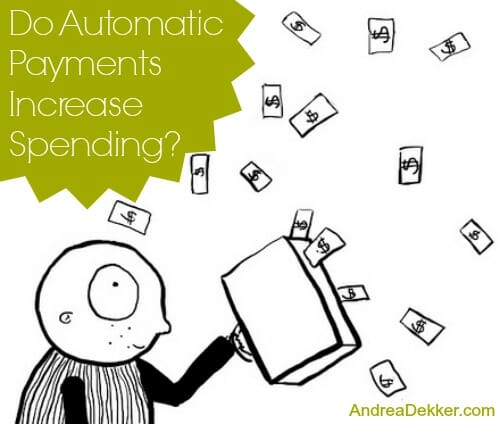 I've already shared a bit about how we automate our saving and investing to help us save and invest more. I've also shared how we purchase almost everything with our credit card and have our credit card, our mortgage, and any other bills automatically withdrawn from our checking account each month.
The truth is, we almost never need to manually make a payment or move money around — we have everything set up to automatically do what it's supposed to do every month. This saves us LOADS of time and energy by not needing to write checks, keep track of our bills, make sure we make the payment on time, etc. etc. In addition, we don't have to deal with paper statements and a bunch of extra junk mail.
As I've shared our paperless and automatic way of running our finances over the years, I'm often asked if I think automating things makes it easier to inadvertently increase our spending (even if it's just a little bit).
That's a good question — and honestly, my "short answer" is YES.
It IS easier to bump the heat up a few degrees in the winter or overlook a small increase in our cell phone bill because I never actually "feel the pain" of writing the check at the end of the month.
It IS easier to justify a mini splurge at the grocery store when I just swipe my card and never have to think about it again.
It IS easier to swing through a drive-through (even if we don't have gift cards) when we're running short on time and don't feel like eating leftovers for dinner.
I will be the first to admit that by automating our payments, we have the potential to increase our spending. HOWEVER (and that's a big "however") I personally feel that the amount of time and energy we save by not worrying about all these financial details every month definitely outweighs the small amount of extra money we might spend.
I realize this might not be the case for everyone, but since Dave and I honestly don't spend that much money, the number of times we would have the potential to over-spend are not that many. In fact, if you saw our credit card bill (and we pay for EVERYTHING with our credit card) I think many of you would be shocked at just how few times we swipe our card each month.
Our "normal" monthly credit card bill contains the following:
All our utility bills (gas, electric, cable/internet, and cell phone)
4 or 5 trips to Meijer (our local grocery store — and pretty much the only store I visit each month)
2 or 3 stops at the Meijer gas station (Dave's car gets really good mileage and I hardly drive anywhere)
Maybe 1 order from Amazon.com (if I don't have enough credit built up to cover my order)
Maybe 1 restaurant bill (on the rare occasion we go out to eat without gift cards)
Along with our more "normal" monthly expenses, we also have seasonal expenses that are automatically charged to our credit card.
Trips to a hardware store for home/garden/project supplies (usually more in the summer time)
Home insurance (every December)
Auto insurance (February and August)
Water/Sewer bill (every 3 months)
Gifts for others (birthdays/holidays/etc)
So as you can see, there aren't many opportunities for me to overspend — especially for someone like me (I can talk myself OUT of buying almost anything!)
Dave and I rarely buy new clothes (in the past, I have gone over a year without buying anything new), I get all the kids clothes as hand-me-downs or from ThredUp, I borrow items all the time, I use Craigslist to find anything else I think we might need/want, and I just really REALLY don't buy very much.
.
I personally know many, many people who have stopped using credit cards and stopped automating their payments for the simple reason that they were spending a lot more money than they should have.
If you're the type of person who knows you overspend when using credit cards and automatic payments, then I definitely don't think that's the right way to handle your finances… and I commend those of you who are using an all-cash budget to save more, spend less, and get your finances back on track!
I personally have never used an all-cash budget (and I don't anticipate ever switching to all cash), but I DO think that even my modest monthly spending would be curbed a little if we used all cash and didn't rely on automatic payments for everything. However, as I mentioned above, for me and for our family, the small potential increase in spending is worth it for the time and energy it saves me each month.
Do you automate your finances? Do you use all cash? Or do you have another method?