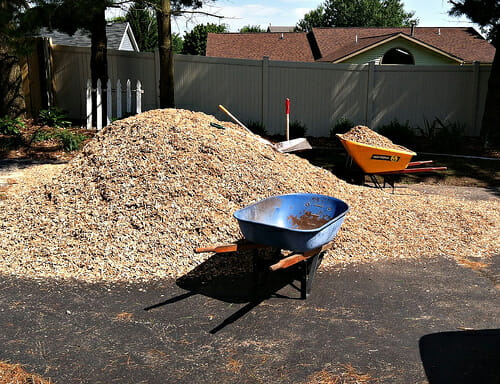 When Dave and I purchased our first home almost exactly 8 years ago, we knew that we would have to learn how to do yard work… and learn fast!
The lawn of our first house was hideous… tons of massively overgrown shrubs, dying trees, not a flower in sight, and more weeds than grass. It was a nightmare and neither of us knew what we were doing.
We are fortunate to have many greenhouses, landscape-supply stores, and tree nurseries close by — and I visited them all frequently, asking lots of questions each time.
One of the local tree nurseries also sold wood chips and mulch by the yard, so when it came time to get our first load of mulch, I decided we'd just have it delivered from this company. Little did I realize how much money I was saving by going this route.
It was only later, after seeing a neighbor bring home bags, and bags, and BAGS of mulch from the hardware store that I realized how smart we were to order our mulch by the yard.
Not only did we save a ton of time and prevent hundreds of plastic mulch bags from ending up in a landfill, we also saved a boatload of cash in the process.
If you don't believe me, check out the figures below!
Prices of Mulch by the YARD:
Mulch by the yard (in our area) is usually around $20 – $24 per cubic yard.
Delivery is usually about $20.
Dave and I usually get between 10 and 25 yards of mulch at a time.
This means we spend roughly $200 – $600 on mulch depending on how much we need and what type we purchase (we usually get the $20 stuff).
.
Prices of Mulch by the BAG:
One bag of mulch usually costs between $3 and $5 (at least in our area).
One bag of mulch usually only covers 2 cubic feet.
There are 27 cubic feet in 1 yard of mulch.
This means you would need at least 13 bags of mulch to equal 1 yard of mulch.
The cost of 13 bags of mulch would be between $39 and $65.
Based on these cost figures, we would end up spending anywhere from $400 to $1600 in mulch depending on how much we needed and what type we purchased!
.
We would literally be spending at least TWICE as much on mulch if we purchased it by the bag — plus we'd have to make 87 trips to the store and deal with all the trash from our hundreds of bags of mulch!
And think of doing this ever year or every couple of years. The savings could REALLY add up.
.
We've been using this money-saving tactic for a long long time so I wasn't sure it was "blog worthy" — but I'm still amazed at how many people I see piling bags of over-priced wood chips and mulch into the back of their vehicles.
Honestly, the only time you might not benefit financially from ordering mulch in bulk is if you need less than a yard and you don't have a way to haul it yourself (and would then need to pay the delivery fee).
I realize that mulch by the yard might not be as easy to access in some parts of the country — but if you look at the figures I listed above, it certainly makes sense to try!
Do you have any other ideas to save on yard projects?