I'm baaaaaaaack!
As many of you probably realized by now, I took the entire month of August off from blogging — not because I was burnt out or feeling totally overwhelmed — but simply because I could.
Yes, I probably lost some readers and I know I lost a bit of ad revenue, but I had a full month to slow down and savor the last few weeks of Summer with Dave and Nora — all home together.
It was glorious!
I know some of you thought I might not come back — and to be perfectly honest, the first 2 weeks were so wonderful I did have about 4 seconds where I thought "what would happen if I never went back?"
But then I snapped out of it and realized that I love blogging way too much to quit — plus I would miss hearing from all of you!
I think I'll plan to do something similar next summer, but in the mean time, I've got LOTS to share.
We accomplished a lot and (as you can see by the photos in this post) we relaxed a lot over the past couple of months — and although the strict school routine will be a bit of a rude awakening, I think our whole family is ready for more of a regular daily and weekly schedule (as much as we hate to admit it!)
Even though there were MANY nights when I laid awake in bed thinking, "I should write a blog post about ______", I just wrote down my ideas and saved them for later. Even I was impressed with my nonchalant attitude towards working and blogging in August.
However, as I'm sure you can imagine, I didn't just sit around for the entire month and do nothing.
I stayed busy — but not TOO busy. Just busy enough that I didn't get bored or get myself into too much trouble — because Nora is enough trouble and mischief for our whole family.
1. Outside Projects:
Dave and I always have projects — especially during the Summer months when we're both home and able to get lots done, even with Nora around.
Our 2 big summer projects (I'll show before and after pictures of both sometime in the next couple weeks) were our landscaping and our garage. We completely renovated both — and we're SO happy with the results!
We spent the month of August tying up all the little lose ends that sometimes go unfinished or unnoticed for months. We knew if we didn't do them before school started up, we probably wouldn't get to them until spring break 🙂
2. Canning and Preserving:
I still have more canning to do later this Fall, but over my August blogging break, I managed to can strawberry jam, strawberry-rhubarb jam, blueberry jam, and peaches. I also washed, divided, and froze 20 pounds of fresh Michigan blueberries for smoothies, muffins, pancakes, and more.
Once I pick raspberries in a few weeks, I'll can raspberry jam and triple berry jam. Then I'll do pears and applesauce. THEN I'll be done canning for 2 years (I only do it every-other year).
3. VA Work:
Even though I took a month off from blogging, I still continued to do all my virtual assistant work — which took up about 15 hours per week (Summers tend to be slower). I did most of it at night after Nora went to bed and after it was too dark to work outside, so it really didn't cramp my month of relaxation and fun too much 🙂
.
4. Getting Nora to Eat:
Ok, so this might sound a little odd, but one of our goals for the month of August was to finally get Nora to start eating solid foods exclusively.
I'll be talking more about this struggle in future posts, but for now, I'll just say that after 21 long months of breast feeding, 3 different therapy programs, and lots of tears from both me and Nora, she is FINALLY eating solid food and totally done nursing.
Praise the Lord!
Starting at 6 months (when I was originally planning to cut back on nursing) she began refusing any sort of a bottle, sippy cup, baby food, or solid food — to the point where she would either throw up or go for large chunks of the day without eating anything unless I would nurse her (and yes, she screamed all day if I wasn't around).
As many of you know, she's been super stubborn and strong-willed from the day she was born… and while she's still extremely picky and only eats a few foods, I'm simply thankful that I'm no longer her source of nutrition.
I have my life back. I can be gone for more than 3 hours at a time. It feels good!
5. General House Upkeep:
It was time to do a little purging, organizing, tidying, and deep cleaning around our house — and what better time than right before the crazy, busy back-to-school season starts up again?
I went through our closets and cabinets, we rearranged some furniture in our upstairs bedrooms, sold a bunch of stuff on Craigslist, got our carpets cleaned (thanks to Nora dumping a whole bottle of Kitchen Bouquet in the middle of our living room), washed all the blankets and rugs, washed the furniture slip covers, etc. etc.
I don't really love doing any of those things, and I certainly don't do them as part of my normal (and very relaxed) weekly cleaning, so it felt good to accomplish them now so I don't have to think about them again for a while.
6. Helping out a Friend:
One of the main reasons I decided to take the month of August off was because several months ago, I agreed to help out a friend on her maternity leave for the month of August. We worked together at a local company for several years, and although I quit working regular office hours soon after Nora was born, I'm still on the pay roll and do some consulting work for them.
So since I still "knew the ropes" a bit, since Dave was available to watch Nora, and since it really would't have made any sense to train someone else to do all her work for just a few weeks, I agreed to come back on a part-time basis just for the month of August.
It was definitely a change of pace for me — actually leaving the house a couple days a week — and I knew it would make me significantly busier on top of all the other things I wanted to do in August.
7. Lots of Fun!
August definitely wasn't "all work and no play" for the Dekkers.
We had lots of fun going out to eat, visiting with family and friends, attending (and hosting) backyard BBQ's, picking flowers, going for walks, reading the same books over and over and over again, visiting the local county fair, swimming, etc.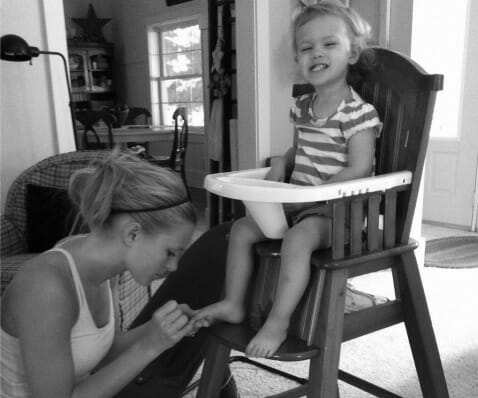 Oh, and for those of you who didn't see the picture below on my Facebook page, I just had to share here on the blog too.
It's me and Nora (she's a little older than what I was) wearing the same pink cowgirl hat my parents saved from when I was a baby!
I have a lot of fun posts (and a few giveaways) planned for the next several weeks — so I hope you stick around.
It's good to be back!