The following post is sponsored by Monkey Bars Garage Storage. All opinions are my own.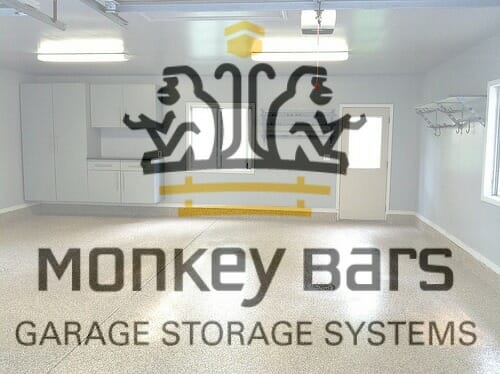 Almost 3 years ago, when we first moved into our house (in the middle of winter) we shoved everything that didn't have a designated home into the garage. At the time, we knew our plans were to completely gut the majority of the main floor, so instead of unpacking everything and letting it get covered with construction dust and dirt inside, we figured things were safer all packed up nicely in the garage.
It seemed like a good idea at the time — but as we all know, once you set something down, it's a lot easier to leave it there than to move it.
So… our garage was pretty messy for the first year we lived here.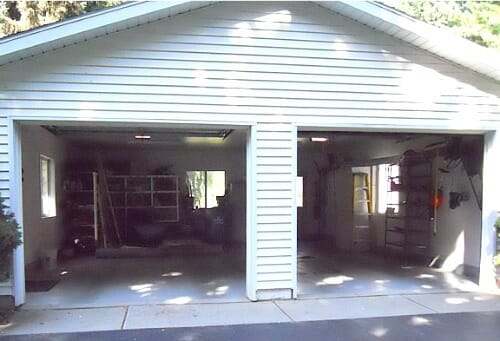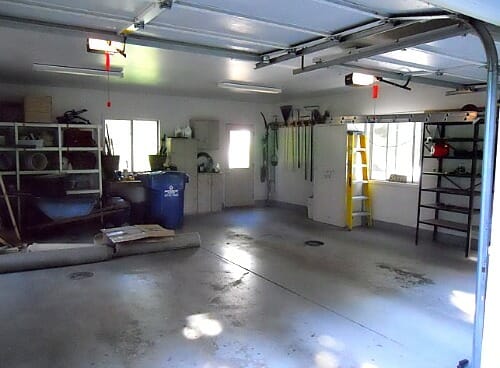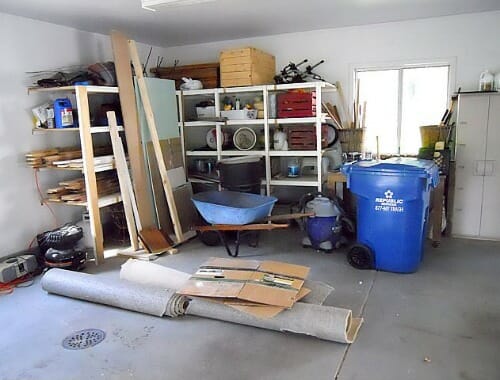 We did move most of the boxes in after the bulk of the construction was finished, so these "before" pictures really don't depict the worst of it, but you can still see how we were just shoving and shoving more stuff onto those shelves (very few of which were even mounted into studs!)
Maybe it's not the worst looking garage you've ever seen (we could almost always fit both our cars in the garage) but it was progressively getting worse and worse. .
Then 2 years ago (over Labor Day weekend) we decided it was time for a mini garage makeover. Nothing serious, and absolutely no out-of-pocket expense, but it sure made a big difference in the amount of usable space we had and the degree of organization.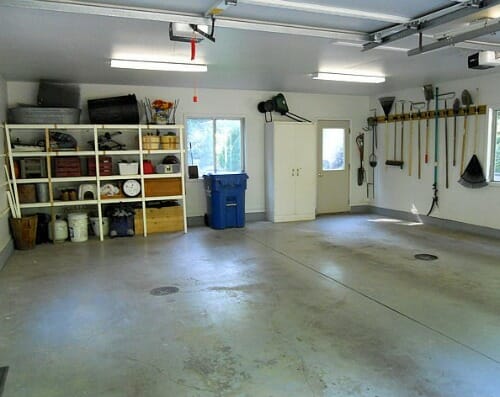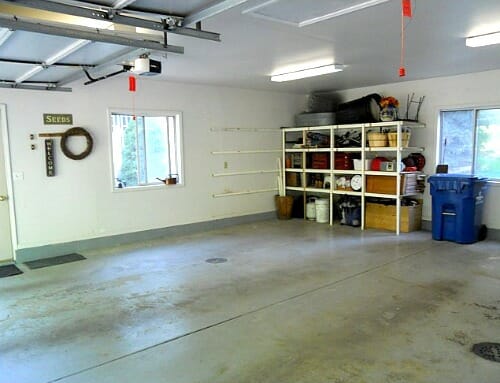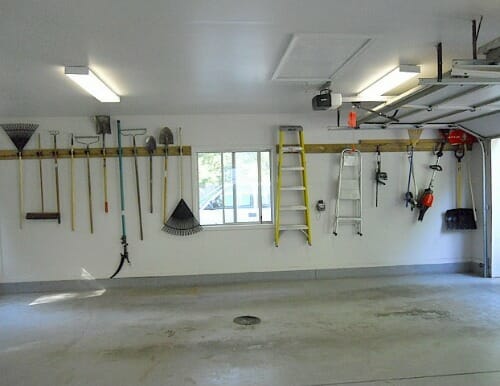 A pretty big improvement for 1 day of labor and a whole bunch of trash bags! .
And for the last 2 years, the garage has basically looked like this. We've been pretty good about maintaining it, but we've also always known that eventually, we'd like to "take it to the next level".
We wanted to remove all the mis-matched freebie storage, repaint the walls and the trim, find some nice matching storage that was a bit more customized for our specific needs, and then finish it all off with a gorgeous garage floor enamel coating.
.
We figured it would be several years before we tackled the garage — just because inside projects were more pressing and important.
However, this past spring (about the same time we decided to dedicate the summer of 2013 to yard projects) I was contacted by Monkey Bars Garage Storage Systems. They asked if we'd be interested in "testing out" some of their products (a.k.a. total garage makeover) and then writing about the products and the makeover process on my blog.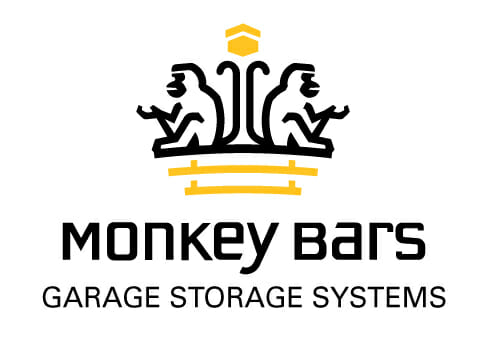 Dave and I took approximately 4.2 seconds to talk it over before I excitedly responded with a big "YES!"
We figured it was perfect timing since we were already focusing our DIY efforts on exterior projects… plus, we were getting antsy to make some much-needed changes in our garage (like sanding and painting the trim and patching a TON of holes in the walls) and this was the perfect "kick in the pants" we needed to get started.
.
The first thing we did was remove everything from our garage — and I mean EVERYTHING!
Then we (and by "we", I really mean Dave) started the long and tedious process of scraping, filling, patching, and sanding ALL the holes in our garage wall. I kind of wish we would have counted how many holes there were (mostly from screws that missed the studs and pulled out chunks of drywall when they were removed) but I'm guessing there were well over 200 holes — ranging from screw-size to baseball-size.
We (a.k.a. Dave) used a huge tub of DAP Wallboard Joint Compound to patch all these holes — and then sanded them down smooth with a sanding pole.
Then I wiped down all the walls, ceiling, and trim, and we started painting.
I did all the cutting in and Dave came behind me with the roller. This is usually our painting method of choice since I have a much more steady hand and Dave is really tall so he can reach the very top of our 9 ft. garage walls without the pole attachment. He did need to use the pole for the ceiling though — and informed me that painting the ceiling is not something he enjoyed.
We used the color Sparrow by Behr (exterior) and are very happy with how it turned out.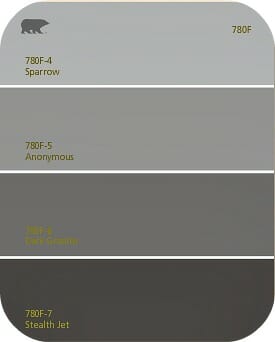 I still need to paint the trim and the doors — but isn't that a HUGE transformation already!
At first, I was a bit leery about painting the ceiling the exact same color. I thought it might make the garage seem dark and small — but I'm thrilled with the results and I actually think the garage looks larger with the same color on the ceiling.
Before I go any further and show you our new Monkey Bars storage system, I should note that we are so fortunate to start out with a structurally nice garage. After all, I don't know many people with an extra-large two-stall garage with insulation, drywall, big bright windows, lovely white trim, floor drains, a bunch of electrical outlets, and huge over-head lights.
Our old house had a tiny plywood garage with 2 light bulbs hanging from the ceiling and 1 plug in the entire place — we know how lucky we were to start with such a nice space.
So, a big thanks to our previous homeowners for forking out some serious dough on a super nice garage 🙂
OK, are you ready to see our new garage?
That's what I thought!
I'm sure I don't have to go into detail about how much nicer the MonkeyBars system is than our previous storage system (if you could even call those broken down shelves a "storage system").
I still need to paint the doors (I'm planning to go a shade darker than the walls), but other than that, we're done with all the hard work, and we couldn't be happier with how everything came together!
.
As you can probably already see, the MonkeyBars system is quite different than most garage storage systems because of the "tiered" storage bars that allow you to hang almost anything in a very small amount of space.
You can move the bars to different slots and then move the hooks anywhere along the different bars. There are a bunch of hook options to choose from, and every 4-foot section can hold a whopping 1000 pounds!
Watch the video below to quickly see how the system works — it's pretty cool! (you may have to click through to the post if you're reading this via email)
The MonkeyBars storage cabinets are HUGE — and do you notice they don't rest on the floor?
Everything is completely wall mounted which will make sweeping out the floor extremely easy.
And here's a closer look at the different colors in the floor — the pictures above make it look really tan, but it definitely has a lot of black and grey in it too.
.
I'm having so much fun figuring out the best way to organize all our things in our new space — especially since we have so much space!
We're still waiting for a couple accessories to arrive in the mail, but once we get everything installed and organized, I'll share how we organized all our stuff in another post (hopefully next week).
In the mean time, feel free to head over to the Monkey Bars website to drool over all the amazing before and after pictures…
And then take one last look at our before and after!