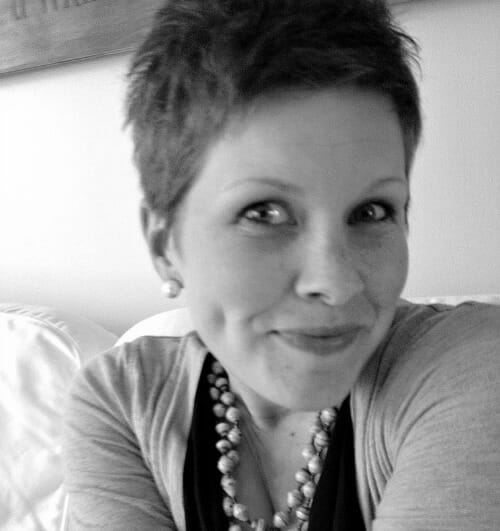 photo credit: Nora 🙂
Last week was a crazy week for me. On one hand, with 3 kids who were all "under the weather" and not sleeping well at night, I felt like the week was DRAGGING on and on and on. But on the other hand, with a bunch of work and personal "projects" I was excited to work on, I felt like the hours of the day were fleeting… like there was never enough time for me to cross everything off my list.
I hate that feeling!
At this point in my life, with 3 very young children, the amount of time I have to do anything "extra" on my blog, around my house, or in my personal life is basically non-existent. I realize this, I've come to terms with this (sort of), and I know it will change eventually.
I have chosen to work from home while raising my kids. I have given up a lot to do that, and I feel it's worth everything I've given up. However, it's still really REALLY difficult for my "thrives-on-productivity" personality to succumb to… especially since I know how much I used to accomplish before kids came along!
I honestly have almost 50 blog post ideas (that I'm so excited to write about) sitting in my "drafts" folder waiting for a little more time to flesh them out into actual posts; and I have a mile-long list of cleaning, organizing, gardening, and decorating projects I'd love to tackle at some point when I can make a few more pockets of free time.
I'd love to make more time to work on fun craft and sewing projects, try to exercise once in awhile, and (gasp) maybe even check out the new outlet mall that opened up a couple months ago. But before I get to those extra things, I have a long list of things I actually need to do first — like making dinner for tonight, doing laundry, and helping Dave with our massive amount of leaves we need to rake every year (preferably before they freeze to the ground!)
So, the extra things sit on the back burner for now… and when tiny pockets of free time appear, I pick and choose what I'd like to work on, and (very) slowly work my way down the list. After all, I'm not easily defeated!
That said, here's a little more about our week… and the things I DID actually make time for 🙂
The first part of the week was some of the most beautiful Fall weather — cool and crisp in the mornings, warm and sunny in the afternoons. We really couldn't have asked for anything better, and we spent lots and LOTS of time outside playing.
I got a little yard work done while the kids played, and we went on a few walks around town as it was finally cool enough for me to wear James and push the other two in the stroller without sweating profusely the entire time!
My Dad also came over to help build our shed!
There are still LOTS of "finishing touches" that will hopefully make it look like an old shed that has been sitting here for years and years… but those might need to wait until Spring. For now, we're just happy to have the shed weather-proof before Winter.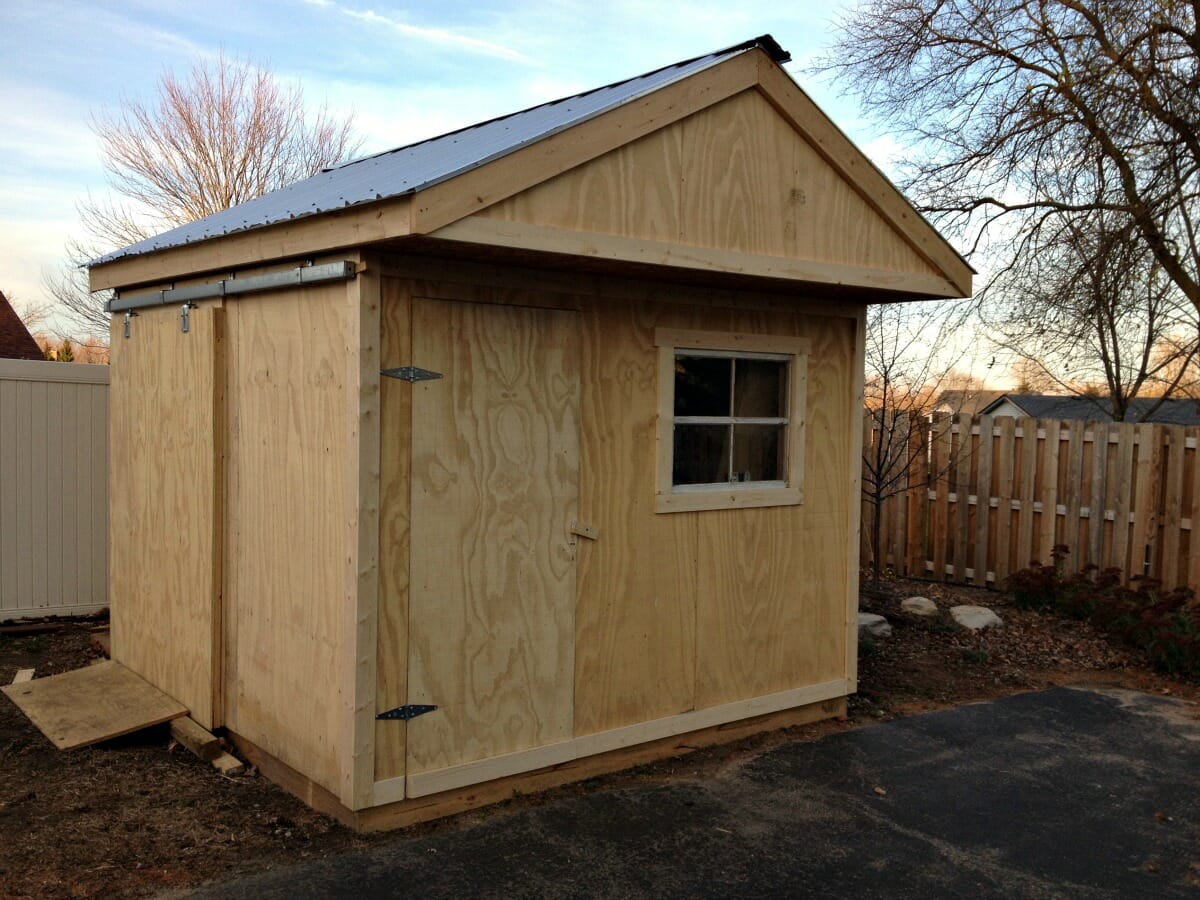 We'll be using this shed to store our mower, snow blower, fertilizer, gas cans, propane tanks, and lots of other things we don't want our kids to get into. This will leave more space in the garage for bikes and strollers; and more space in our outbuilding for entertaining (without needed to remove all the smelly yard tools and fertilizers first).
I can't wait to add all the little details (you know, when I have a few extra moments of time!) I'm hoping it will look something like this when we're finished with it — obviously the windows and doors are in different places, but I like the distressed wood look, flower boxes, and metal roof.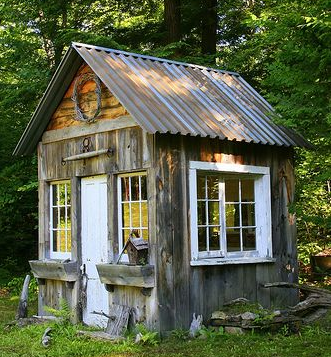 I have so many fun ideas for this shed! I even have a miniature version of our red, white, and blue bunting to hang above the window (so it will match our front porch!)
I was glad to get so much yard work done at the beginning of the week because Thursday, Friday, and Saturday brought freezing rain, massive wind gusts, and even a bunch of hail! Needless to say, we stayed inside most of those days!
Nora held "school" and "story hour" for the boys — I supposed they can't start too young these days 🙂
Simon is 20 months now and he's starting to talk ever so slowly (emphasis on the slowly part!)
He is making lots of animal noises and saying:
"ca ca" = car
"bah bah" = bye
"wa wa" = water
"maah" = more
"oh-oh" = oh no
It's still just crazy for me to think that when Nora was his age, she was speaking in sentences… and even crazier to think that she was still nursing!
.
Speaking of Miss Nora, she had another big week last week… including preschool, story hour, and a special sleepover at Dave's parents' house this past weekend.
We also decorated a 3-ring binder as a place to keep all her special school papers and projects (at least the flat ones!)
Nora and I have been busy making plans for her 4th birthday party this coming weekend. Seriously, how is she going to be FOUR already!
I'm going to try my hand at this Cinderella cake! We'll see how it goes 🙂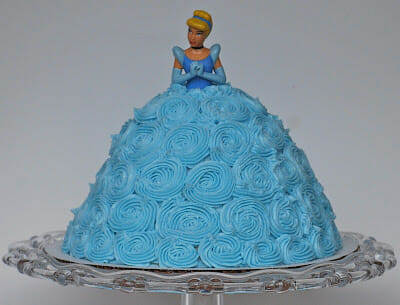 .
James is sweeter and happier than ever (even though he was somewhat stuffed up for a few days).
I told Dave if I had to choose an alliterative adjective for our children, I would choose "JOYFUL" for James… because he really is just so happy and full of joy. (For the record, I would choose "SILLY" for Simon and "NOISY" for Nora!)
He celebrated 4 months on Saturday… so in another week, we'll have a 4 month old and a 4 year old!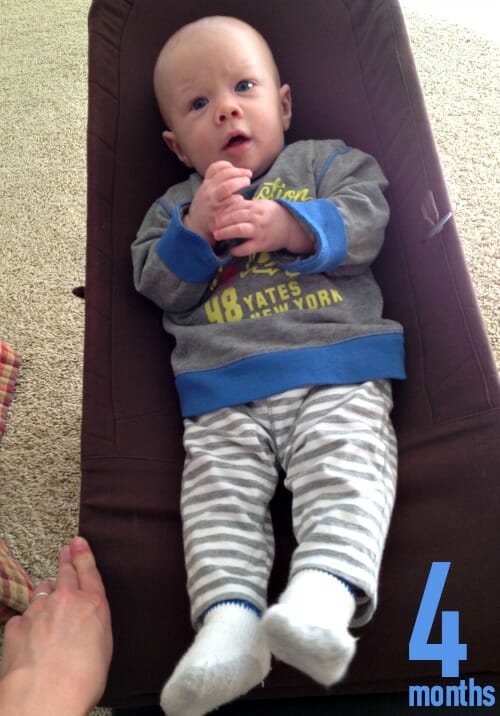 He's rolling all over the place, sitting in the Bumbo, the swing, and in the highchair, babbling like crazy, grabbing his feet, and even scooting along the carpet a bit!
He is still taking 3 naps a day: a 30-40 minute catnap in the morning, a longer afternoon nap, and then another 20-30 minute catnap around dinner time.
He's not the best nighttime sleeper yet… and although I'm verging on extremely exhausted everyday, I truly don't mind the time I'm awake with him at night. He is rarely ever fussy… just hungry. So he eats, and I hold him in complete silence with no other children yelling, destructing something, or vying for my attention.
Of course, it's not ideal to be waking up so often, but right now, it's probably the only one-on-one time I get with him during the day, so I'll take it 🙂
.
One project I tackled this week was going through EVERY SINGLE item of clothing I own — from socks, underwear, t-shirts, and pajamas; to my church clothing, old bridesmaid dresses, shoes, and even my coats, hats, gloves, and scarves.
I'll be blogging more about this later in the week… but let's just say I pulled many MANY items from my closet in an effort to whittle down my wardrobe to only the items I truly love and feel great wearing. I sure am enjoying the empty space!
I also started looking for ways to use up my boatload of extra Butternut Squash from our garden. I've roasted and frozen a bunch of it… but this past week, I integrated squash into almost every single meal 🙂
I put several spoonfuls of roasted and peeled squash into fruit smoothies, mixed it in with mac and cheese for the kids' lunch, added it to brownies and cookies, and substituted it in place of canned pumpkin for pies and other various pumpkin desserts. No one ever noticed!!!
I also baked squash with a pork roast one night, and boy was it tasty! I will most definitely be growing squash again next year!
Oh, and I'm saving the best for last…
This past week, I tested out the brand new curbside pickup service at our local Meijer grocery store!!!!!! It was absolutely AMAZING — and I can not wait to take advantage of this during the cold, snowy winter months. No more bundling up and loading 3 kids into the cart, shopping for an hour, waiting in the checkout lane with crabby kids, etc. etc.
This could be 'life changing' for me this winter!
Our Menu Plan
MONDAY:
TUESDAY:
Garlic Bread
Salad
Broccoli and Cauliflower
Brownies
WEDNESDAY:
THURSDAY:
FRIDAY:
Steamed broccoli
Chocolate cake
SATURDAY:
Dave was gone all night for a school function so Dave's parents brought dinner over and ate with me and the kids.
SUNDAY:
.
And another week is "in the books"!
Only one more full week of school for Dave and then we get a few days off for Thanksgiving (and we're hosting it for the first time this year!)