An Update On My Homemade Face Wash
posted by Andrea | 10/25/2013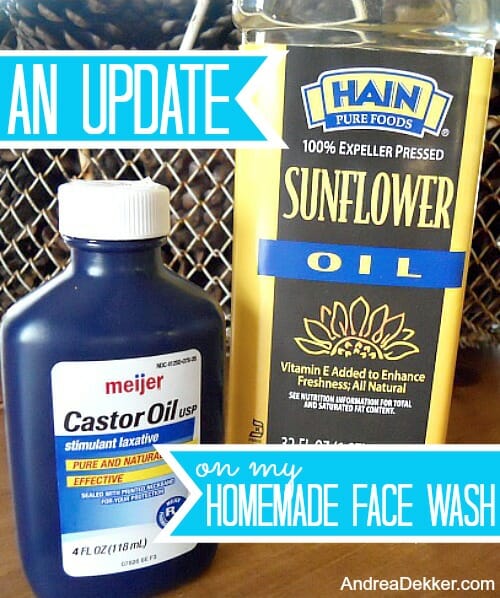 It's been over 2.5 years since I first posted about my homemade face wash — and it's been almost 3 full years since Dave and I started using this homemade face wash.
I would be lying if I said I wasn't a bit skeptical that this face wash (it's actually an oil cleanse) would actually work — and it was even harder to convince Dave to give it a try. However, over 3 years later, I can say with 100% certainty that this is the BEST thing I've ever done for my skin! Yes, Dave would agree too.
It is amazing!
Who would have thought that you could cleanse your face with OIL — and not have a yucky, greasy face or breakouts all over the place.
For those of you who want to click over and read all about my oil cleansing method of washing my face, you can do so here — but make sure you come back, because I have a lot more to say about it!
For starters, I tried to get a good close-up picture of my face — but between Dave's lack of photography skills and my inability to take a non-blurry "self photo" it was a royal failure. The best photo I managed to snap was this one — Nora was obviously still waking up in the morning and I didn't have any makeup on (not even mascara).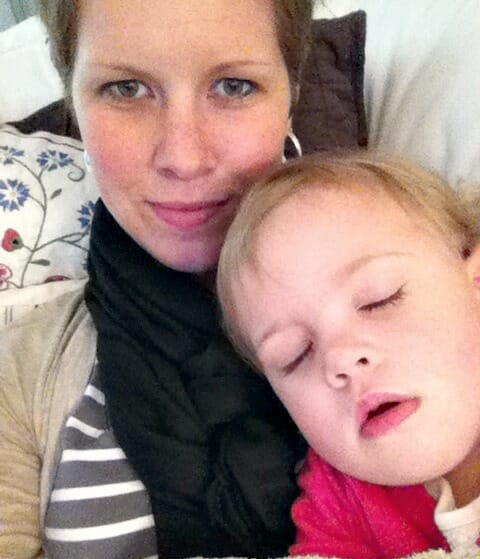 However, then I remembered that the photos I had taken for my website (about 6 months ago) were also without any make up — besides mascara. These pictures were taken with MUCH better lighting and a MUCH better camera so you can get a better look at my skin.
Not too bad 🙂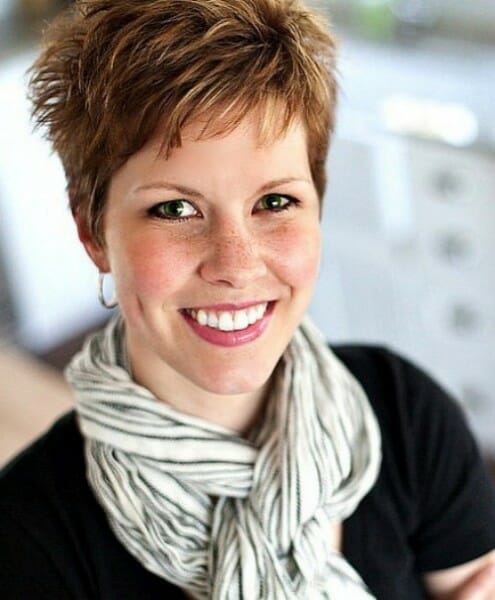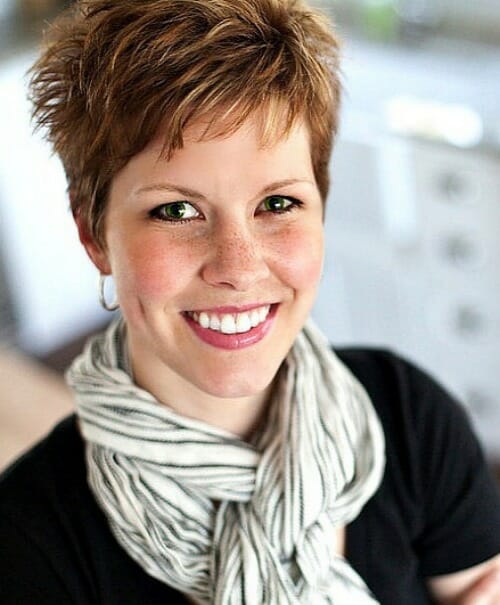 I remember thinking "oh shoot, I forgot to put makeup on for these pictures" so I was a bit leery of how they would actually turn out. But I was pleasantly surprised with how nice my skin looked — and I promise, my friend didn't photo-shop out any imperfections 🙂
My skin never used to look this soft or moisturized. I almost always had at least one very visible dry patch and at least a few breakouts — and I usually wore some type of concealer every day. But not anymore!
.
Like I said earlier, it's been over 3 years since Dave and I both started using this homemade oil cleansing method to wash our face. Before that, we washed our face twice a day with store-bought cleansers that were expensive (even when on sale) and dried up our skin — especially in the winter months. We didn't know there were any other options until I started searching around the internet.
When I realized how inexpensive the 2 ingredients are (Castor Oil and Sunflower Oil) I immediately added them to my grocery list — along with a small plastic squeeze bottle from the travel size toiletry section — and whipped up my very first batch of homemade face wash.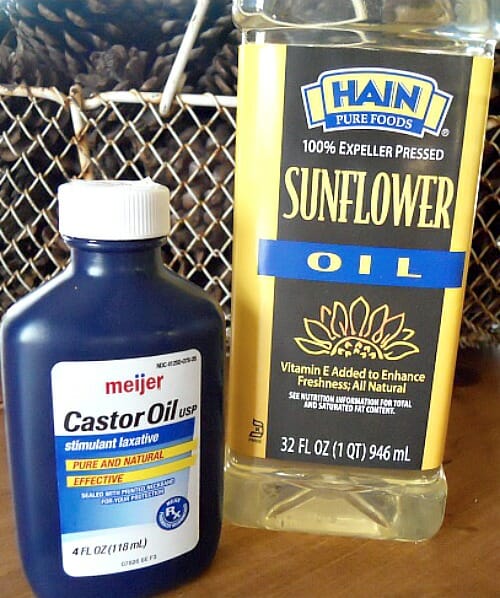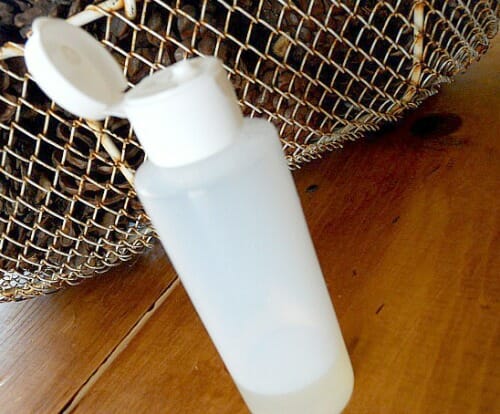 Making the Oil Cleansing Face Wash
Mix castor oil and sunflower oil in a small, flip-top plastic bottle according to your skin type (see below).
NORMAL SKIN: Mix one-part castor oil with one-part sunflower oil.

OILY SKIN: Mix two or three-parts castor oil with one-part sunflower oil.

DRY SKIN: Mix one-part castor oil with two or three-parts sunflower oil.
I don't actually measure anything — just pour a little of each oil in our bottle. I usually just mix it half and half (like for normal skin) but in the summer, I'll add a little more Castor oil to compensate for sweaty, oily skin… and in the winter, I'll add more sunflower oil since our skin is often more dry.
There is really no way of messing this up — if you feel that the mixture is too oily for your skin type, simply add a lit more castor oil. If you feel like it's too dry, add more sunflower oil.
.
Using the Oil Cleansing Face Wash
You can read more specific usage instructions on my other post — but it basically involves just massaging a small amount of oil into your face once a day and then wiping off with a steamy hot wash cloth. So yeah, you feel like you're getting a mini facial every day.
.
I honestly can not say enough great things about this all natural, super simple to make, and quite frugal face wash… because as I mentioned above, my skin has never looked better.
I hardly need to wear any face cream (I used to have such dry skin that I had to apply cream multiple times a day)
I rarely ever wear makeup of any kind except mascara (if you do wear makeup, this will act as a makeup remover too!)
I never have dry skin patches anymore
I almost never, ever break out
And I love not needing to wash my face in the morning. I just put on mascara, brush my teeth, spend 3 minutes on my hair and I'm ready to go!
.
How it works
Honestly, I'm not 100% sure because once I saw how great it made my skin look, I really didn't care!
From the small amount of research I've done, I understand that the Castor Oil (here's a link to different varieties on Amazon) mixed with the Sunflower oil work together to dissolve the oil that has hardened on your skin and is filled with impurities (which then get stuck in your pores). The steam from the washcloth will open your pores, allowing the yucky oil to be easily removed.
.
So Why the Update?
For the past 2.5 years since I originally shared this oil cleansing method on my blog, I've gotten multiple emails EVERY SINGLE WEEK asking if I'm still using this method to cleanse my face, and if I really love it as much as I said I did.
I totally get why people are skeptical — I was too. After all, our entire lives we're told to keep oil AWAY from our face — so why would we now want to put oil on our face?
However, I can assure you that Dave and I have been using this exact oil cleansing method every single day for the past 3 years and we have no intention of stopping… ever! In fact, we've converted many of our friends and family members to this cleansing method — and I know for a fact there are many of you who are also now using this method!
YAY!
.
So that's the update.
The oil cleansing method is amazing… we love it… and I'd definitely encourage you to give it a try if you're not happy with your current face wash.
The end!