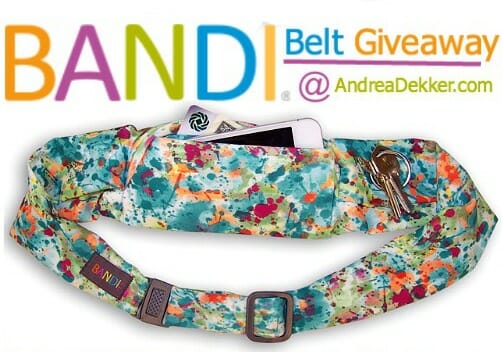 In general, I'm not a big "accessories" person. I don't wear much jewelry besides earrings and my wedding ring, I don't wear belts, I don't wear headbands, clips or other hair accessories, I don't wear hats, and I don't carry cute purses (I either carry my wristlet wallet or a diaper bag).
I wouldn't consider myself a "minimalist" but I also don't like to have or carry or be responsible for extra stuff!
So… 3 years ago, when I discovered the BANDI belt, I had a feeling it would be the perfect "accessory" for my non-accessory-loving self!
And I was right!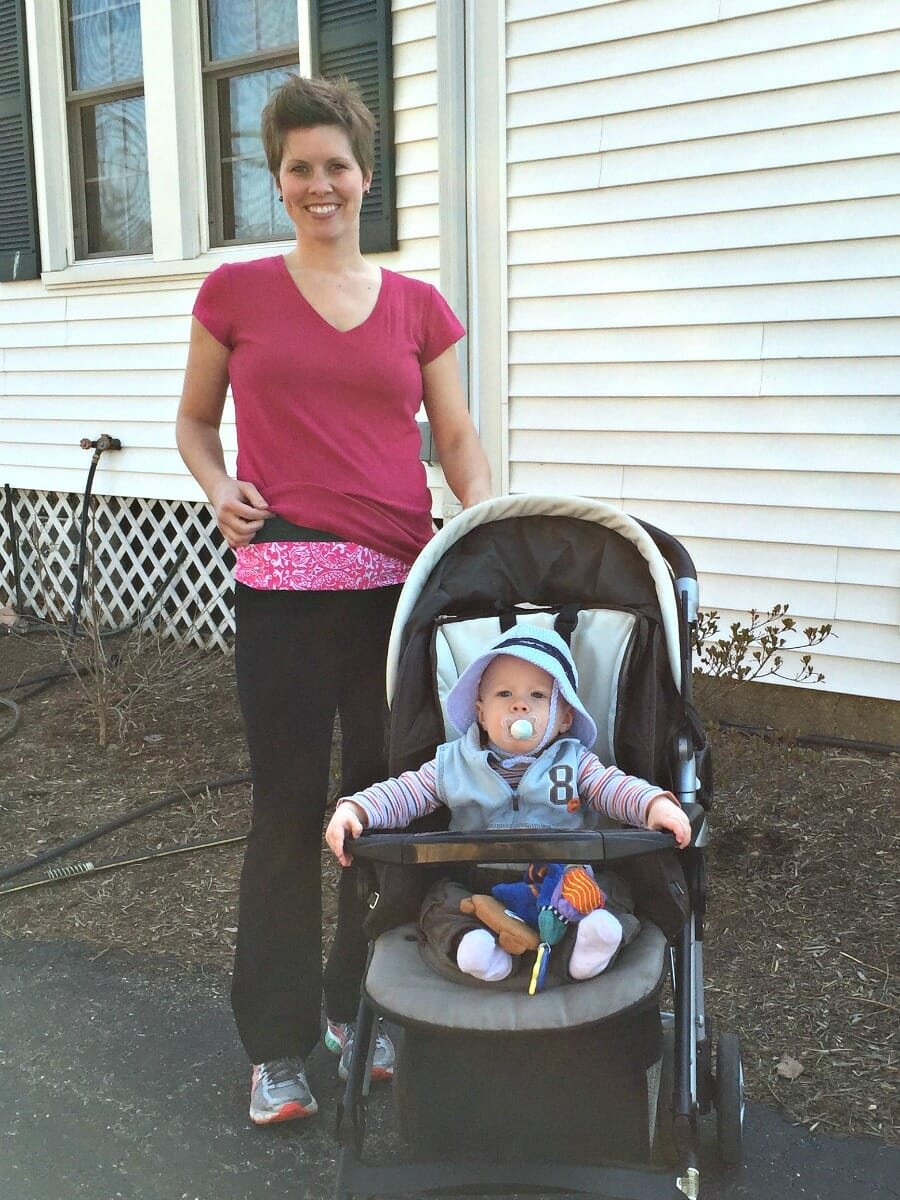 Almost 3 years later and I'm still using my BANDI on a very regular basis as a super simple way to carry my phone, chapstick, my ID, a pacifier, etc.

What exactly is a BANDI belt?
The BANDI belt is a super functional belt that holds a variety of basic essentials so you can be on-the-go without lugging a heavy bag around.
BANDI belts have two larger pockets for your phone, cash, ID's, credit cards, tissues, or even a small point and shoot camera. They also have a smaller pocket that's great for keys, lip gloss, gum, ear buds, baby pacifier, etc.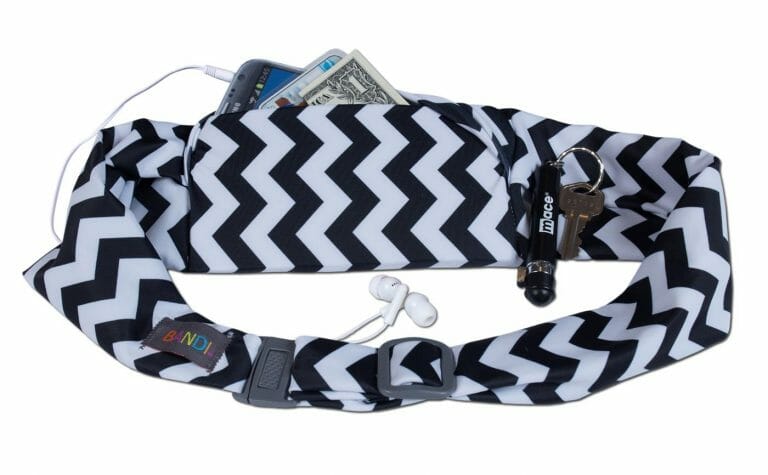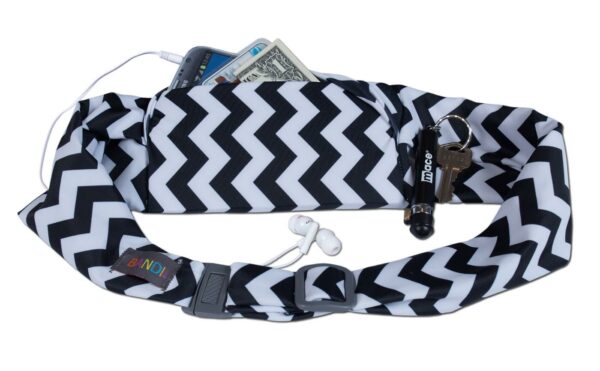 When I first got my BANDI belt a few years ago, my plan was to wear it when I was out walking or biking with Nora. I wanted to keep my phone and ID card with me when we were out and about, but I didn't want to worry about dropping them, having them fall out of my pocket or out of the stroller.
The BANDI was the perfect solution for me — and it even worked well when I was pregnant as they are very stretchy!
(The picture below is about 4 month pregnant with Simon.)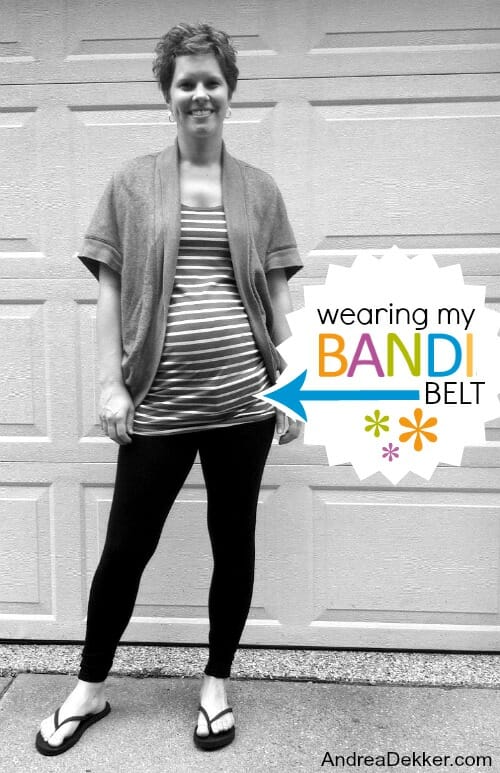 However, since then, I realized that the BANDI belt is useful for SO many situations.
1. When I wear something without pockets
Although most of my pants do have back pockets, I don't always love putting my cellphone in my back pocket because I know plenty of people who have broken their screens that way.
So any time I wear something without convenient pockets for my phone, keys, child's pacifier, etc. I wear my BANDI and stash everything in the little pockets.
I usually wear it under my shirt and put the pocket side in the back so it doesn't show as much if I'm wearing a tighter shirt. This has worked wonderfully for me — and I have yet to break my smart phone screen by accidentally sitting on my phone!
2. When I'm outside.
I'm SO happy spring has finally arrived in MI (after 2 freak snowstorms in April!) We are all ready to be outside again, and thanks to my BANDI, I can keep the essentials with me even when I'm chasing after the kids, doing yard work, or just "relaxing" and watching kids play.
I usually keep my phone and tissues or a small burp cloth in the 2 large pockets, and James' pacifier in the small pocket. Also, if either of the boys are napping, I'll clip their monitor right to the side of the belt so I can hear when they wake up.
And like I mentioned above, if we decide to go for a walk or a bike ride, I simply add in my ID and maybe some money or a credit card and we're good to go.
I never have to worry about dropping, losing, or forgetting my phone and since I usually keep it on vibrate, I can always feel it when it starts to ring.
3. When I'm traveling.
I'm not a huge traveler, but after traveling with 2 little kids last spring break, I can confidently say that the BANDI belt was a small sanity-saver for me in the midst of LOTS of craziness.
As we were rushing through airport security, I could keep all our ID's, my phone, and a few other basic necessities with me at all times — no more digging through luggage to find what I needed, and it was easy to unclip when we went through security.
4. When I don't want to take a purse.
I used to like carrying cute bags and purses… until I had kids.
Now I bring our diaper bag almost everywhere, but I've often been leaving it in the van as it's just one less thing to worry about when I'm already trying to watch over 3 kids and make sure none of them get hurt or lost or break something.
Instead, I'll put the few essentials we might need in my BANDI, and leave the larger diaper bag in the van.
Of course, even if you don't have small children, even if you don't travel, and even if you actually DO enjoy carrying cute bags around, there are still TONS of other uses for the BANDI…
A Few Other Uses for the BANDI:
Amusement parks
Concerts
Ball games or other sporting events
The gym (for those of you who don't like wearing an armband for your phone)
The dog park
Garage sale or thrift shopping (when you don't want to lug a big bag around on top of all your stuff)
College campus (for students who want to keep personal items more secure)
The office or wherever you work (especially if you move from place to place a lot)
Also, one other use I never thought of, but saw on the BANDI website, is carrying medical necessities like insulin pumps, inhalers, or epi pens. This belt is the perfect size for those items!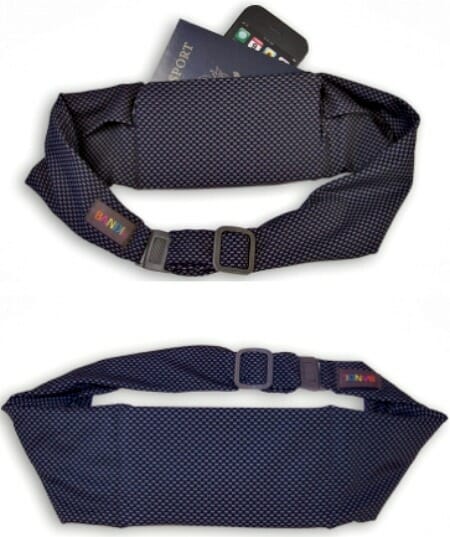 The BANDI belt has so many uses… which is why I'm excited to share it with you again today!
The BANDI belt now has TWO sizes — The Classic Pocket Belt (good for iPhone 6, 6s, and similarly sized phones) and The Large Pocket Belt (perfect for the iPhone 6 plus, the Samsung Galaxy Note, and other larger phones).
There are SOOOOOOO many fun, new fabrics, colors, and patterns — I'm sure there is one for everyone's style!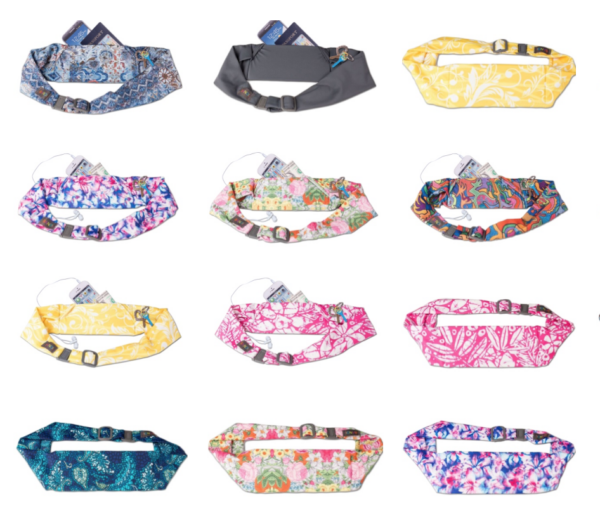 If you see one you like, then you'll definitely want to enter today's giveaway!
Visit BANDI on the web:
Website: bandiwear.com
Facebook: BANDI Wear
Twitter: @BANDIwear
Pinterest: BANDI Wear
Instagram: bandiwear
Enter To Win a BANDI belt!
Today, TWO lucky readers will win a BANDI belt (winner chooses size and fabric)!
Also, all readers will get 15% off on orders placed from now through 6/21/16 by using the code ANDREA15 at checkout!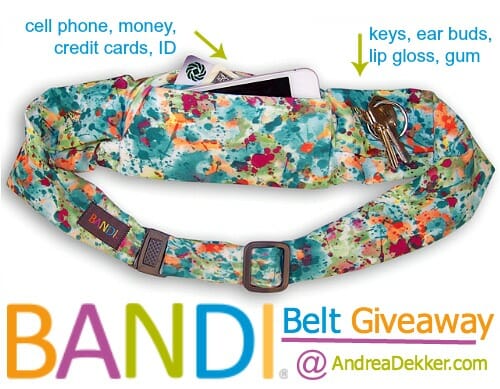 To enter, simply use the Rafflecopter widget below (it might take a second to load).
a Rafflecopter giveaway

This giveaways end at 11:59 pm EST, Monday, 4/25/2016 and is open to US residents, 18 years or older. The winners will be randomly selected via Rafflecopter and notified via email. I received compensation in exchange for hosting this giveaway but all opinions are 100% my own. Please see my full disclosure policy and contact me with any questions you have. Good luck!