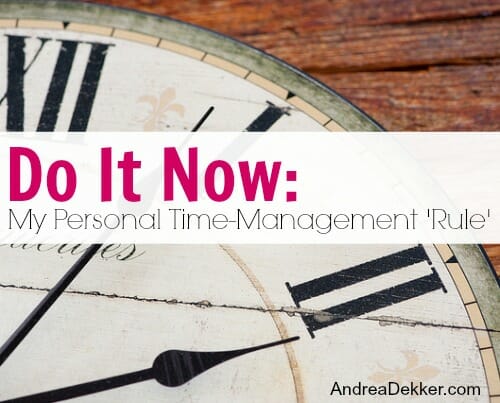 When it comes to "getting stuff done" I consider myself an expert in the field 🙂
Yes, I do relax — and I've gotten much better at letting things go undone for a while. But for the most part, if there's something that needs to be done, I'm going to do it NOW (especially if it's a quick task).
For Example:
If I'm in the bathroom and notice that the trash is getting full, I'll empty it and put a new bag in.
If I'm cleaning up the kitchen and notice a spill in a refrigerator drawer, I'll quickly empty out the drawer and clean up the spill.
If I'm putting the laundry away and notice a messy drawer or shelf, I'll take a few minutes to straighten things out right then and there.
If I'm bringing the groceries in from the van and notice some trash in the van, I'll clean it out ASAP.
If I'm picking up books and notice a ripped page, I'll quickly grab the tape and fix it before I put it back on the shelf.
I could give 200 more examples of things I do on a daily basis that don't necessarily HAVE to be done at that exact moment but will eventually need to be done at some point.
In my mind, I'd rather do them right away than sit and think about how I SHOULD do them and then end up doing them at a later time.
And if you look back through the examples I listed above, you'll notice that those quick little tasks only take a few minutes (sometimes even seconds) to complete.
So why not just do it now?
I realize there are A LOT of people who don't share this mindset; however, for the most part, I believe my "do it now" philosophy has been one of the key factors in keeping my home and my life simplified and organized.
Yes, I realize a clean and organized home is not the most important thing in the world, but since Dave and I are truly happier and actually function better in an organized home, it's something that is very important to both of us.
As I've mentioned before, we would rather stay up 15-20 minutes later to quickly wash dishes, pick up the living room, and fold a load of laundry than go to bed earlier only to wake up to a messy house and all those chores still waiting for us.
I'm often asked if having 3 young children has forced me to lighten up on my goal to do it now as much as possible… and I think it has a little.
But just a little! 🙂
There are definitely times when I'm super tired and don't feel like doing anything productive; but after years of do-it-now experience, I know better than to put too many of my to-dos off for too long (it comes back to bite me when I do!)
.
I've always been a huge advocate for working ahead and doing it now versus procrastinating and waiting until later. And as I mentioned above, this mindset has been crucial to living a simpler more organized life… especially with quick tasks like:
folding the laundry (and putting it away)
making the beds
wiping down the counters
unloading the dishwasher
loading the dishwasher
washing a small batch of dishes (seriously, it's amazing how quickly this really goes!)
cleaning up a spill on the floor
vacuuming up some crumbs
responding to an email (or group of emails)
making a meal plan
making my grocery list (I'm still amazed at how many people shop without a list!)
picking up the books and toys at the end of the day
straightening the couch cushions, pillows, and blankets
restocking the diaper bag when we get home
emptying backpacks and lunch boxes
shredding or filing papers, mail, etc.
All of these little tasks are so easy to put off, but they'll all eventually need to be completed, so why not take a minute or two and do them NOW.
And the next time you feel like procrastinating on something, try to reason with yourself and think about how long it would realistically take you to do that task right now. If it's only a few minutes, just do it — I guarantee you'll be glad you did when "later" comes around.
Yes, there are many times when I procrastinate more than I should — but for the most part, I'm a Do It Now kind of person. If you don't believe me, just ask Dave 🙂
What about you… are you a Do It Now or Wait Until Later person?