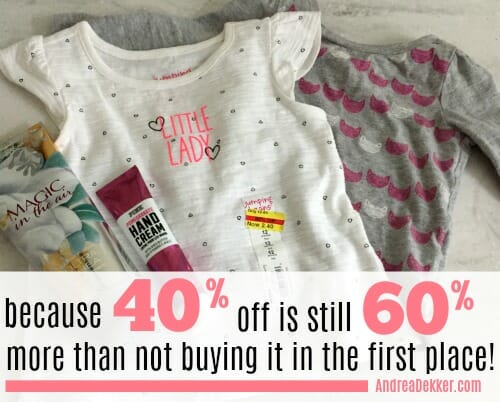 I'll be the first to admit, I'm definitely a sucker for a really great deal!
Although I generally dislike shopping, I often find it difficult to pass up a bargain — especially at thrift stores, online, or if I get freebie coupons.
As I'm sure many of you can relate, I was inundated with limited time offers, amazing deals, fantastic bargains, and freebie coupons over the holiday season. Some of them seemed so good I actually ventured out to the mall the week before Christmas to claim my goodies (crazy, I know!)
I took Nora with me (the other 3 kiddos were sleeping at home while Dave worked on school stuff). My goal was to use up all the coupons I had received and spend as little as possible, and I did a pretty good job… until I almost blew my whole plan.
.
We started our trip at Victoria's Secret to use up a $10 off any purchase coupon I received. I was tempted to buy their Heavenly perfume (one of my all-time favorite scents) but the smallest bottles they had were closet to $30. So instead, I found two $5 lotions that were completely free after my coupon. We added these lotions to the gifts we were giving to Nora's teachers.
Then we went to Bath and Body Works to use a coupon for 1 free signature body item. I instantly found a scent I liked (Magic In The Air) and we walked out of that store spending nothing as well!
Next we stopped by Barnes and Noble to use Nora's birthday coupon for a free jumbo cookie at the Starbucks inside the store. We enjoyed our free cookie with glasses of free water… and then continued our shopping trip.
We hit up the carousel with 2 free tokens we had from a trip earlier in the year and Nora enjoyed the fact that she got a ride but her brothers didn't 🙂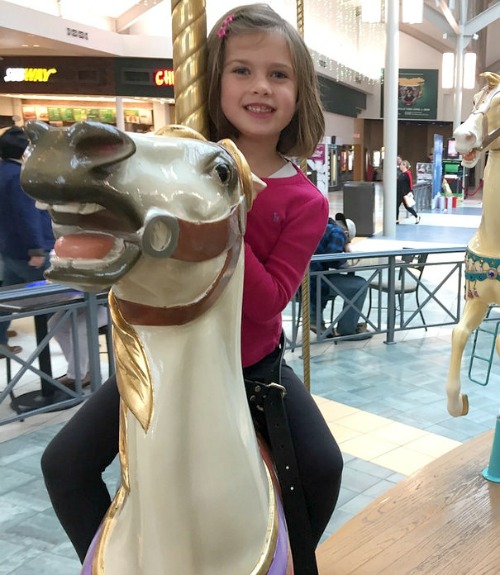 Then we headed to Kohl's to use a $10 off coupon. I found some leggings for Nora and 2 cute shirts for Clara on the clearance racks. I only spent $0.18 out of pocket for all 3 items!
The other main purpose of our shopping trip (besides using up a bunch of freebie coupons) was to find new winter boots for me. I knew I wouldn't find quality winter boots for free, but the Clark store was having a "50% off Everything" sale and I had an extra 20% off coupon. Within about 10 minutes, I found the pair I wanted to buy and ended up getting a $150 pair of boots for around $65 after tax. The boots are so warm, so comfortable, and really cute. I'm certain I will get my money out of them over the next several years!
We ended our shopping trip at a smaller boutique-type store that I've never shopped at before. HOWEVER, I got a coupon for 40% off one item (including sale items) and I figured it couldn't hurt to just stop in and see what they were selling.
I didn't really see anything I needed or even wanted, but I felt like I just HAD to use the coupon — after all, it expired the next day and some of the sale prices were really good! I knew we didn't have much time before I needed to be home again, but I wanted to keep looking until I found something to use my coupon on.
And then it hit me…
40% off is still 60% more than not buying it in the first place!
.
Of course, I do already KNOW this! Most of you know that I'm a very frugal person and don't regularly spend money on things we don't need, use, want or love. And even when I DO spend money, it's usually on Craigslist or at a thrift store.
I really don't know what came over me at the mall — maybe I got caught up in the holiday consumerism, maybe I was super focused on using up all my coupons, or maybe I just lost my common sense for a minute 🙂
Whatever the case, I'm glad I "snapped out of it" and realized that I could simply give my coupon to another shopper and leave the store… and that's what I did!
I handed my coupon to someone who was already in the checkout line and she was THRILLED. Then Nora and I waltzed home with my new winter boots and several freebie items.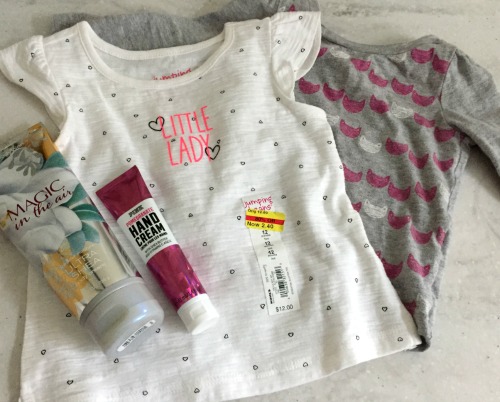 .
Another example… I get freebie offers from VistaPrint and Shutterfly almost every single day.
So many of the offer are really great deals IF I'm actually in the market for those specific products. I've gotten free wall calendars and magnets for our parents, free return address labels with the kids' pictures on them (I let them use them for pretend mail!), and lots of free 4″ x 6″ prints.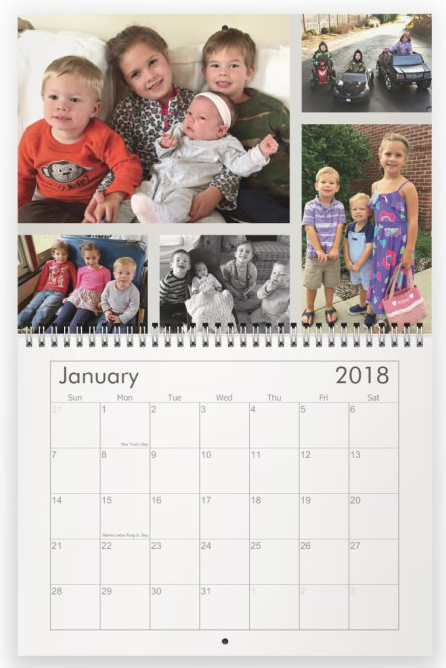 However, I always need to pay shipping for these free products — and depending on the product, shipping can be $10 or more. Like I mentioned above, the shipping cost is almost always worth it for me IF it's a product I want or need. However, those shipping costs will definitely add up over time if I spring for every freebie offer I get in my email.
I recently realized I needed more Thank You cards, so when I got an email from VistaPrint offering 25 'free' postcards, I used that code to create personalized Thank You note cards (I already had envelopes in the house) that only cost me $2.99 in shipping fees.
The ThankYou cards were a great bargain for me, but only because I actually needed them AND because I was able to pass on the other freebies they were offering that day! 🙂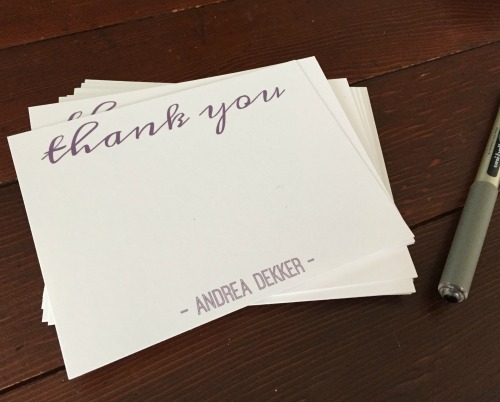 .
So you see, even a fairly frugal person who hates bringing anything 'extra' into her home can still occationally get sucked into good advertising gimmicks and marketing ploys!
I'm certain our finances wouldn't have been ruined if I used that 40% off coupon or paid shipping costs for freebies we didn't really need. I guess it's just the principle for me — I don't want to waste money buying something I don't need, I don't want to waste time shopping for something I don't need, and I don't want to waste space in my home storing something I don't need.
.
The next time you get a freebie offer or amazing coupon code, stop and think if you REALLY actually need something or if you'd most likely be wasting money, time, and space on something you don't really need.
There are definitely great deals to be had by bargain shopping, playing the drugstore game, and using loads of coupons, but just remember…
40% off something you don't need is still 60% more than not buying it at all!