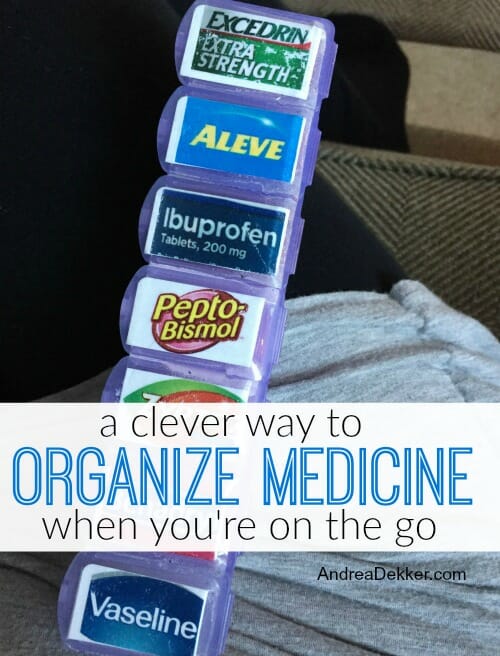 Last month, I shared a few simple tips and tricks to quickly organize your medicine cabinet at home… however, for those of you who are regularly away from home, I thought it might be helpful to share a super simple and extremely clever way to keep your meds organized on-the-go.
This tip is from my sister who regularly travels for work and personal reasons… so she is proof this method works well!
She started by purchasing an inexpensive pill organizer (the kind that say the days of the week on top). I regularly see these at the dollar store, and here's a little fancier one on Amazon.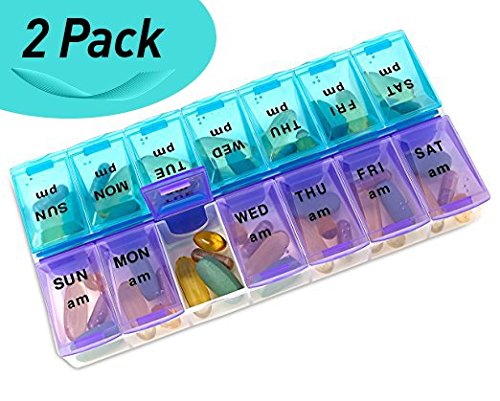 Then she decided what 7 medications she wanted to put in each compartment.
To keep everything organized, she printed images of each medication label on label paper and stuck the labels to the lids of the containers. However, you could very easily just write the name of the medications or products on a white sticker or even just tape a label on.
Now she has all the meds she uses regularly (along with Vaseline, which always comes in handy) neatly organized in ONE easy-to carry, easy to open container inside her purse.
Of course, if you have young children, you'll want to make sure you keep this out of their reach (like in a zippered compartment on the inside of your purse or diaper bag) as it's definitley not child-proof.
Also, if you put prescription meds in these containers, it's probably wise to include the dosage instructions as well.
And finally, I'm positive this little organizer would work SO well for other things like:
Vitamins
Candy, mints, and gum (Ice-Breakers or the small sticks of Trident)
Earrings, rings, and other small jewelry
Kid's medicine (non-liquid varieties)
Face cream, hand cream, Vaseline, and other thicker creams
Small amounts of sunscreen (different SPFs), Anti-Itch Cream, and other first-aid ointments
Loose change
Office supplies — paper clips, rubber bands, push pins, tacks, etc.
Spices — when you only need a little bit to take on vacation
I'm sure there are more, but these are the ones I immediately thought of while writing this post.
The next time you're at the dollar store or waiting in line at the pharmacy, pick up a little pill organizer and organize your meds for the next time you're on the go!