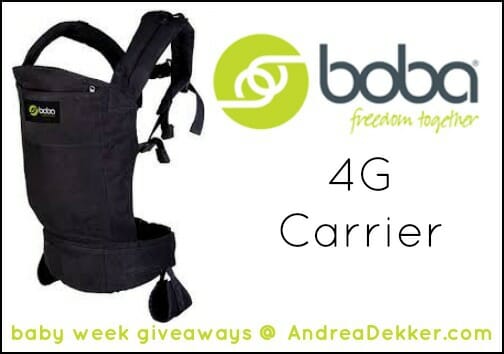 It's time to celebrate Baby Dekker #2 here on the blog, and what better way to do that than with a week of fun baby-related posts and giveaways!

Click here to view the 12 fabulous giveaways — all geared to make life with a new baby a little simpler, more organized, and more fun!
When it came to 'baby wearing' with Nora — I was actually totally against it. I didn't want to "wear" my baby around — I wanted her to be independent, content to sit in a bouncy seat or a swing, and happy to sit and play by herself (yes, you can all start laughing now).
Then I had Nora — who was/is potentially the most clingy little girl on the face of the earth and has insane separation anxiety whenever she's away from me.
For the first 6-9 months of her life, she would literally SCREAM almost non-stop if I was even out of her sight, let alone out of the house. It was very stressful for me, for Dave, for anyone else who offered to watch her, and probably for Nora too.
After just a few weeks, I "caved in" and borrowed a baby wrap from a friend at church. Almost instantly, Nora settled down and was MUCH more content around the house.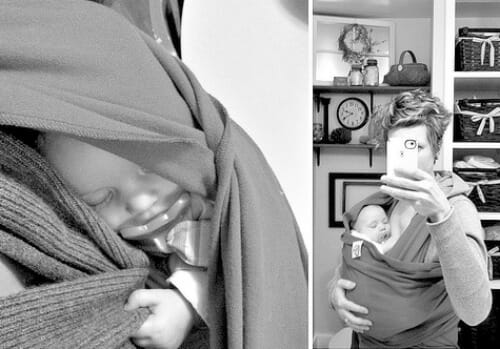 If I wanted her to take a nap, I put her in the wrap. If we wanted to eat dinner in peace, I put her in the wrap. If I wanted to get any work done on my computer or around the house, I put her in the wrap… I think you get the idea. This wrap saved my sanity!
Need-less-to-say, I quickly changed my stance on "baby wearing" and was thrilled when I got the opportunity to review some of the amazing Boba baby-wearing products. Nora was equally thrilled to receive the adorable Boba Mini to use for her own babies 🙂
Boba has 3 main baby-wearing options — all of which are amazing and all of which are useful for different baby ages, different lifestyles, and different needs. But since the Boba 4G Carrier is designed for the widest age and weight range, we decided to offer that one for the giveaway!
The Boba 4G Carrier:
The Boba 4G is the top-of-the-line carrier with the most options and (thanks to a handy infant insert) it can accommodate babies AND toddlers from 7-45 pounds!
The ergonomic design, various adjustments, and accessories allow the 4G to literally grow with your child, making it the ideal carrier for busy, active families.
It comes in a variety of stylish colors and patterns and is super durable (I seriously can't believe how sturdy it is!) It can be worn in front or in back — and you can even wear TWO carriers at a time (infant in the front, toddler in the back) although you'd have to be pretty strong to manage that!
Here are a few more specifics about this awesome carrier: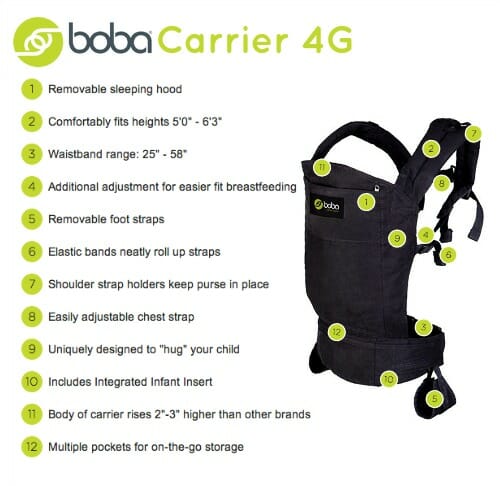 More about Boba:
The Boba company designs thoughtfully-crafted products for active parents who want the time and freedom to create a real and caring bond with their child, while living life to the fullest. Boba makes high-quality baby wearing products that meet the needs of BOTH the parent and child.
The Boba baby-wearing products provide loving parents with a means with which to care for their children while remaining active at both work and play.
Visit Boba on the web:

Website: www.Boba.com
Blog: Boba Family Blog
Facebook: Boba
Twitter: @Boba
Instagram: Boba
Pinterest: Boba
Enter To Win This Giveaway!
Today, one lucky reader will win a 4G Carrier from Boba!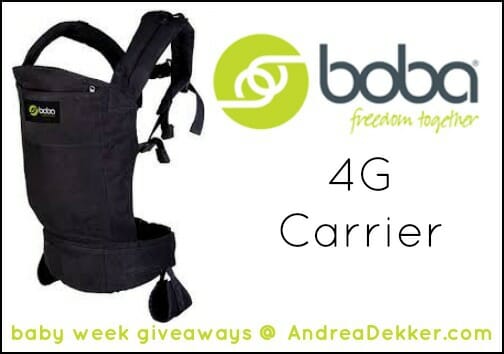 To enter, simply use the Rafflecopter widget below (it might take a second to load). This is a new way of entering giveaways on my blog but it will hopefully make things easier for me AND simpler for you!
First, enter your name and a valid email address (so I can contact you if you win) and click "log in" (you are logging into THIS specific giveaway, and I will be the only one who sees your email address.) Next, click "Enter to Win". Finally, click the big green ENTER button!
a Rafflecopter giveaway

All baby week giveaways end at 11:59 pm EST, Sunday, 2/16/2014 and are open to US residents, 18 years or older. The winners will be randomly selected via Rafflecopter and notified via email. I received a duplicate prize package in exchange for hosting this giveaway — but all opinions are 100% my own. Please see my full disclosure policy and contact me with any questions you have. Good luck!