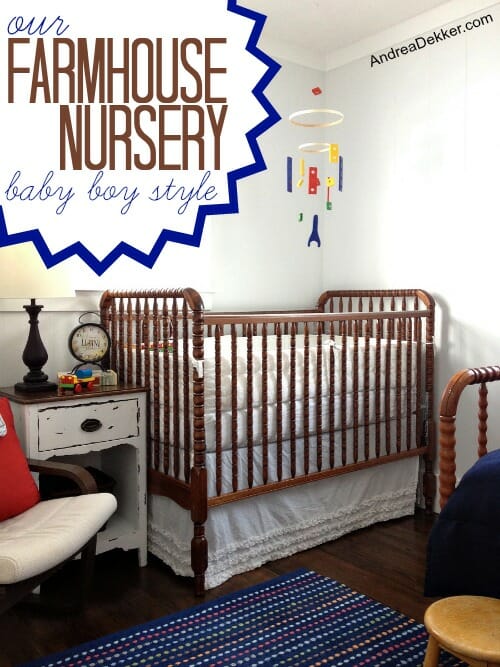 Welcome to Baby Week! All week long, we're celebrating Baby Dekker #2 with fun baby-related posts and giveaways. Click here to view the 12 fabulous giveaways — all geared to make life with a new baby a little simpler, more organized, and more fun!
I'm SOOOOO excited to share today's post with you — probably even more excited than I was to share the giveaways I linked to above (make sure you enter to win before Sunday!)
That's right friends, it's time for another Farmhouse Nursery Tour — baby boy style!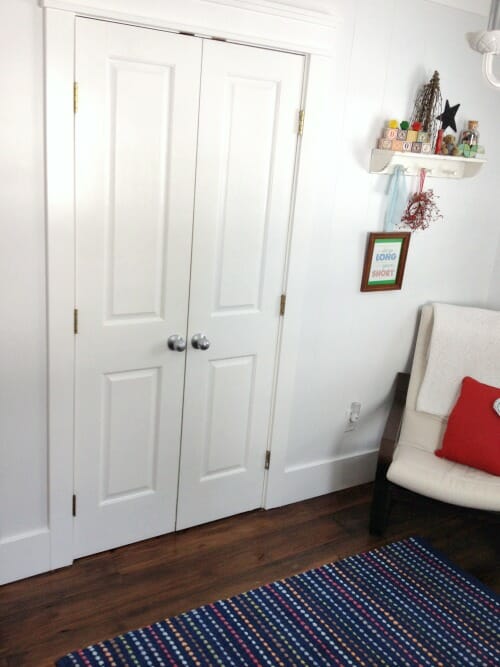 READY FOR THE FULL TOUR?
This is the view walking into the nursery from the hallway.
The twin bed and changing table are butted up to this first wall.
Yes, there is a twin bed in here… and no, it's not for Nora or the baby 🙂
We decided that since I basically slept on the floor in Nora's nursery for the first 3 months of her life, that a twin bed would be a welcome addition to this room. We already had the bed and all the bedding — and although it does make this tiny room a bit crowded, we'd rather be "safe than sorry" this time around!
Don't you just LOVE LOVE LOVE the huge alphabet decals we got to decorate this wall!!
If you keep spinning around, you'll see my Jenny Lind crib in the far corner of the room.
Next to the crib is a small night stand and our "rocking" chair.
We have a few decorative touches, pictures, and handmade artwork hanging above the chair — and we'll eventually put the baby's name above the black cork board… but not until after he's born 🙂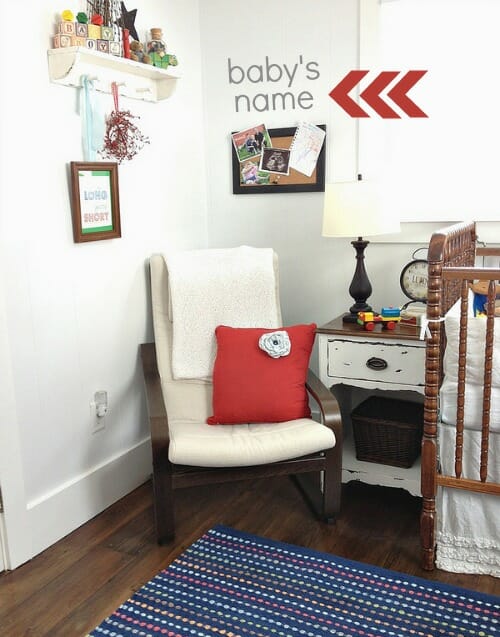 Next to the chair is the closet area — and then the door back out to the hallway (told you this room was small!)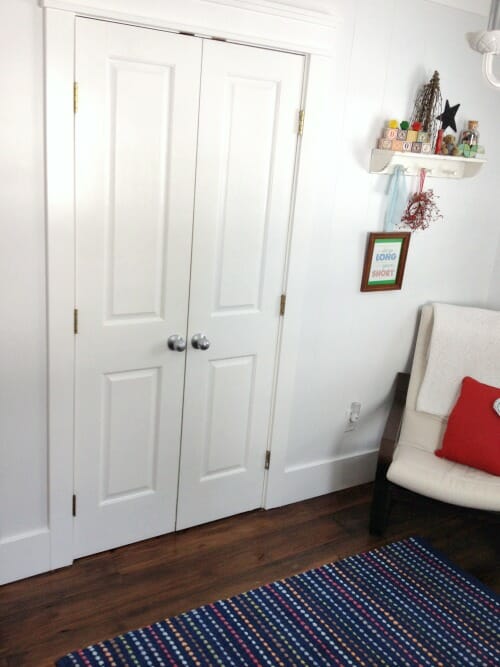 And speaking of the closet… here's how I have it organized:
A hanging shoe organizer — perfect for all those tiny onesies, sleepers, sleep-sacks, etc.
All his cute outfits, washed and ready to wear (this is all his clothes from 0-6 months — so much less than Nora, but we'll be just fine I'm sure!)
Socks, bibs, hats, slippers, and shoes in various containers I found around the house.
Bins of baby-wearing devices, baby toiletries, extra supplies, and baby blankets.
Believe it or not, the dresser is completely empty besides some diapers and a few 6-9 month items — I love it!
Tiny newborn diapers… check!
It's crazy to think that exactly 3 years ago, we were just starting the process of completely gutting this room. We actually removed one of the closets to allow room for a walk-in shower in our bathroom (best decision ever!)
Just for the fun of it, here is a progression of "before", "during", and "after" photos of this side of the nursery!
BEFORE – the day we moved in: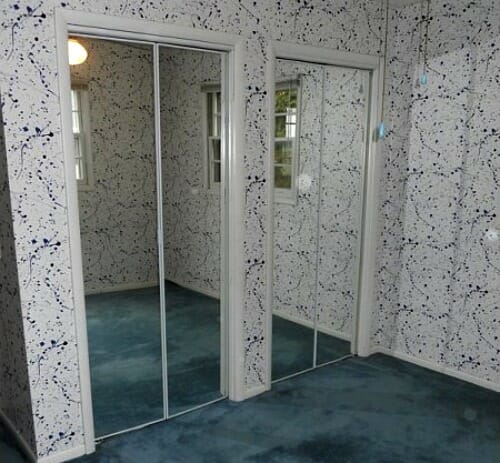 DURING the closet demo + shower install: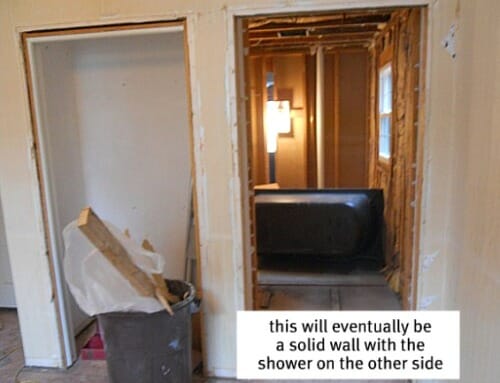 AFTER: Nora's nursery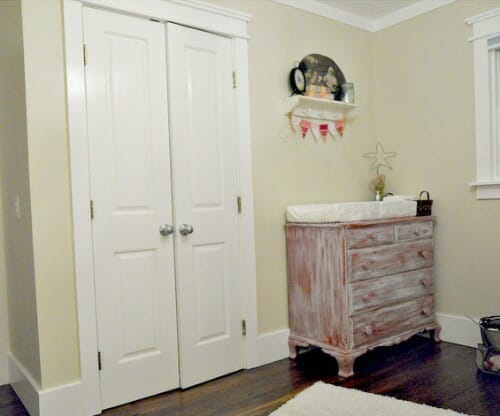 AFTER: Baby Boy's nursery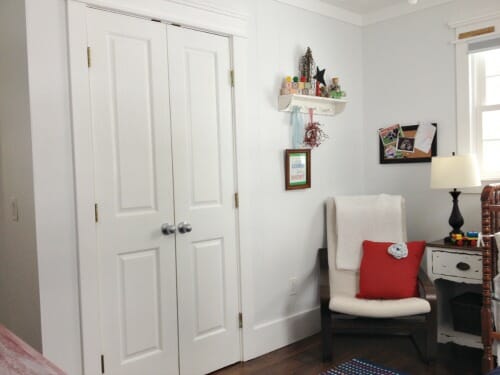 .
So yes, we've come A LONG way with this room! It's SO fun for me to look back and see the transformation — and honestly, I can't believe how much MORE I love this room now than when we originally renovated it for Nora.
Where we got everything:
Paint $25 :: we went with Frost from Behr (the same color in Nora's room) and we LOVE how it brightened things up!
Crib, dresser, and night stand $0 :: various Craigslist purchases over the years (we used them all with Nora too).
Crib bedding $0 :: I made it all when I was expecting Nora. 🙂
Twin bed $0 :: from Craigslist several years ago. We pulled it from a guest bedroom when we moved Nora upstairs.
Twin bedding $0 :: all stuff I already had from when Nora was in a twin bed.
Chair $0 :: IKEA Poäng chair that we already had from Nora's nursery days.
Pillow on chair $0 :: an extra pillow that came with Nora's bedding. I just sewed the flower on using extra fabric I had.
Mobile $3 :: Made that out of an extra toy that was sitting unused.
Closet Organizers $15 :: I got the hanging shoe organizer from Amazon.com and the 3 baskets from Target (using a gift card).
Rug $0 :: On clearance from Target with a Christmas gift card!
ABC Wall Decals $0 :: gift from Pop & Lolli Etsy shop (and also one of the giveaways this week)
Elephant Pillow / Toy $0 :: gift from Precious Little Tot Etsy shop (and also one of the giveaways this week)
Various toys and decorations $0 :: all things we just had around the house and matched the color scheme.
So that's everything!
All together I spent about $45 on this nursery transformation. You can read more about the cost breakdown of the clothing and other baby supplies in this post if you're interested.
I just love how everything came together and how we were able to reuse almost EVERYTHING from Nora's nursery but still make it look more "boyish" with a few simple tweaks.
I personally think it looks and feels like a child's room — but still with the over-all "old farmhouse charm" that I just can't get enough of!
My bags are packed, so all I need to do is put the carseat in the car… and then I think we're officially ready for this little boy!