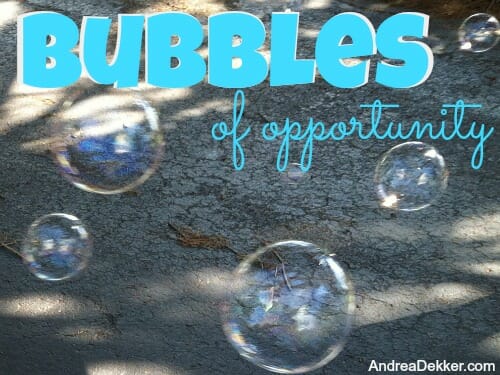 Last week, I shared some sweet pictures of Nora playing with bubbles — one of her favorite warm-weather activities so far.
She loves, loves, LOVES bubbles.
Sometimes she wakes up in the morning and (before she even gives me a hug or lets her eyes adjust to the sunlight) runs to the back door shouting "BUBAS! BUBAS! Peeze bubas mama!" And any time we step foot outside, she starts pleading for her "bubas".
Nora is on a mission and her #1 priority is bubbles.
However, I find it interesting that when I blow bubbles for her, she almost always fixates on one specific bubble and chases it until it pops or until it's completely out of her reach — then she points up shouting "buba… uh-oh!
Meanwhile, she lets 30 or 40 other bubbles pass her by.
I suppose this is normal for small children, and I'm thrilled to see her focus and determination at such a young age. But sometimes I find myself getting slightly frustrated with how many bubble-popping opportunities are being "wasted". I should save my breath (and our bubbles) and invest in a bubble wand that only blows one bubble at a time 🙂
I try to get her to notice some of the big bubbles coming her way, but she's often too busy following one bubble — THE bubble — whether she can catch it or not.
This got me thinking about life… and goals.
I'm a big fan of setting goals and then working really hard to achieve those goals. However, I've also learned the hard way that sometimes, when you're SO focused on one specific goal, you can miss out on lots of other really great opportunities (maybe even better opportunity) passing you by.
Striving to achieve a goal, grow a business, meet a deadline, or finish a big project will always require focus, drive, and determination. That's good! After all, I certainly don't think it's wise to constantly change directions or bounce back and forth between tasks — you'll accomplish nothing if you do that!
I simply think it's a good idea to keep take a step back every once in a while and look around for some of those other bubbles of opportunity you might have missed as you pushed towards your goal.
You might find that you're still on the right track — following the best bubble for you. Or you might see a new perspective, a better idea, a different opportunity, a simpler solution, more bubbles!
But you'll never know unless you stop and look around.
In my own life, I've often found that some of the best opportunity bubbles have come my way when when I was focused on something entirely different.
I would get frustrated because "my plan" wasn't working, things weren't moving as quickly as I wanted, or I just couldn't quite reach my goal. It wasn't until I took a step back that I realized I was headed down a dead-end road or pushing too hard at something that just wasn't natural for me.
Bigger and better bubbles of opportunity were right their waiting for me. I just had to look!
In case you're wondering, my business, my blog, and my husband are 3 "bubbles" I would have missed if I didn't stop and take a look around.
So as you continue to set goals and work diligently to achieve those goals, just remember to take a few moments every now and then to look around at the many other bubbles of opportunity floating by.
You might just be surprised by what you see!