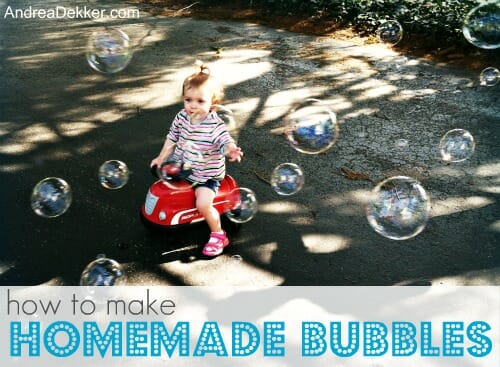 Thanks to a recent gift from one of her aunts, Nora now LOVES bubbles.
We keep the bubbles in a "secret spot" in our kitchen but Nora knows where they are. So naturally, she stands there pointing up and pleading for her "bubus" every time we go outside to play.
It's pretty cute!
However, after a few days of intense bubble blowing, we were running low on our supply.
I knew there were recipes for homemade bubbles, so I searched the internet and I found several. After trying a few, I decided this one was the simplest.
Recipe for Homemade Bubbles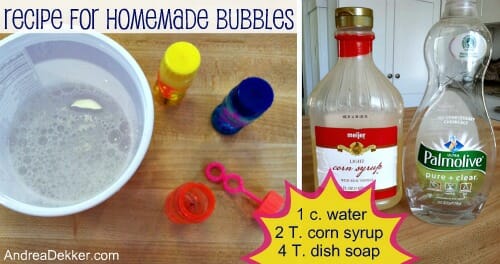 INGREDIENTS:
1 c. water

2 T. corn syrup (I used "light" because that's what I had)
4 T. liquid dish soap (I've successfully tried it with Dawn and Palmolive so far)
DIRECTIONS:
In a small container, mix all ingredients together (I use old yogurt and sour cream containers)

Pour into bubble dispenser (it's easiest with a small funnel)
Have hours of summer fun!
It took me all of 5 minutes to mix up the bubbles, refill our bottles, and head back outside for more fun.
I have a feeling I'll be using this recipe many, many times in the years to come 🙂
What are your favorite inexpensive ways to entertain kids during the spring and summer months?