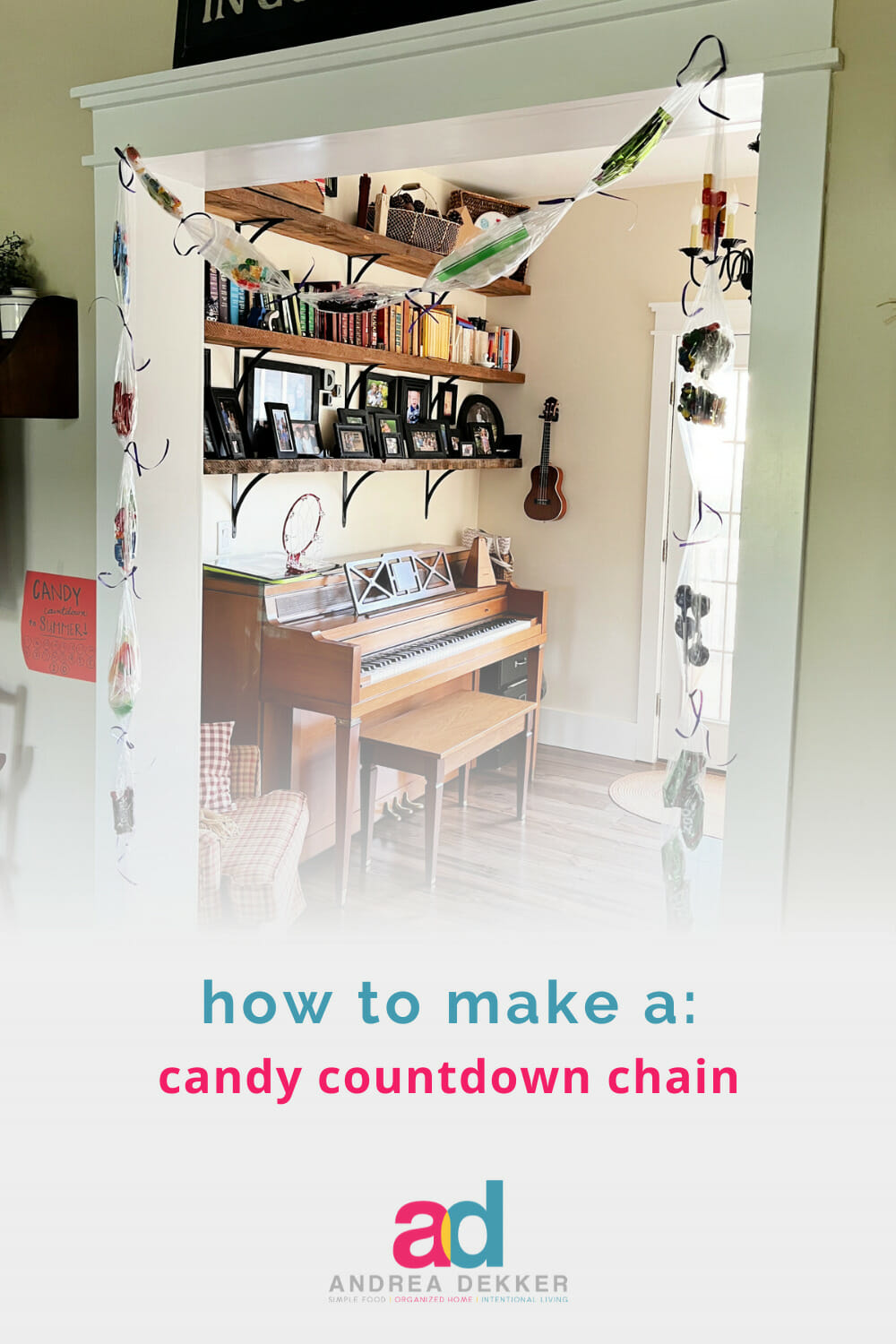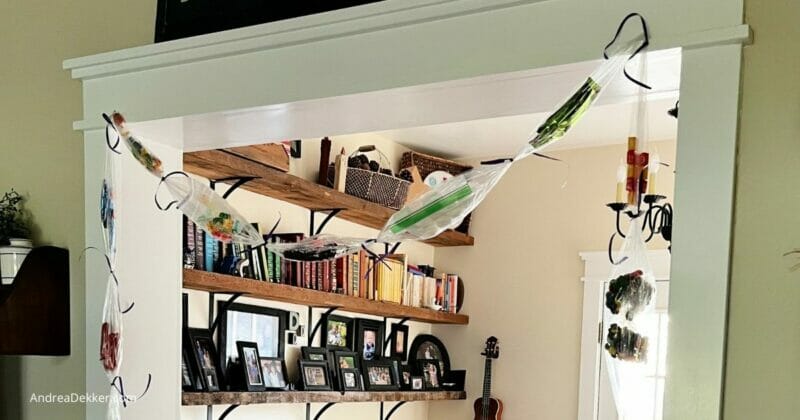 One of our family's favorite ways to "count down" to birthdays, Christmas, summer break, or really anything fun and exciting has always been with a countdown chain — usually made from colored construction paper.
However, a while back, I decided to surprise the kids with what I call a "candy countdown chain"… and now they'll never be satisfied with paper chains again!
Instead of ripping off a link each day, the kids get to cut off one more "candy pouch" every afternoon when they get off the bus.
They then enjoy their special treat with their afternoon snack… knowing they are one day closer to the freedom of summer!
When we do Christmas or birthday countdowns, we usually cut the candy down after dinner — sort of like our dessert.
These candy countdown chains are super fun and super easy — keep reading for the simple DIY instructions, and then plan a time to create a candy countdown chain for your family!
Yield: One countdown chain (however long you want it to be!)
How To Make a Candy Countdown Chain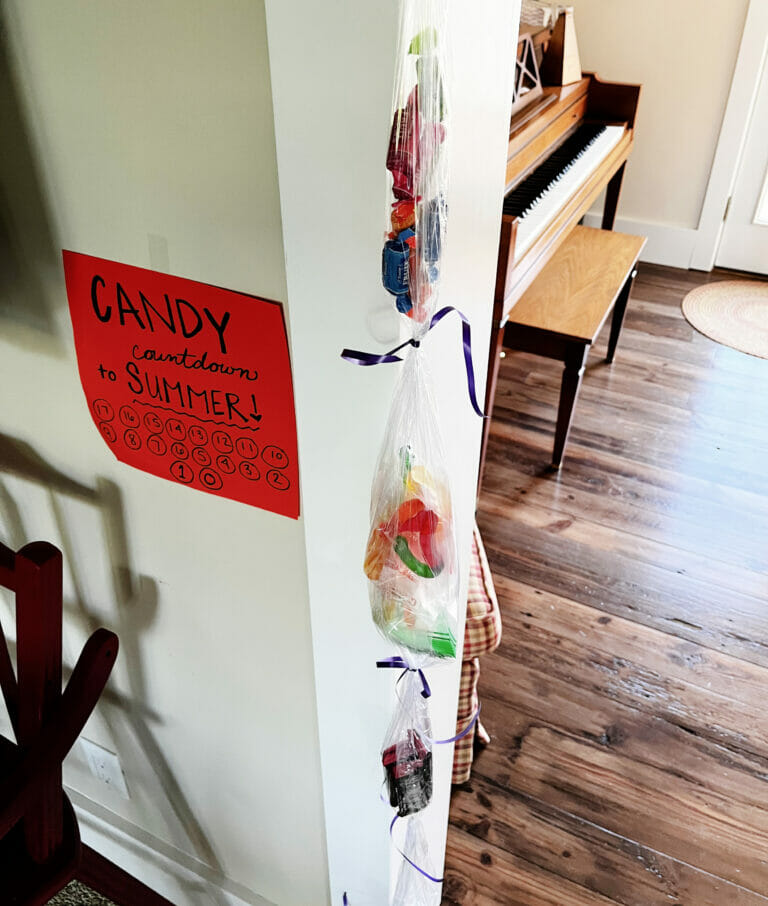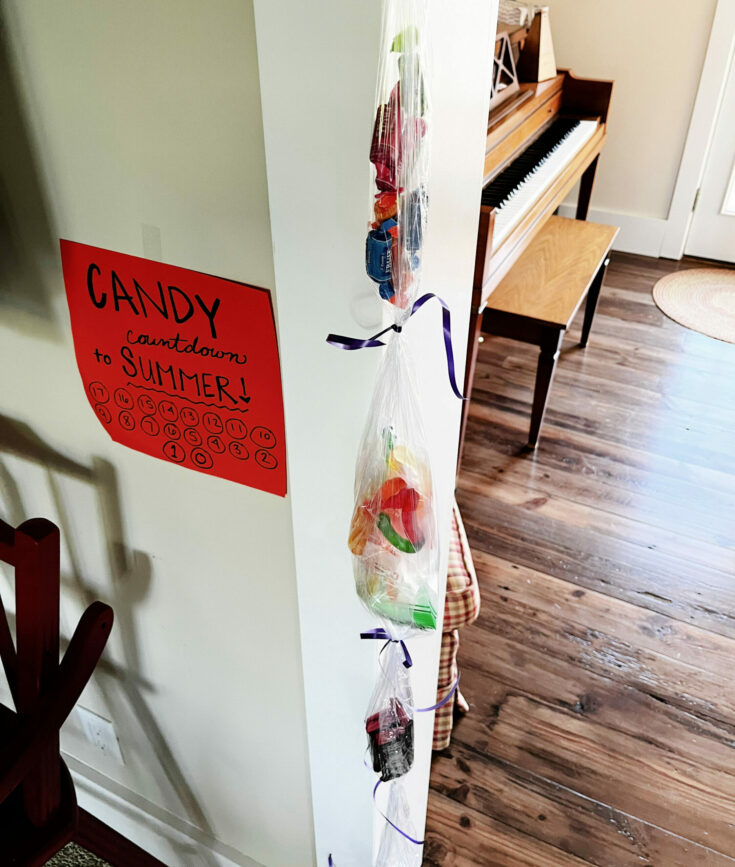 If you need a super fun way to count down the days until a birthday, Christmas, summer break, an upcoming vacation, or any other fun event, a Candy Countdown Chain is just what you're looking for. It's so easy to make and your kids will LOVE it!
Materials
Candy -- for as many days as you want to count down.
Plastic food wrap
Scissors
String, twine, or ribbon
Instructions
Determine how many days you want to countdown and purchase that many types of candy (make sure you have one piece for each person who's participating).
Roll out a very long section of plastic wrap (down a long hallway or in a large room).
Lay each day's candy in a small pile in the center of the plastic wrap -- leaving a 6-10 inch gap between candy piles.
Once all the candy is laid out, fold the sides of the plastic wrap into the middle, over the candy.
Cut 10-inch long pieces of ribbon or twine and tie off the plastic wrap in between each section of candy.
Hang the finished "chain" on a doorframe, on a Christmas tree, on a bedpost, on a stair banister, or anywhere else that makes sense for your home.
Cut off one "candy pouch" each day until the much-anticipated day.
Notes
You can use snacks or small trinket toys instead of candy -- just make sure it's small enough that a traditional roll of plastic wrap can contain it.
Recommended Products
As an Amazon Associate and member of other affiliate programs, I earn from qualifying purchases.
How to Make a Candy Countdown Chain
Choose your kids' favorite candies — mix up the variety if you can. I like to alternate between fruity and chocolatey, gummy and hard, etc.
Make sure you have enough of each candy for each day. For example, I have 4 of everything because Dave and I aren't participating in this… just the kids.
Lay out the candies on a LOOOOOOOONG strip of plastic wrap.
Fold the sides of the plastic wrap in towards the middle — overlapping the candy in the middle (like a long burrito). Then tie pieces of ribbon or twine in between each candy section.
When you're finished, hang the candy "chain" in a prominent location in your home — wherever it makes sense for the kids and the flow of your home.
You could also make a sign to go along with the countdown chain — so the kids can physically cross off the days.
Once you have your candy, this is a quick 10-15 minute project that offers DAYS of fun and enjoyment — totally worth it in my opinion!
Your whole family will have fun anticipating upcoming events by creating your very own Candy Countdown Chain!