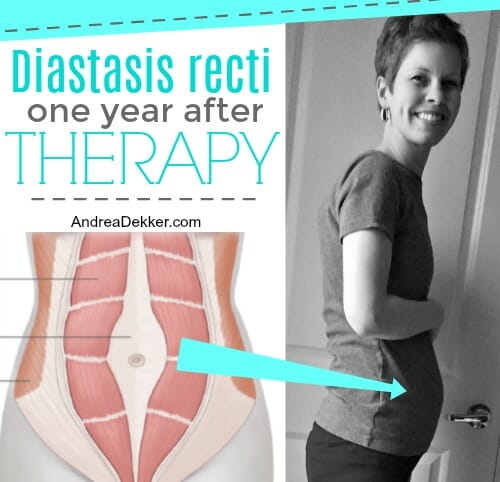 UPDATE: In the fall of 2020, I did end up healing my DIastasis recti using the Every Mother program. Within 7 days, my decades-long back pain was gone, and my ab separation was completely healed with 12 weeks (all from the comfort of my own home!)
—————–
Last March, I shared a little bit about my journey to heal/fix/correct my Diastasis recti. Now, one year later, I thought it might be time for a follow-up post — especially since I got SOOOOOOO many questions and emails from readers after my original post.
What exactly is Diastasis recti?

In case you're wondering, Diastasis recti is (in layman's terms) when the connective tissue between the abdominal muscles gets stretched out during pregnancy and doesn't go back to "normal" after the baby is born. The gap in the muscles allows for pressure from internal organs to "push out" which literally makes the lower abdomen stick out — often looking like a small (or large) 'baby bump'.

It's actually fairly common (over 40% of women are thought to have this separation) and it often happens after 3+ pregnancies, after carrying larger babies or multiples, or after having 2 pregnancies very close together.

Vanity is an obvious reason many women want to correct this issue; over-all core strength is another reason. Because of the separation, the abdominal muscles aren't nearly as strong or supportive, so the entire core is weakened and it can cause lots of back pain and hip problems down the road.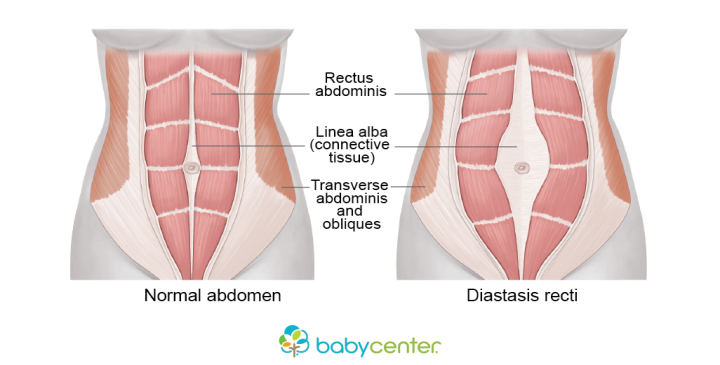 My Diastasis "Journey":
After Nora was born (November 2011), my body pretty much bounced back to exactly how it had been pre-pregnancy within weeks. It was amazing!
However, after Simon was born (March, 2014) things took a lot longer… and since I got pregnant with James 6 months later, I don't think my muscles had enough time to "get back to normal".
After James was born (July, 2015) I figured we would have more children so I didn't want to "waste" time or money trying to get my body back in shape… and I honestly don't think I ever heard the term Diastasis recti until a full year later, which is when I first started to research the topic.
A few months after Clara was born (Sep. 2017) I decided it was finally time to do something about my stretched out abdominal muscles and the fact that I looked like I was still 4-5 months pregnant.
I started meeting with a physical therapist every 2-3 weeks. She checked my muscle separation, watched me do the exercises she had instructed me to do the week before, made sure I was still doing them correctly, and added new exercises for the upcoming weeks.
Everything was going well, I was faithfully doing my exercises 3 times per day, I was eating super nutritiously, and I felt really good.
I was on a mission to add as many veggies to my diet as possible and as a result, I ended up losing all my baby weight and a bit more. However, after losing the weight, my stomach actually looked like it was sticking out even more than before because there wasn't as much fat to "hide" it.
It felt fairly discouraging to go to therapy every few weeks and listen to the therapist say the same things over and over again. She was great and very knowledgeable and encouraging… but I knew I wasn't making progress, I knew the gap between my abdominal muscles wasn't getting any smaller, and I knew our insurance year was almost up!
Since Dave's insurance starts over with the school year, I decided early on in the process that I would only go to physical therapy through August as we had already met our deductible for the year thanks to Clara's September birthday!
So in August of 2018, I stopped physical therapy, but continued to do the exercises at home. However, I can honestly say I don't think the therapy made any difference for my body.
I learned a lot and I do not regret going to therapy, but… my abdomen still sticks out, I can still feel a large separation in my abdominal muscles, and my back is still sore most of the time.
I realize that's probably not the update you were hoping for… especially for those of you who have been asking for tips to help with your own Diastasis recti. It's not the update I wanted to give you either!
I am not fat, I am not out of shape, and I am not unhealthy. In fact, from a health standpoint, I'm probably the healthiest I've ever been in my entire life.
However, as you can see in the pictures below, I really do have the same profile as I did when I was 4 months pregnant — maybe a little lower "bump" though!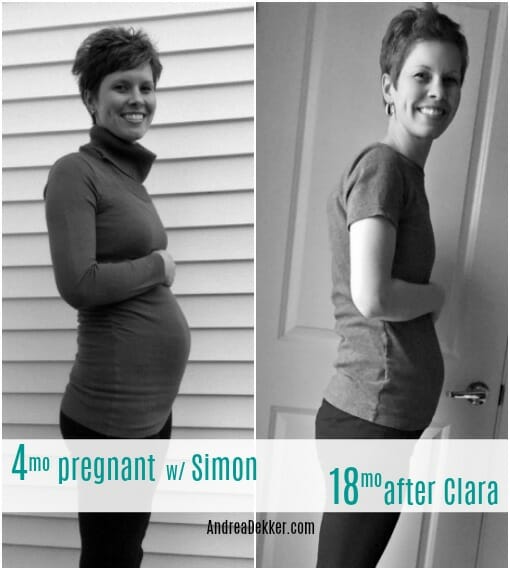 Of course, I don't wear tight shirts anymore, and I certainly don't stand like this with my hand on my belly, but my abdomen definitely isn't flat like it was for the first 31 years of my life.
Thanks to the current clothing styles, my "bump" is easily concealed, but that still doesn't "fix" the fact that my core is quite weak and my back pays the price.
.
One Year Later:
At this point, I have taken a break from the therapy exercises, but I still wear this abdominal support belt on a fairly regular basis — especially if I'm engaging my core muscles by shoveling snow, doing yard work or extra house work, lifting groceries, etc.
I've also started wearing supportive shoes around the house all day (instead of slippers). This isn't for my abdominal muscles, but it does seem to help my back pain.
Yes, I look super sweet with my bright orange shoes — I try to remember to switch to slippers if people come over!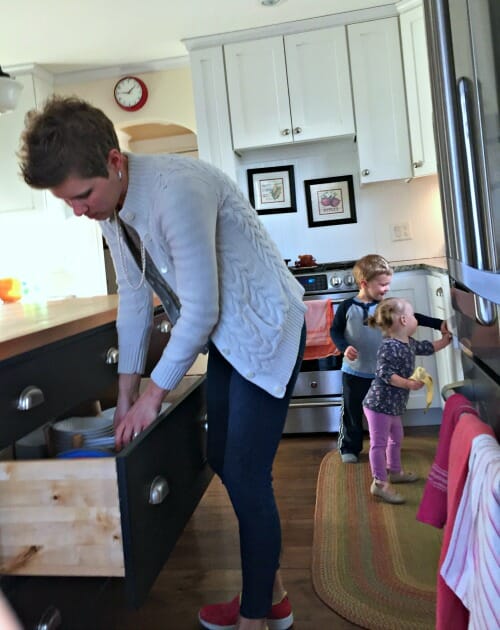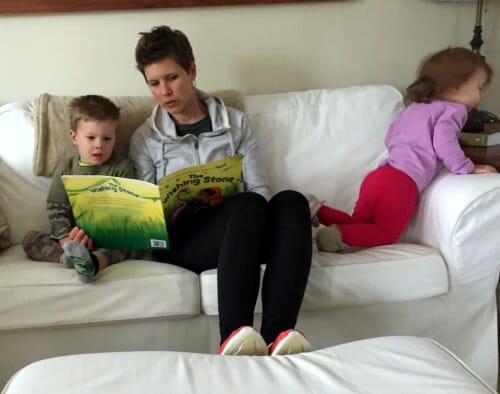 thanks to Simon for regularly "stealing" my phone for fun candid pictures!
.
Over the summer, I'd like to do a little more research on how to strengthen my core, and I might start seeing a local chiropractor for my back pain.
Truthfully, I hate spending money on this type of thing, but I also know that at this point in my life, spending money to improve (or even maintain) my health and well-being is probably a better use of funds than many other things.
.
Who knows, I might be back here in another year or so with a super exciting update that I healed my Diastasis and strengthened my core…
Or I might just keep making and eating bread…
I know which route would be more enjoyable for me! 🙂
Thankfully, my Diastasis does not currently inhibit me from enjoying life or doing normal daily activities… however, I don't want to flippantly ignore the issue forever either as I know a weak core can be the source of a whole slew of health problems later in life.
For now, I've adapted the mindset that "it is what it is" and I'm not stressing about it at all.
I might have a baby-less baby bump and a sore back, but I also have 4 amazing kiddos – I'd say that's a decent trade-off!