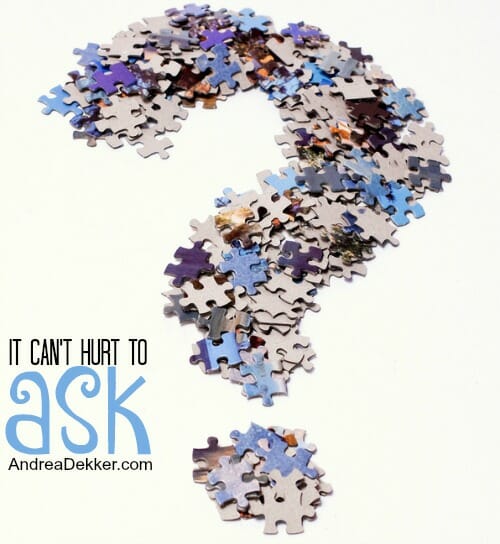 Although I'm not nearly as frugal as I was 10 years ago, I still try to use our money wisely, get the best value, and save when it's not too much of an inconvenience (no, I'm not going to drive all around town to save $0.05 on gas!)
One of the ways I save quite a bit (without sacrificing much time, effort, or quality of product) is by simply asking the right questions to the right people.
Let me give you a couple recent examples from my own life…
Asking for substitutions at the grocery store.
Last week, I wanted to buy a bunch of raspberries because they were deeply discounted and my kids LOVE raspberries. However, when I got to the produce department, they only had the MUCH pricier, not-on-sale, organic raspberries left.
I quickly asked an employee if they had any more raspberries in the back, but he immediately knew they were out.
So I grabbed several packages of the organic raspberries, found a manager, explained the situation, and asked if I could get the organic berries for the same price as the deeply discounted non-organic berries.
Without hesitation, she gave me the discount! So I got my fruit, I got my good deal, I didn't have to go back to the store (or to a different store) and I only spent a few extra minutes at the store.
Asking for a better deal on a service.
As many of you know, Dave and I do not pay for cable anymore (we have an antenna to get the basic channels and use Netflix, Amazon Prime, or Hoopla for everything else).
However, it took us a REALLY long time to actually cancel our cable because we had a package deal with both cable and internet, and every time we tried to cancel our cable, the internet price would skyrocket. We would have only saved about $5 to $10 per month by canceling our cable — which wasn't worth it for Dave.
Finally, earlier this summer, I got on the phone with someone who sounded more willing to help me. I explained that we only wanted internet and I requested that our internet price stay the same. After a few minutes, the person finally agreed to let us keep our internet rate the same and drop the cable part of our plan.
So our internet price is locked in and our bill is half as expensive!
It did take several phone calls to finally get what I wanted, but considering we will be saving hundreds of dollars every year, it was definitely worth my persistent phone calls!
Asking for a discount on second-hand purchases.
I do A LOT of second-hand shopping — via Craigslist, garage sales, second-hand sales, and thrift stores — and I can often get an even deeper discount or a more advantageous outcome just by asking.
I recently purchased something off Craigslist but it was too big to fit in our van. I went to go look at it (just a few miles down the road) and told the seller I would buy the item if they could deliver it in their pickup truck. She immediately agreed and her husband delivered the item later that night.
I also had great luck at a garage sale a couple months ago. Nothing was priced (a pet peeve of mine) so I asked the seller how much she wanted for the 10 items I had picked out. I was prepared to negotiate down to $15… but she only asked for $6! If I had simply offered to pay $15, I wouldn't have gotten nearly as good of a deal as if I had simply asked first.
.
Personally, I do not feel like I'm cheating the system or trying to swindle people or companies out of their money. I'm simply asking a couple questions and letting the other party say "yes" or "no". If they say "no", I will not beg or plead for them to change their minds, but I also might not do business with them (example: I would not have purchased the organic raspberries unless I got the discount).
Aside from the time I spent on hold with the cable company, I hardly spent any amount of time or effort asking my questions, I didn't have to search for sales or clip coupons, I didn't have to send in any rebates or scan my receipts into an App, I simply asked a question and received the savings instantly.
I realize every situation is not always as simple as asking for a discount — but I've honestly been amazed how many times I've gotten a better deal just because I asked for it!
After all, it certainly can't hurt to ask 🙂
Have you ever gotten a deal just by asking for it?