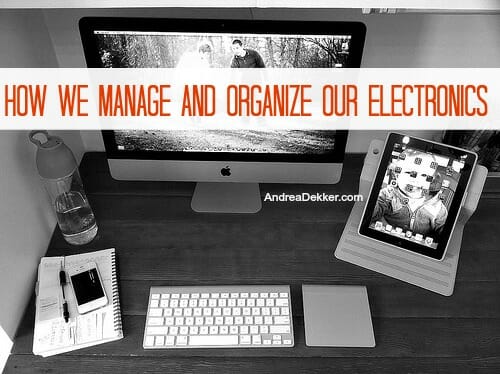 I am often asked to share about how many electronics we have in our house, how we organize them, and how we handle our kids using electronics… but I've never felt like I had a lot to say about these topics since our kids are still relatively young and really have no idea how to use any of our electronics.
However, after several more requests, I figured I would share a little about how we manage our electronics… and then I'll leave the comments open for those of you with older children, no children, or even adult children living at home to share what works for you and your family.
That way, I don't have to be the "expert" and you can still benefit from the knowledge of others!
TV, Cable, Netflix, Amazon Prime, and Chromecast: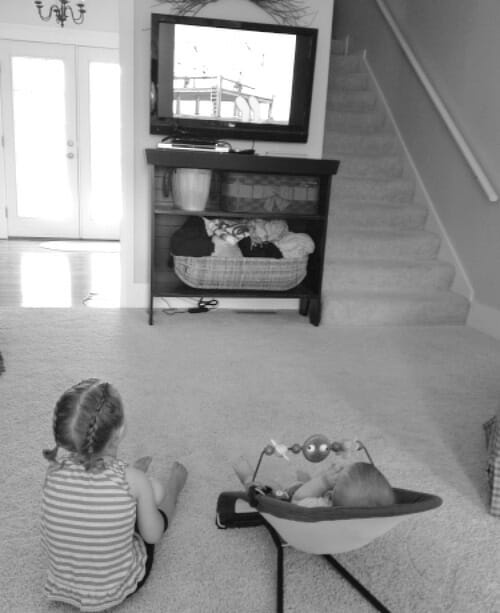 Believe it or not, we used to have FIVE different TV's in our house (before kids when we actually had time to watch TV!). Now we just have one TV in our living room and that has been plenty for our family's needs.
The kids usually watch a couple shows during the day and Dave often watches sports while working on school stuff in the evening. I rarely ever watch TV during the school year; however, I try to catch up on my Netflix list over the summer, Christmas break, and Spring break.
We do not pay for cable but we DO pay for Netflix and Amazon Prime. We also have an antenna (very similar to this one) that allows Dave to watch his beloved sports and news.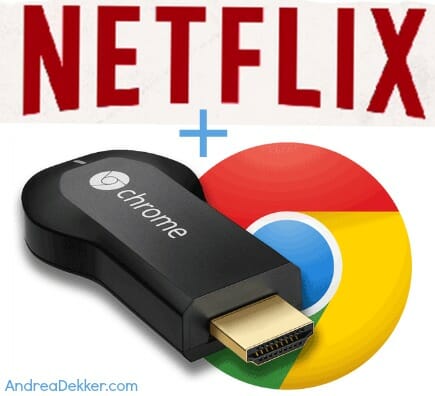 We also have a Chromecast –which has been an essential part of our no-cable deal. Using the very inexpensive Chromecast device (right around $30 now – and that's a one-time fee) we can instantly stream anything from our smart phones, iPad, or computers to our TV. Read more about how we use our Chromecast in this post from a couple years ago.
This means we can watch Netflix, YouTube videos, PBS kids (or really any shows on any of the major networks via their websites), and anything on Amazon Prime. We can even watch our own family videos (I upload them to YouTube or Vimeo) and scroll through our family pictures on Flickr.
We currently have no hard, fast "rules" for TV time in our house. Depending on the day, the weather, our schedule, and how early the kids wake up, we might watch a few shows here and there or we might watch nothing.
Simon is the most interested in watching TV ("mom, me watch show wite now… pweeze?"), Nora just chooses a few specific shows to watch, and James really isn't interested in it at all right now.
I'm sure as they get older, we'll have more rules (like, you need to do your homework first) but for now, rules would probably just make them obsessed over it more. Also, we have potential plans to turn our current nursery into a little den area once we don't need it for babies anymore. We'll probably put a small TV in that room — and then Dave wants to get some sort of game system in there as well… for the kids, of course 🙂
One fun little organizational tool I use to keep all the TV cords neat and organized is this cord organizer. It's SUPER inexpensive (around $4.00) and works with almost any type of cord.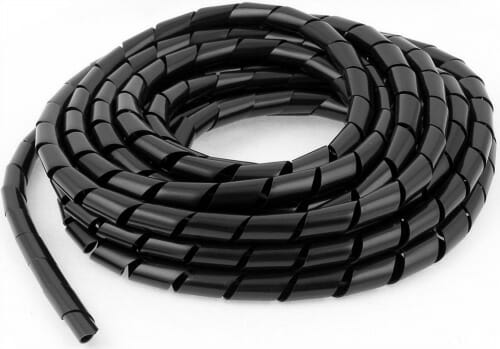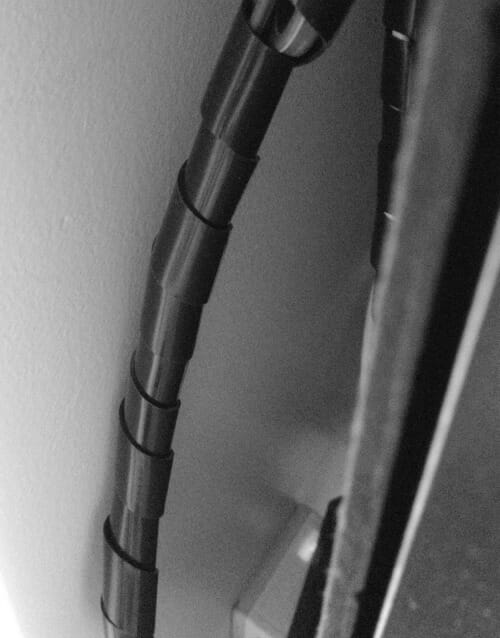 . ,
iPads and Tablets:
We have one very old iPad that Dave uses with a few specific apps to create special videos for his math classes.
Outside of when Dave is using the iPad for his videos, it basically lives on top of the TV stand and is used almost exclusively for pulling up Netflix or YouTube shows and casting them to the TV (it works seamlessly with Chromecast). Simon and James don't use the iPad yet, but Nora just started using a few coloring apps and a reading app.
Nora recently started a free month-long trial of Reading Eggs and she really enjoys doing a few lessons every day while Simon and James are napping. She'll often sit next to me on the couch while I'm reading on my phone or next to me at the computer while I'm working — I'm honestly amazed at how quickly she is picking up different reading skills!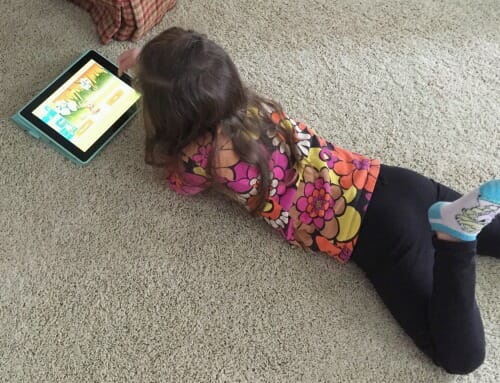 Facetime with out-of-town relatives is another favorite use for our iPad!
We have 2 charging cords for the iPad — one stays plugged in behind the TV stand so we can instantly charge the iPad while it sits in it's normal "home". The other charger in a small box of "extra chargers" we store in our office just in case we need an extra one.
For the last 5 years, we've used this Martha Stewart Brand case/stand and we LOVE it. It automatically turns the iPad on and off when you close the front flap, plus, it can hold the iPad horizontally or vertically. And it even has an elastic strap to strap it to the back of a car headrest!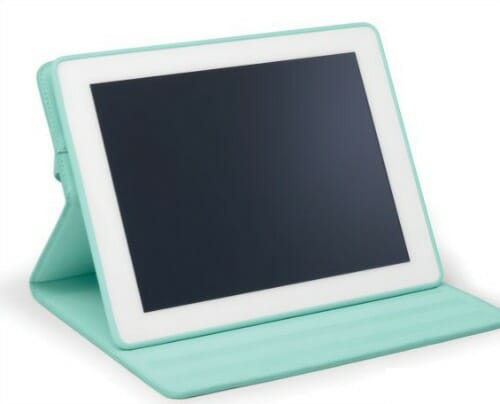 We don't have a kindle or any other tablet at this time — however, I could see getting one specifically for the kids and keeping one for Dave if we feel we need to keep the 2 separate.
.
Phones: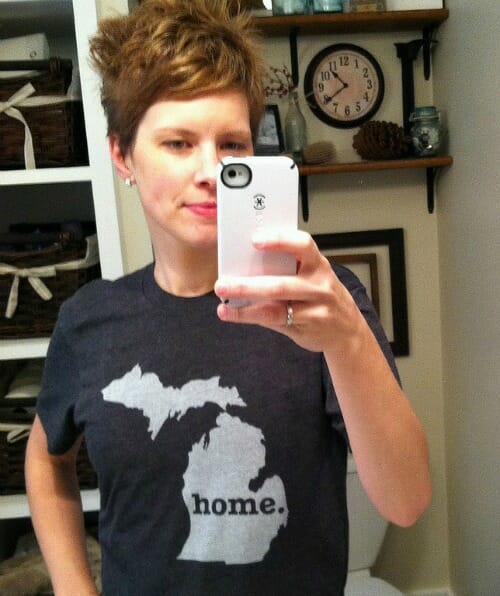 Obviously, none of our children have phones yet… but Dave and I both have iPhones. We do NOT have a house phone or a landline but we will most likely look into getting some type of phone for our home once our kids are a bit older (any suggestions on this would be appreciated!)
I will freely admit that I rarely use my phone to actually "talk on the phone". Instead, I use it to read, to take pictures, check or respond to emails, clip digital coupons for our grocery store, check the weather, text people throughout the day, and various other extremely helpful things 🙂
We have a bunch of phone chargers — one in each of our vehicles, one in the kitchen, one connected to my computer at all times, one in the diaper bag, and one in our "just in case we need an extra charger" box!
Since our kids don't have phones yet, I don't have any great rules or guidelines for teen phone usage — but I have a feeling many of you have lots of advice. Feel free to leave it in the comments for others who are interested!
.
Computers and Internet: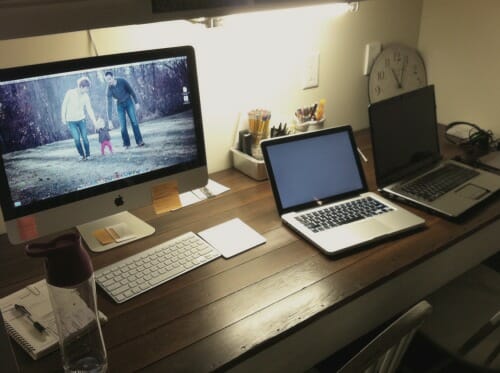 Dave and I both spend an enormous amount of our day on a computer — at least an enormous amount of our days when our kids are sleeping! He does the majority of his lesson planning via his computer and I do 98% of all my work from my computer.
I use an iMac desktop computer and also have the Macbook pro for when I need/want to work away from my desk.
Dave uses a Chromebook from his school and absolutely loves how lightweight and portable it is. However, it doesn't have Word or Excel (only Google Docs) so Dave often uses the Macbook when he needs to format or create documents.
We both use Dropbox to store pretty much everything (this makes it really easy to switch between computers).
We currently have the lowest speed of internet our provider offers and it is plenty fast enough for us. We don't have any security features on our computer or internet because our kids never use our computers — I don't even think they realize they CAN use our computers. They just assume these are our "working tools" and haven't ever even asked to use them. I'm OK with that!
Also, we have a very simple (but not very "beautiful) system to organize all the cords under our desk. We simply hung a power strip on the underside of our desk and plugged everything into the powerstrip. Then we tied each individual cord with a twist tie and hung the cord bundles form hooks or nails on the underside of the desk. This way, no cords hang down but we can still easily access each individual cord.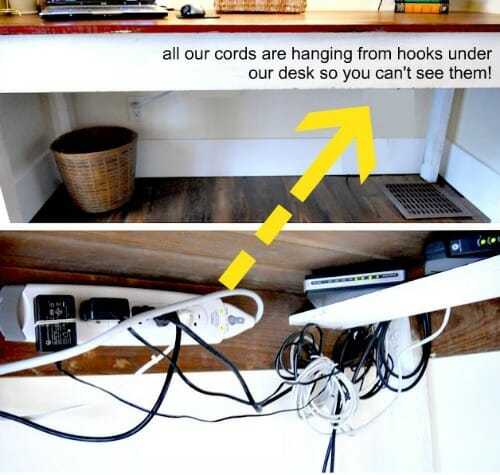 .
Music-Playing Devices: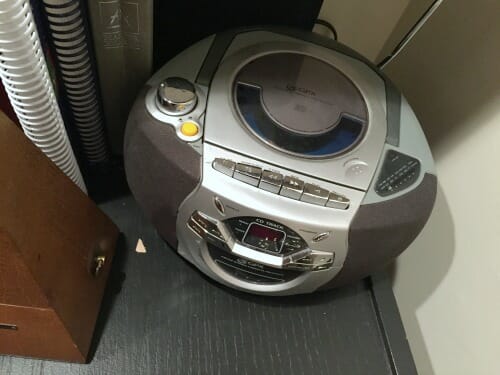 You might be surprised to know that we don't own any MP3 players. Dave just uses his phone or computer to stream Pandora or Amazon Prime music… and I never ever listen to music except during the Christmas season (weird, I know!)
We have an ancient CD/tape player that we still use fairly regularly to play the old children's CDs and tapes we got from my mom. We also have an old clock/radio in the kid's bedroom — mainly so Nora knows when she can get out of bed, also for fun dress-up dance parties!
If I were more interested in listening to music, I might get wireless speakers for my phone or iPad, but I really have no interest in extra noise at this point in my life!
.
That's it.
I really haven't done much research on current apps, products, or services to save money on these items, safeguard them from children, or streamline usage — but as I mentioned above, I'd love to hear what works for you and your family.
How do YOU handle your technology?