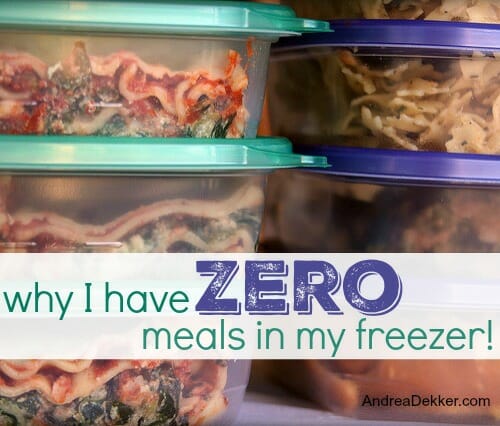 Freezer cooking has been a crucial part of my efforts to simplify my life (and our family mealtimes) for over 10 years now. I have saved myself countless hours in the kitchen, thousands of dollars at the grocery store, and bucket loads of stress due to planning ahead and having ready-made meals in the freezer ALL THE TIME.
However, for the past 6-9 months, I've noticed that I rarely feel the need for fully prepared freezer meals anymore. Instead, I prefer to pull already-prepared ingredients out of the freezer to make meals during nap time or after the kids go to bed.
Aside from some leftover soup, we currently have ZERO full meals in our deep freezer right now, and I am no longer putting meals in our freezer on a weekly basis. (Yes, even I'm pretty shocked by this realization).
Double and triple batches of our favorite meals were my saving grace for many years when I worked outside the home, and then when I had infants in the house. However, since so many of the meals we eat now are SUPER SIMPLE and can be oven-ready within 15 minutes or less, it really doesn't save me all that much time to have them ready to go in the freezer (and it was starting to take up a lot of freezer space!)
Instead, I freeze 2-cup portions of already cooked meats, already sliced or shredded cheeses, already cooked rice, already chopped onions, celery, peppers, carrots, and even potatoes.
This helps cut down on any wasted produce and it makes it SO simple to quickly throw together a casserole, soup, stew, tacos, quesadillas, etc.
Here are some ideas of how I freeze pre-portioned ingredients:
MEAT:
Ground beef (or turkey) –– fry up 3-4 pounds at a time and divide it up into 1 c. and 2 c. portions in zip-top bags or small storage containers
Taco meat — once ground beef or ground turkey is already cooked, I'll often make a few pounds of it into taco meat for tacos, quesadillas, or any of our other favorite Mexican meals. I freeze this in 1 c. or 2 c. portions.
Ground sausage — fry up sausage patties or crumbled sausage, drain, divide, and freeze
Turkey or Chicken — roast a whole turkey or boil several chicken breasts, chop or shred it (here's a great tip for shredding it) and divide it up into 2 c. portions.
Grilled steak and chicken — chop into bite-size pieces and freeze in 2 c. portions (we use this for fajitas, quesadillas, or salads).
Pork chops — divide into packages of 4 -6 pork chops and freeze (sometimes I will also marinate it before freezing)
Ham — I cook a whole spiral ham 3 times a year. I slice some of the leftovers and cube the rest. I freeze it per pound.
Uncooked ground beef — I do keep some UNCOOKED ground beef in the freezer to use for hamburger patties or meatloaf. However, I will often make and season the meatloaf and hamburger patties before I freeze the meat.
FRUITS and VEGGIES:
Berries — I wash, hull, and slice (if necessary) berries, flash freeze them on cookie sheets, and then dump into plastic freezer bags. This way, I can simply grab out a handful if I need them for smoothies, or measure out the appropriate amount if I'm using them for muffins or other baked goods.
Apples –– I used my apples slicer, peeler, corer to peel and thinly slice apples that are past their prime and freeze them for bread, pie, or smoothies.
Bananas — I peel them and freeze them in containers of 4 bananas as this is what many of my baking recipes call for.
Peppers, onions, carrots, celery — If any veggies are starting to wilt, I chop them up and toss them in bags I have for each in the freezer. I keep them all separate so I can easily measure out what I need for various recipes.
Potatoes — I cube my potatoes into small chunks if they are going bad. Then I use them in omelets or to make fried potatoes.
Other — there are SOOOOOOO many other fruits and veggies you can freeze (really, almost all of it outside of lettuce!)
BAKED GOODS and GRAINS:
Already baked — I regularly put already baked cookies, brownies, muffins, cupcakes, and other treats in the freezer for later. This way, we can enjoy a variety of desserts at all times without worrying about them going stale after a few days in the pantry. I have several food storage containers that are designated for baked goods and I simply refill them with items from the freezer as we empty them out during the week.
Dough –– cookie dough is really the only "dough" or "batter" I will freeze (and I just freeze it in one lump, not individual balls). Everything else gets baked before I freeze it.
Nuts and chocolate — I put all my nuts and chocolate in the freezer to prolong the shelf life.
Breads — I freeze store bought and homemade bread, rolls, bagels, English muffins, and even tortillas (especially if I get a good deal and buy a bunch). I literally just stick them in the freezer straight from the grocery store and have never had issues with freezer burn.
Rice — I frequently make rice in our rice cooker as the kids love rice with lunch. And since I have the rice cooker on anyway, I often make a couple extra cups of cooked rice for the freezer. I mainly use this rice in casseroles and soups (not to eat plain) so if the texture changes at all, no one seems to notice!
DAIRY:
Butter — I think I have 6 pounds of butter in my freezers right now — sometimes it gets closer to 10 pounds if it's really on sale 🙂 So yes, you can easily freeze butter!
Cheese — I put all my pre-shredded cheese in the door of our upright freezer. It's a very easy way to keep things organized and makes it easy for me to find anything I need/want. One thing to note though — if you freeze block cheese, it will usually be quite crumbly after you defrost it. I slice or cube all my cheese BEFORE putting it in the freezer and then it's just fine after I defrost it.
Yogurt — I always have frozen gogurts in the fridge for a quick snack for the kids. Dave and I also freeze regular yogurt as a "frozen yogurt treat" every now and then!
Other — besides butter, cheese, and yogurt I don't freeze any other dairy because I personally don't love the texture. Plus, we go through it SO fast that there really isn't a need to freeze any of it at our house! That said, you can definitely freeze milk, cream cheese, cottage cheese, and even sour cream if you don't mind a slight change in texture.
.
I could probably keep going, but I think you get the idea.
The amount of time and energy I spend in the kitchen is currently at an all-time LOW thanks to keeping my freezer continually stocked with pre-portioned, pre-cooked ingredients that are ready to go for quick weeknight meals.
My "System"
I don't have a super strict routine or method to keep the freezer stocked with pre-cooked ingredients… sometimes I just cook and/or portion out a bunch of meat the same day I get home from the grocery store, sometimes I need to cook meat for something (like having friends over to grill) so we grill up extra meat at that time.
There are other times when I simply decide to roast a whole turkey in the middle of June so we can use that meat for casseroles throughout the summer.
I try to keep things fairly organized in the freezer too (but again, I don't go crazy). I usually use masking tape and a Sharpie to label my containers (these are the containers I use most).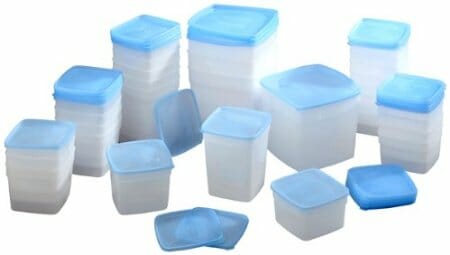 I organize our freezer as follows:
Cheese, butter, and fruit in the door of the deep freezer (I also keep a bunch of fruit and veggies in the freezer in our kitchen)
Pre-portioned meat in the bottom drawer
Steak, pork chops, roasts, and larger cuts of meat on the bottom shelf
Frozen veggies and any meals or soup on the middle shelf
Baked goods and breads on the top shelf (right now, I have a full turkey on the top shelf because that's where it fit!)
After 9 years of stocking my freezer with fully prepared meals, it's still an adjustment for me to realize there are no full meals in my freezer. But since our family eats such simple meals, I honestly think I'm saving myself even more time by filling our freezer with pre-portioned, pre-cooked ingredients instead of full meals!
Who knows, in another year or so, that might change again — but this is what's working for us right now.
Want more freezer cooking posts?
How do you best utilize YOUR freezer?