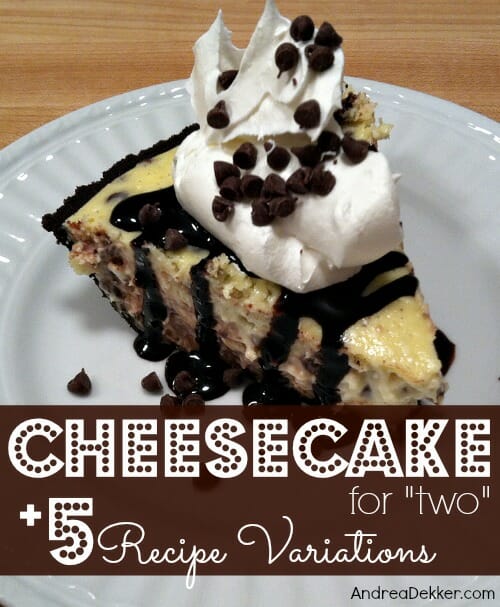 Several weeks ago, I posted a recipe for Semi-Homemade Cheesecake Fudge Brownies. They are one of Dave and my favorite brownies because we are able to get a little "cheesecake fix" without needing 5 (or more) packages of cream cheese — and without having cheesecake leftovers for the next two months.
We both love cheesecake, but I rarely ever make it unless we're going to a party or having company over.
However, after I shared my Cheesecake Brownie recipe, a reader emailed me with her super simple cheesecake recipe that makes a MUCH smaller cheesecake.
Of course, I immediately had to try it out (I actually had a bunch of extra cream cheese in the house) and it was just as delicious as I had hoped.
No, it's not really JUST for two people, but it does require much fewer ingredients, much less time in the kitchen, and has much fewer calories than eating a full-size cheesecake (especially when there's just two of us).
Recipe for Cheesecake for "Two"
Serves 8
INGREDIENTS:
2 – 8 oz. packages cream cheese; softened (the 1/3 less fat kind works too)
1/2 c. sugar
2 eggs (bring to room temperature)
1 t. vanilla
2 T. flour
1/4 c. sour cream (lowfat is fine)
Store bought 8″ pie crust (graham cracker or Oreo crumb)
DIRECTIONS:
Preheat oven to 325*F
In a medium bowl, beat the cream cheese until smooth.
Add sugar and eggs and blend well, without over mixing, as that causes the cheesecake to crack during baking.
Stir in vanilla, flour and sour cream until just mixed.
Pour into prepared crust and bake in preheated oven for 35-45 minutes, or until center appears almost set. It's okay for it to be slightly 'jiggly'.
Chill before serving.
Recipe Variations:
Turtle Cheesecake
Cover the bottom of an Oreo crust with melted caramel and sprinkle with nuts. Add 1/2 c. chocolate chips to the cream cheese mixture and pour over caramel/nuts. Then drizzle each piece with chocolate, more caramel, and whipped cream!
Chocolate Chip Cheesecake
Add 1 c. of mini chocolate chips before pouring into the crust. Drizzle with chocolate syrup or hot fudge.
Cherry or Strawberry Cheesecake
Simply top with canned cherry pie filling or fresh berries, and then a dollop of whipped cream.
Marble Cheesecake
Melt 1/4. chocolate chips and add to 1 c. of cheesecake batter. Pour the rest of the batter into the crust, then swirl in the chocolate batter.
Chocolate Cheesecake
Melt 1/2 c. chocolate chips. Mix into the entire cheesecake batter and pour into crust.
So while this recipe is obviously more than enough for "two" people, it IS the perfect cheesecake recipe for a smaller family — or for someone without self control 🙂
And the prepared crust makes the assembly process so much faster and easier.
What is your favorite cheesecake flavor?