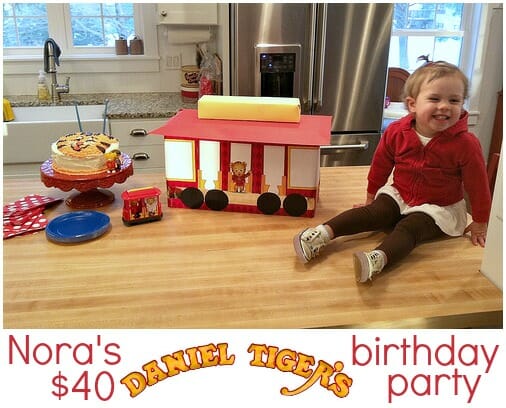 Even though Nora's 2nd birthday was over a week ago, we didn't officially celebrate it with our families until this past weekend.
So this past Friday, instead of shopping the Black Friday sales, Dave and I hosted a little Daniel Tiger birthday party for our big two year old — and Nora even dressed like Daniel Tiger for the occasion!
Honestly, it was SUCH a simple party to put on. I spent almost no money (aside from the food) and only a couple hours preparing; but it still turned out pretty cute (at least in my opinion!)
In case you didn't already know, Nora absolutely LOVES watching Daniel Tiger's Neighborhood — and honestly, I do too! Mr's Roger's Neighborhood was one of my all-time favorite shows growing up, and I'm thrilled Nora is also able to enjoy this family-friendly show.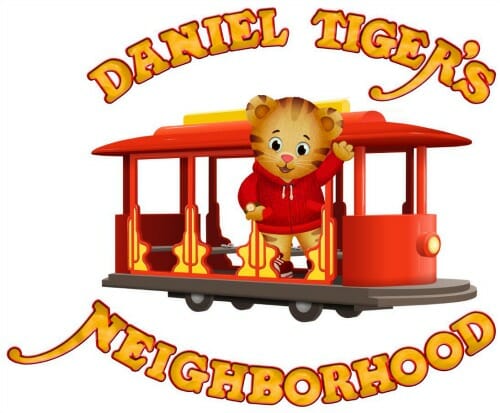 Nora definitely doesn't catch everything, but it's amazing how much she is learning from the show — things like sharing, trying new things, being OK with mom or dad leaving, and having patience while waiting.
Every lesson has a song that explains the general message — and those songs are catchy. I'll often find myself singing them throughout the day, and then Nora pipes up saying something like, "Daniel Tiger need share toys. Nora need share toys too."
Cute huh? And making my job as mom just a little bit easier 🙂
.
Anyway, the party was a huge success — here are a few more details about the event (along with how I pulled of the entire party for less than $40.00!!)
GUEST LIST: (16 adults + 3 kids)
Dave, Me, Nora; Dave and my immediate family members, and my grandparents.
Growing up, Dave and I rarely ever had birthday parties with our friends or our parent's friends. So at this point, Dave and I feel like it would just be too crazy to invite any or all of our friends, any of our extended relatives, or any of Nora's friends to her party.
This decision made it super easy to simplify the party, keep costs down, and assure Nora didn't end up with half the Toy's R Us store as gifts 🙂
FOOD + DRINK + CAKE:
When I planned our party foods, I specifically tried to think of recipes that not only tasted great and paired well together, but recipes that could be made in advance.
I hate feeling rushed at the last minute with food prep, so I was glad that all of the food could be made in advance and just popped in the oven or pulled out of the fridge at the appropriate time.
Following suit with Nora's 1st birthday party, we did provide a full meal for our birthday guests. However, I'm sure we won't continue this tradition indefinitely.
Right now, our immediate families are relatively small, so it's not a huge deal to whip up a simple meal to satisfy our guests. But as our numbers grow, I'm perfectly OK with scaling back to just cake and ice-cream.
And speaking of cake, I made the cake. It definitely looked homemade, but Nora thought her "brown Daniel Tiger Cake" (as she called it) was fabulous!
Also, although I have no issue with serving alcohol, I just don't think it's necessary at a 2 year old's birthday party — and it's another great way to stick to a tight budget.
Finally, I also chose food that would be easy to serve, easy to eat, and not super messy. Nothing needs to be cut, everything can be eaten with a fork, and besides the meatballs, nothing spilled would be too much of a challenge to clean up.
Total Food Costs: $35 — I only spent about $20 on food last year, but the pre-made meatballs were worth the extra cost based on how much time they saved me.
DECORATIONS:
I found some red and blue paper products at the dollar store (Daniel Tiger colors but WAY cheaper than actual Daniel Tiger products).
I used a diaper box and craft supplies I already had on hand to make a cute little Daniel Tiger Trolley (instructions here).
I also used some extra wrapping paper and these free printouts to makes some colorful Daniel Tiger pinwheels to hang above the food.
I'm not a huge party decorator — mainly because I don't think the kids care, and the cost can REALLY add up. Yes, the decorations do make the photos look nicer, but a few colorful touches will have to be good enough for the Dekker kids 🙂
Total Decorations Cost: $5 — just the cake plates and napkins.
PARTY FAVORS:
I don't do them. Period.
Again, I have nothing against party favors, but I definitely don't think our parents need to get a "prize" for coming to their granddaughter's birthday party.
Total Party Favors Cost: $0
GIFTS:
As some of you probably saw, we gave Nora a homemade play kitchen for her birthday gift. I did not include this in the price of the party (it was $98.50 in case you're wondering!) since it was a totally separate project and all our future kids will use it for many years to come.
We did give her a Melissa and Doug tool box so she had one gift to unwrap on the day of her birthday, but I waited for it to go on sale via Amazon.com and I used gift cards from Swagbucks to purchase it — so it was free!
We didn't give her any gifts to unwrap at her actual party since we figured she would have enough to unwrap from family (yes, both grandparents totally spoiled her!)
The picture below is a little blurry, but aren't her new oven mitts and apron cute!!
Here's a look at EVERYTHING she amassed for her 2nd birthday!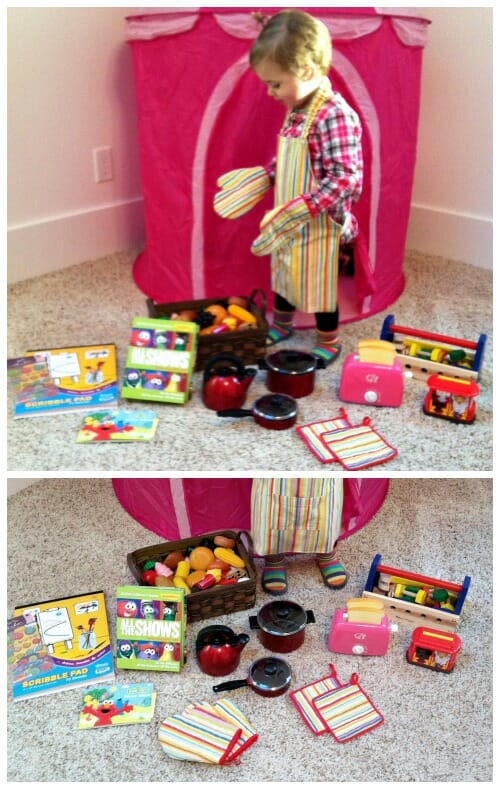 Total Gifts Cost: $0
Grand Total = $40 or less
.
While I have NOTHING against more elaborate kid's parties, I personally don't think they are necessary for our kids (sorry Nora and future children.)
I feel like both of Nora's parties were cute, age-appropriate, fun for everyone present, and completely sufficient for a 1 and 2 year old.
I had fun planning some of the Daniel Tiger details — and I had even more fun doing it on my self-imposed budget 🙂
Oh, and in case you want more Daniel Tiger action, I'll be participating in a Daniel Tiger Twitter Party tomorrow (12/4/13) at 12:oopm EST.
This Twitter party is all about Daniel Tiger's Neighborhood and the new line of Daniel Tiger toys available at Toys "R" Us! Join in to remember our favorite Mister Rogers' episodes, songs and sayings — as well as discuss the brilliance of the PBS hit, Daniel Tiger's Neighborhood. There will be giveaways 🙂
Happy 2nd Birthday Nora!