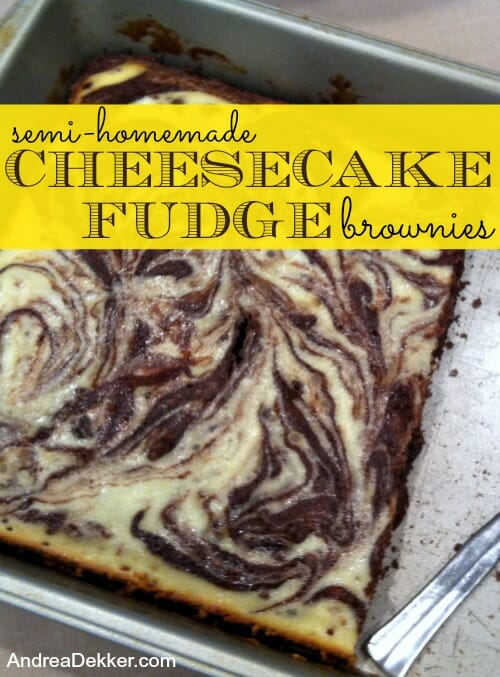 As I'm sure many of you know, I'm a big fan of semi-homemade meals and baked goods. These recipes usually take a fraction of the time and effort of 100% from scratch recipes, but they taste SOOOOOO much better than straight "from-a-box" or other prepackaged foods.
The brownie recipe I'm sharing with you today is no exception. In fact, EVERY time I make this recipe for a party, snack, or even just to have at home, people ask for the recipe — and they almost never believe me when I say it all starts with a basic boxed brownie mix.
I even had Dave fooled the first time I made them!
Recipe for Semi-Homemade Cheesecake Fudge Brownies
Makes one 9″ x 13″ pan of brownies.
INGREDIENTS:
1 Boxed Brownie mix (for a 9″ x 13″ pan)
All ingredients called for on the brownie mix (eggs, oil, water, etc.)
1 c. chocolate chips (optional)
1 c. nuts (optional)
1 egg
3-6 oz. cream cheese; softened
1/4 c. granulated sugar
2 T. all purpose flour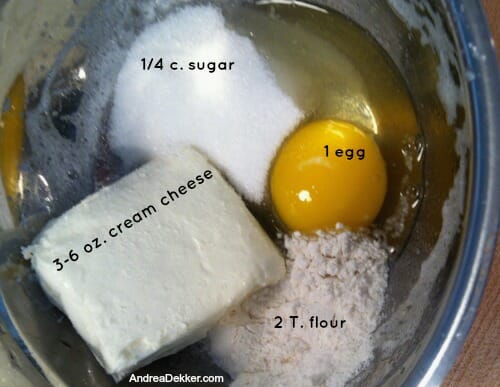 DIRECTIONS:
Preheat oven to 350*F.
Grease a 9″ x 13″ baking pan and set aside.
In a medium bowl, mix brownie mix as directed on the back of the package. Add optional chocolate chips or nuts and set aside.
In a small bowl, mix egg, cream cheese, sugar, and flour until smooth (this works best with a hand mixer — not a spoon)
Pour a little more than HALF of the brownie batter into the baking pan.
Pour all the cream cheese mixture over the brownie batter
Pour remaining brownie batter over the cream cheese mixture
Run a table knife back and forth, up and down, and swirl it around for a few minutes to achieve the marbled effect.**
Bake in preheated oven for 25-32 minutes or until center is set (It will take longer than what the basic brownie mix says)
Let cool completely and store covered in the refrigerator.
**NOTE: You definitely don't have to swirl the brownies — they will still taste amazing either way, it's just a nice visual effect 🙂
You can make these brownies a couple days ahead and just keep them refrigerated, or you can make them months ahead, pop them in the freezer, and bring them to your next holiday party — or just save them for your next chocolate / cheesecake fix.
These brownies are honestly SO good that by the time they are cooled and ready for pictures, the pan is usually 1/2 eaten… thankfully, I'm not a fancy-photography food blog 🙂
I think you get the idea — they are delicious!
Want more semi-homemade dessert recipes?
Here are a few of my favorites!
And if you're wondering, ALL of the recipes above can easily be made ahead in large quantities and frozen for later!
.
What are some of your favorite semi-homemade recipes?
Visit my virtual recipe box for more simple, delicious, family friendly recipes!