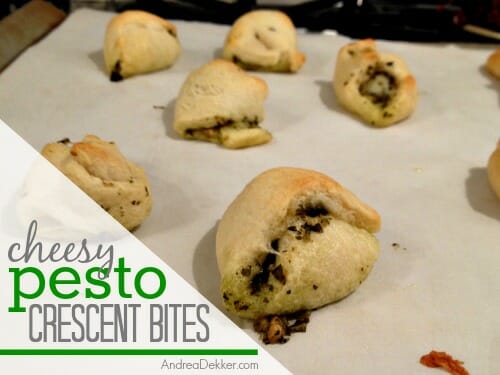 Dave and I have officially entered our holiday party season… which means I've been scouring the internet for quick and simple dessert and appetizer recipes that require very few ingredients and very little prep time.
I have a pretty good list of easy recipes that I can make in very short notice with ingredients I almost always have on hand… and today's recipe is one of those crowd-pleasing appetizers that tastes way more difficult than it actually is 🙂
If you're looking for a super simple, last-minute appetizer idea to bring to a holiday party — or just a really quick side dish for dinner tonight, this recipe should satisfy!
Recipe for Cheesy Pesto Crescent Bites
Makes 24 "bites"
INGREDIENTS:
1 tube refrigerated crescent rolls
4 string cheeses (or about 1/2 c. mozzarella cheese)
1/4 c. prepared pesto sauce
DIRECTIONS:
Divide Crescent rolls into 8 triangles and cut each triangle into 3 smaller "triangles" (see image below)
Flatten each smaller triangle so they are a little larger and quite thin
Spoon approximately 1/2 teaspoon of pesto sauce onto each small triangle
Cut each string cheese into 6 chunks and place one chunk on each pesto covered triangle
Roll crescent dough up and press to seal edges
Place crescent bites on baking sheet (I line mine with parchment paper to make sure nothing sticks)
Bake at 375*F for 8-11 minutes (or until golden and very puffed up)
Serve warm
Since these only take a few minutes to bake, I usually have them all made ahead of time and bake them when I get to the party (when I know I have access to an oven).
You can also use the same recipe with full-size crescent rolls (not cutting them into 3 smaller "triangles") to make delicious rolls as a side dish for almost any meal.
These bites are amazingly tasty, super versatile, and oh so simple — so yes, they'll be on my favorites list for a while!
---
Oh, and if you're looking for more dessert and appetizer recipes for your upcoming holiday festivities, check out these recipes from around the blogosphere!
Holiday Sweets
Savory Treats
What are your favorite go-to party sweets, treats, and appetizers?
Visit my virtual recipe box for more simple, delicious, family friendly recipes!