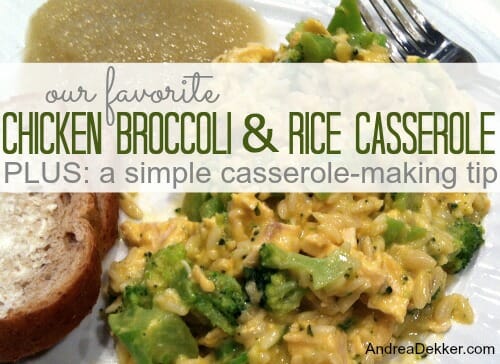 Dave and I love casseroles — especially in the cooler fall and winter months when warm leftovers for lunch the next day really hit the spot. This recipe has been one of my favorites since I was a kid — and it seems Nora is quickly following in my casserole-loving footsteps!
Today, I'm sharing a super simple recipe — AND a simple casserole-making tip I use regularly to reduce the number of dirty dishes I need to wash and reduce the amount of time it takes me to get dinner on the table. Win, win!
Recipe for Chicken, Broccoli & Rice Casserole
Makes 4 servings
INGREDIENTS:
2 boneless chicken breasts; cooked and chopped
1 package Rice-a-Roni (I use the Broccoli Au Gratin flavor)
1 bag frozen broccoli (10-12 oz)
DIRECTIONS:
In a large rimmed pan, cook rice according to the package directions.
Add frozen broccoli to the rice with 10 minutes left (the rice usually needs to simmer for 20 minutes total).
Add chopped chicken with 5 minutes left on the rice.
Sprinkle with cheese and serve!
Talk about a simple week-night meal — especially since I just served it with canned applesauce, pears, and sliced bread (plus brownies for dessert!)
Nora loves broccoli, rice, and cheese, so this recipe (if you can even call it a recipe) is a winning one for our family — especially since leftovers heat up fabulously for lunch the next day!
If you're a big casserole fan, you'll want to add this recipe to your meal rotation… but you'll also want to keep reading for my SUPER SIMPLE casserole-making tip!
.
My Simple Casserole-Making Tip:
You know how most casseroles require you to pre-cook all the ingredients, then assemble them in a baking pan or casserole dish, and THEN bake them in the oven for 20 minutes or so?
Well, I don't do the last 2 steps — and I save about 30 minutes of time, wasted energy used by my oven, PLUS a whole bunch of unnecessary dirty dishes.
Here, let me show you via the steps I took to make the recipe above.
STEP 1: Boil chicken in a large pan
You only need 2 chicken breasts for this recipe but I boiled extra for the freezer.
SETP 2: Cook the rice in the same pan.
You could use any type of rice, I just like using Rice-a-Roni because it comes with all the seasonings mixed right in and it's the perfect amount for dinner and lunch leftovers 🙂
While the rice is cooking and simmering, I chop up the chicken.
STEP 3: Add frozen broccoli with 10 minutes left on the rice.
You can use any vegetable you like, but if they are frozen, you don't need to cook them first — just add them when there's about 10 minutes left on the rice. You can add a little more water if necessary, but I've never had to do this.
Also, if your vegetables come in the steamer bag, you could microwave them for part of the time and then just add them with about 5 minutes left on the rice.
STEP 4: Add chicken with 5 minutes left on the rice.
The chicken (or whatever meat you're using) is already cooked — so you just need to warm it up again.
STEP 5: Add cheese or additional toppings and serve.
This is optional, but I've noticed that most casserole recipes call for cheese or some sort of crunchy topping. Well, when everything is heated through, just sprinkle the top of the dish with cheese or whatever, then put the lid on for a minute to melt the cheese.
Serve straight from the pan — and enjoy only washing ONE pan!!
I realize there are some casseroles that would not work with this method, but you'd be surprised how much time, energy, and dishes you can save by getting creative and tweaking the recipe slightly if necessary.
If I would have made this recipe "as directed" I would have ended up with 3 separate pans AND a casserole dish to scrub clean. Plus, dinner would have been delayed by at least 20 minutes — with almost no difference in the taste of the meal.
Not worth it if you ask me 🙂
Dave and I enjoy our casseroles right out of the pan just as much as out of a fancy casserole dish baked in the oven!
What are your tips to minimize dinner prep?
Visit my virtual recipe box for more simple, delicious, family friendly recipes!