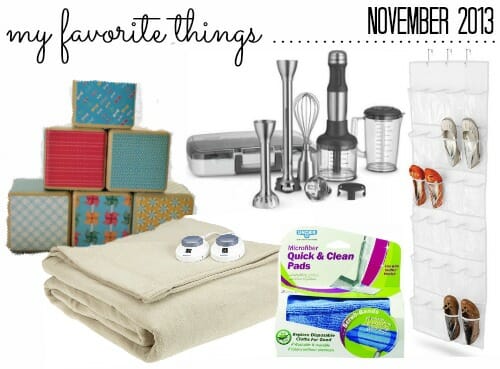 I'm back with a few more of my favorite things for November… and I definitely think some or all of these ideas would make fabulous holiday gifts for those of you planning ahead! And as always, be sure to check out some of my favorite things from past months.
DISCLOSURE: None of these products are sponsored in any way; however, some of the links below are affiliate links — which means I may get a VERY small percentage of the sale if you make a purchase through my links. However, I hope you know that I'm only promoting the products below because I use them EVERY SINGLE DAY in my own home and life! Read my full disclosure policy for more information.
Over-the-Door Shoe Organizers
I've shared my love of clear over-the-door shoe organizers many, MANY times before — but that's because over the past 7+ years, we've used them in pretty much every room of our house.
If you think about it, these organizers are such a versatile organizing tool because every home I've ever been in has a door 🙂
However, even if you don't have a door, you can still use one of these shoe organizers on a wall. Simply put a couple screws in your wall and hang the organizer from the screws instead of with the "over-the-door hooks" that come with the organizer.
Here are just a FEW of the ways we use (or have used) our over-the-door shoe organizers in our every-day lives.
Screwed to the inside of our master closet doors for belts, scarves, and other accessories.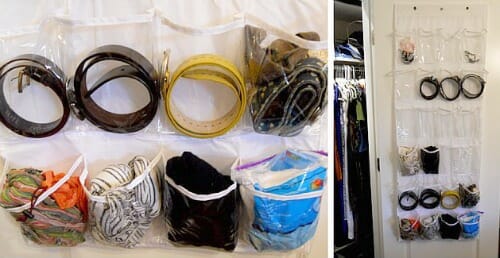 In our office closet to hold extra cords, chargers, misc. office items, and (more recently) some of Nora's smaller toys on the bottom.
On the back of our entryway closet door (in our old house and our current house) for gloves, mittens, hats, scarves, umbrellas, etc.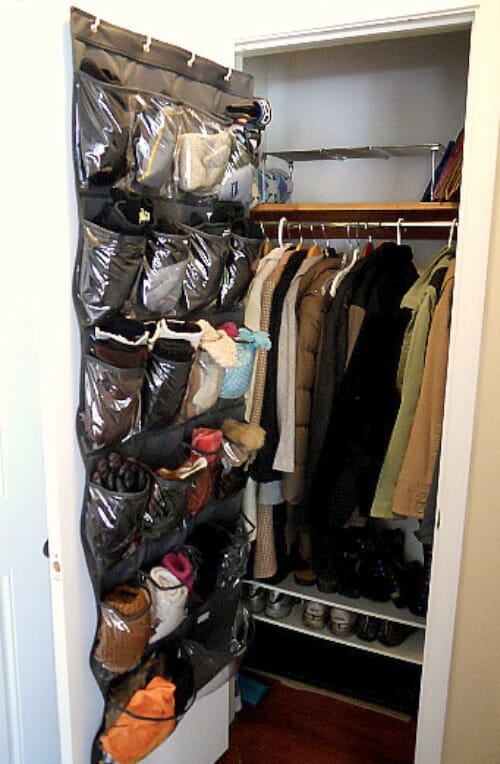 I can often find these organizers on sale for between $5 and $10, so it's definitely worth it for the organizational possibilities… and would you believe that I don't actually use any of our shoe organizers for shoes!
Immersion Blender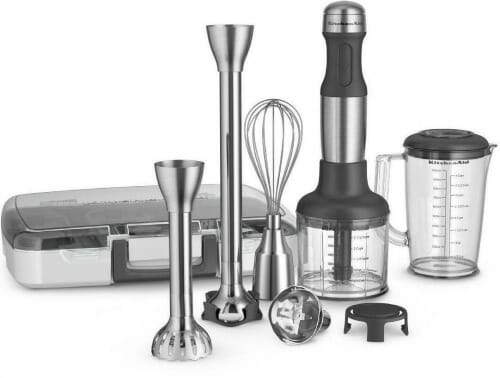 I originally got our KitchenAid Immersion Blender (as a gift) shortly after Nora was born with the intention of making my own baby food. Little did I know at the time that Nora would NEVER ever eat baby food 🙂
So, while I didn't use it for her, we'll hopefully use it for future children — and in the mean time, I've come up with a ton of other uses for our immersion blender.
Of course, our all-time favorite use is smoothie making! I've also used it for small batches of applesauce, pear sauce, chocolate mousse, deviled eggs, bread crumbs, chopping nuts, etc. etc.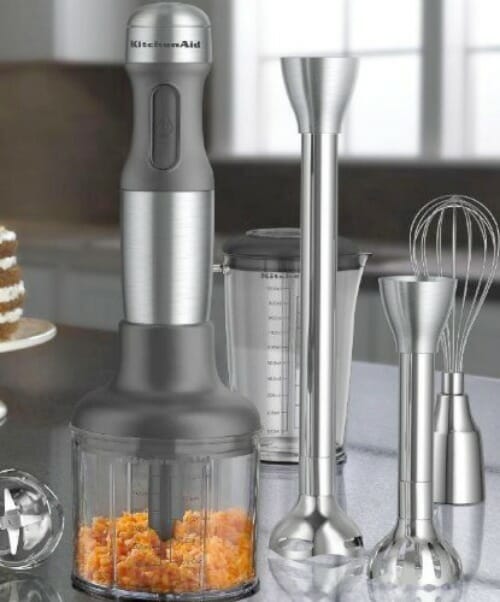 However, this blender is not JUST an immersion blender. It has so many different accessories (including a whisk, a mini food processor, and various "heads" that work well for so many different foods.
Plus, it all comes in this nicely organized caddy — which you know I love!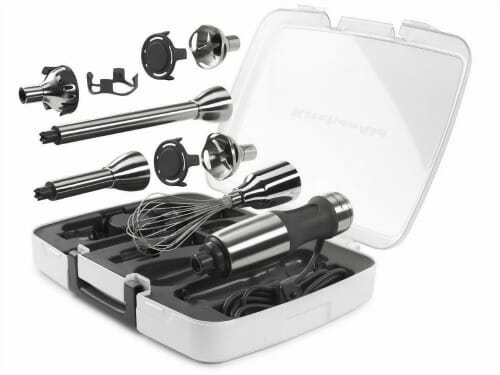 Reusable Microfiber Swiffer Pads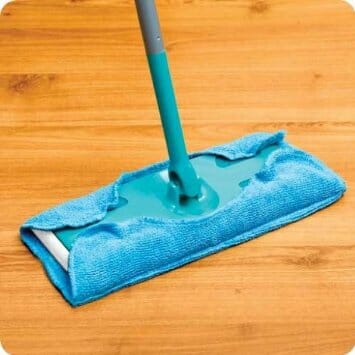 Since the majority of our house is solid hardwood flooring (our choice as we don't love carpeting) we use the Swiffer on a very regular basis — so much so that "Swiffer" was actually one of Nora's first words ('sweeper' is how she says it) 🙂
To this day, she absolutely goes crazy whenever I take the Swiffer out and always wants to "help" me sweep the floor. So I sweep first, then I break down the handle so it's small enough for her and give her a turn sweeping. It's pretty cute.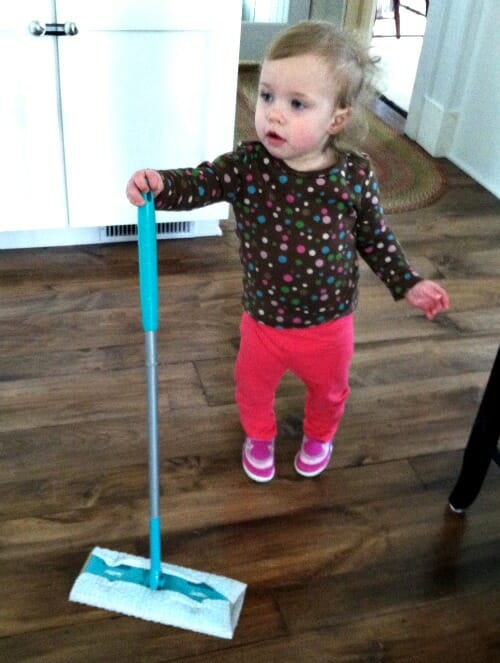 I've already shared my simple tip to stretching Swiffer pads a little further — but about a year ago, I came across these reusable Swiffer pads from Unger Home, and I've been using them almost exclusively ever since.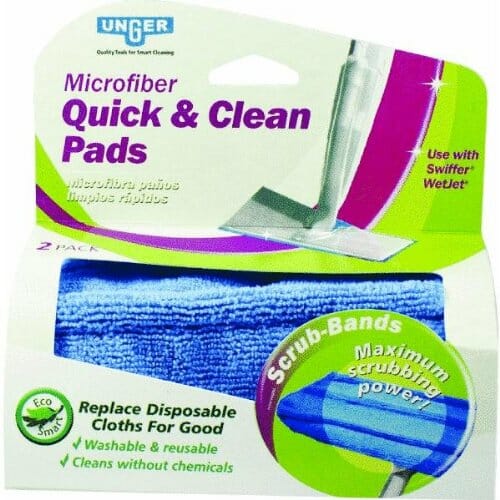 They really do pick up a TON of dust, dirt, and debris — even better than the disposable Swiffer pads if you ask me. When I'm finished, I simply shake them outside to get the majority of the junk off, and then either reuse them for another room/floor or toss them in the laundry (depending on how dirty they are). I have 4 pads, and that's plenty for my most intense sweeping needs. I've never run out before laundry day 🙂
Oh, and Unger also sells reusable pads for the Swiffer Wet Jet — although I just mop our floors by hand with water and vinegar.
Nora's Painted Wooden Blocks
Although I've been pretty good about limiting the number of toys we've accumulated these past 2 years, I will admit that I'm a huge sucker for wooden toys.
There's just something nostalgic about solid wood toys — no plastic, no chemical dyes, no stickers, no glitter… just wood. And when it comes to wooden toys, some of my favorites are good, old-fashioned, wooden blocks!
We actually have THREE different (small) sets of wooden blocks — different colors, sizes, etc. One has letters, one has animals and numbers, and the other set has fun paper decoupage on each side. We got our blocks from a friend's Etsy shop — but unfortunately, she's too busy with her own kids now that her shop has closed. However, I'm sure you can find fun blocks like this somewhere on Etsy or at local craft shows (or you might even be able to make your own).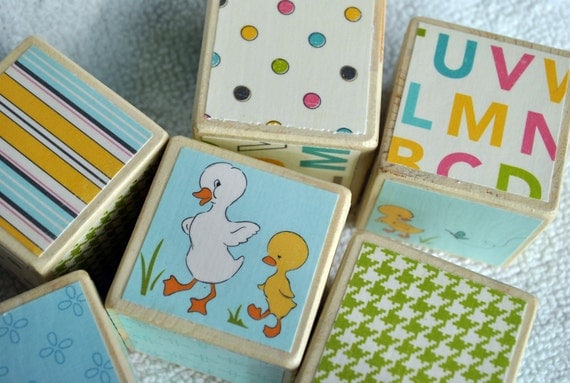 I just love that wooden blocks are so simple… but also something that kids of many ages love playing with. Our basket of blocks is usually one of the first things pulled out when friends come over — and I know that even Dave and I have had fun building towers or trying to stack as many as we can without them tipping over!
Nora can learn colors, animals, numbers, letters, spelling (eventually), and matching — all with some of her favorite toys.
I think that out of all the toys we will eventually amass over the coming years, our blocks are one of the things I will most definitely hang onto for many, many years (maybe until the grandkids start arriving in 25 years!)
Soft Heat Heating Blanket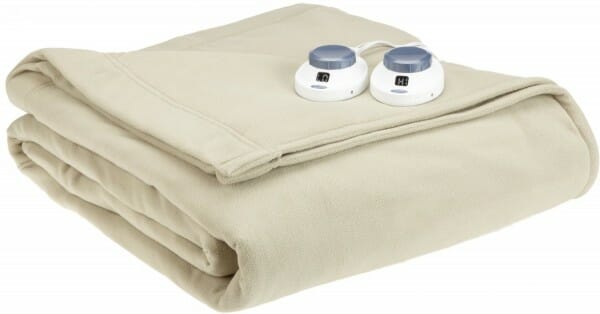 Here in Michigan, we use our heating blankets for about 6 months out of the year — usually from October through April — so it's pretty important that we have nice ones.
Dave and I usually turn our blankets on about an hour before we head to bed so the sheets are nice and toasty warm when we actually go to bed (and then we turn them off for the night).
However, Dave doesn't like his side as warm as I like mine — so I was thrilled when I found the Soft Heat Heating Blanket a few years ago. This blanket has TWO controls so we can both set our side how we like it — so it's absolutely perfect for our needs.
Plus, it's really soft!
You can't feel the bulky wires unless you really press hard and although I don't have a ton of experience with heating blankets, this one seems to work really well.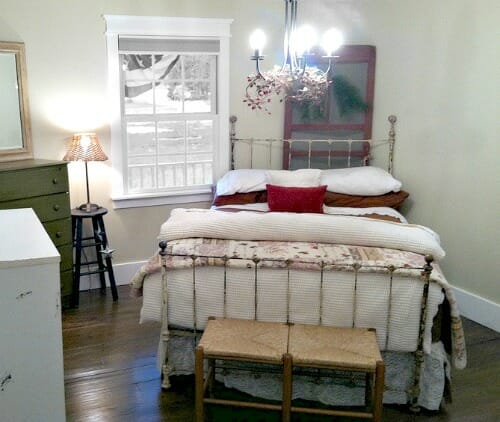 That's all for me this month.
Make sure you check out my previous months' favorite things — and feel free to share some of YOUR favorite things in the comments below!