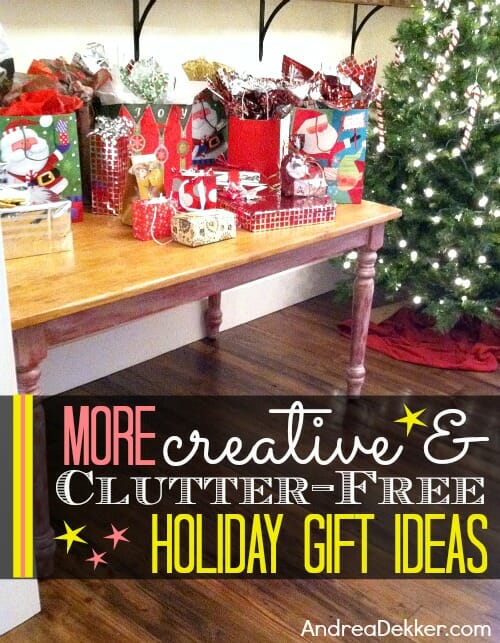 Last November, I ran a week-long series about Creative AND Clutter-Free Gift Ideas to hopefully encourage more people to think about creative clutter-free gifts they could substitute for more traditional holiday gifts. The series was a huge hit and I loved reading about the various clutter-free gifts YOU shared in the comments of each post.
So this year, instead of totally "re-inventing the wheel" I figured I'd share the links back to my posts from last year, as well as some of my current thoughts, and a few new clutter-free gift ideas I've either given or received over the past year.
Of course, feel free to share YOUR ideas in the comments below!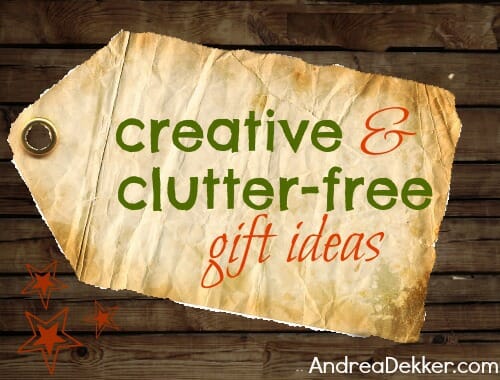 Here are some of my favorite clutter-free gift ideas — I'm sure you'll be able to find a few that will work for some of the names on your list.
Food has the potential to be one of the easiest, cheapest, and often most appreciated clutter-free gift ideas out there (coming from someone who loves to eat).
I love that food gifts can be as simple or as elaborate and gourmet as you want them to be — and no, you don't need to spend hours in your kitchen to give food gifts. You could even give gift cards (which I'll discuss below) as a form of a "food gift" — like gift cards to a favorite restaurant with homemade cookies for dessert.
The best part is, after a few weeks (or days), the food is gone, which means there is no extra "stuff" to clutter up the recipient's home!
Read all my clutter-free food gifts ideas here!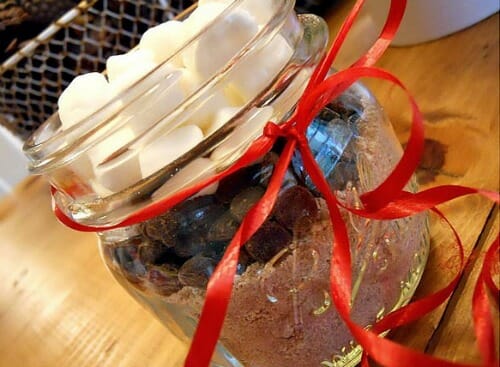 Gift cards are probably Dave's favorite clutter-free gift (except for maybe his mom's homemade cinnamon rolls). He rarely ever spends money, so gift cards give him the excuse to indulge just a little bit every now and then.
Our favorite gift cards are for local restaurants (Culver's, Arby's, Olive Garden, etc.) because we can pair them with coupons to stretch the gift cards even further. I also appreciate really practical gift cards for gas and groceries.
And in case you're thinking that gift cards are a really impersonal gift, I THINK I can prove you wrong if you read some of the creative ideas I shared in last year's post (see link below)…
Read my 9 different creative ways to give a gift card here!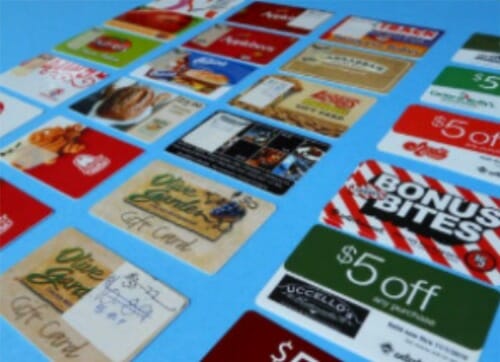 Experience gifts can be a little more time-consuming and expensive to plan (although they don't necessarily need to be), but they are a fantastic clutter-free gift that your recipient will probably remember for a very long time.
Nora is still a little young to appreciate experience gifts — but I'm positive that in the next few years, Dave and I will enjoy "spoiling" her SO much more with fun experiences than with lots of toys, clothes, etc. etc.
And for the recored, experience gifts definitely are NOT limited to children — Dave's parents took the entire family to a cottage this summer as their "belated Christmas gift" from last Christmas, and I'm pretty sure we all enjoyed that more than opening a few gifts on Christmas day.
Read about a bunch my favorite experience gifts ideas here!
I don't know about you, but I would personally never be disappointed by a gift of cold, hard cash!
Even if you don't personally want or need anything, you could simply turn around and bless someone else with it… or donate the money to a charitable organization of your choice (we'll talk more about this below).
I realize that cash might seem a little impersonal or like a last-minute cop-out, but there are some seriously creative ways you can give cash!
Last year, my sisters and our husbands went in on an all-cash gift for my parents where we gave them a whole bunch of gag-gift type items with cash hidden somewhere inside each gift. I hid the cash under sticker labels, inside pages of books, rolled up in a huge roll of garbage bags, behind the picture in a picture frame, and even inside a jar of peanuts (which I supper-glued shut to make it look unopened).
We all had a bunch of laughs watching them struggle to to find the many $1, $5, $10, and $20 bills inside their silly gifts, and they had the opportunity to go out and buy something they really wanted (they are super hard to shop for!)
Read 10 more super creative ways to give the gift of cash here!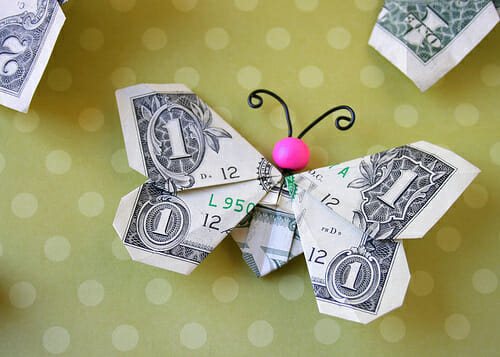 Do you have someone on your holiday shopping list that literally has EVERYTHING, has lots of food allergies, can't get out and about very easily, lives too far away to do an act of service for, or could possibly be offended by getting cash 0r a gift card?
Try giving a donation in their name to one of their favorite charities.
There are SO many people and organizations that desperately need our donations, so it really is a win-win for everyone involved. Plus, it's a really great "feel good" gift to give when you know the recipient needs and wants absolutely nothing.
Read a few of my favorite clutter-free gifts that "give back" here!
As much as I personally love all the types of clutter-free gifts listed above, I would have to say that my all-time favorite clutter-free gift is Acts of Service. This also happens to be my #1 "love language" so it's really not a huge surprise that I love these types of gifts so much.
One of my favorite things about acts of service gifts is that they are often free (or at least very frugal) and can be done on an extremely regular basis. In fact, Dave gives me a glorious acts of service gift almost daily — washing dishes! And of course, Nora pulls her own weight by helping with all the leaves 🙂
There are so many wonderful ways you can bless those on your Christmas list this year without spending tons of money and without burdening the recipients with excess clutter.
Read a whole bunch of my favorite acts of service gifts here!
I'm really excited for Nora to get a little older so she'll be able to appreciate some of these clutter-free gift ideas… and I find it SO interesting that to date, her most favorite "toys" are the 2 photo albums I made for her earlier this year.
I'm already planning / hoping to make another photo book for her after the New Year because we literally look at her ABC book and her "Nora Book" (as she calls it) multiple times every day. They take up less than an inch of space on our self, but they are her favorites.
I LOVE that she loves my clutter-free gifts!
So as the holiday season approaches, and as you start thinking of gifts for the special people on your list, please consider giving a few of these creative AND (most importantly) clutter-free gifts.
I can confidently say that I have given many clutter-free gifts over the years and have received lots of positive feedback and appreciation from the recipient.
What are some of your favorite clutter-free gifts?