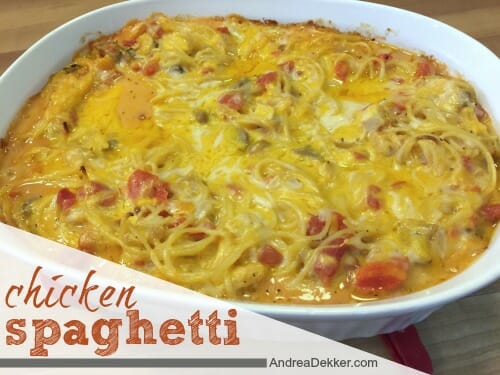 I'm always a sucker for any pasta recipe — not only are the recipes usually fairly frugal and easy, but I can almost always make them ahead of time and just pop one dish in the oven.
Also, my family LOVES pasta! It's definitely one of our favorite comfort foods.
A few weeks ago, I had a craving for chicken spaghetti. I've made chicken lasagna many times, but it had been years since I'd made chicken spaghetti. At first I thought about using the sauce for my chicken lasagna recipe, but then I decided I was in the mood for something new.
I searched Pinterest, mashed a few recipes together, and substituted with the ingredients I had in my house… in my opinion, the results were a pretty solid success!
Not only did it taste great the night we ate it for dinner, it was amazing the next afternoon warmed up for lunch. Dave and I actually both commented on how delicious it was as leftover (neither one of us usually love pasta leftovers).
Anyway, if you'd love another quick and easy recipe to add to your weeknight roundup, give this one a try!
Recipe for Chicken Spaghetti
serves 6-8 — I make it in a 2 qt. baking dish
INGREDIENTS:
3 T. butter or oil
1 onion; diced
1/2 cup green pepper; diced
1/2 c. mushrooms; diced (or a 7 oz. can)
1 T. flour
1 c. milk (or cream)
1 c. shredded cheese (I use Cheddar)
1 can (15 oz.) diced tomatoes with juice
2 c. cooked and shredded chicken
1/2 c. water or broth (if sauce seems too thick for your taste)
8 oz. uncooked spaghetti noodles (or your favorite pasta noodles)
Salt And Pepper, to taste
Additional shredded cheese for the top
**NOTE: If your family won't eat peppers or mushrooms, just leave them out — I doubt it will change the taste of the dish all that much.
DIRECTIONS:
Melt butter in a large rimmed frying pan.
Add onions, pepper, and mushrooms. Saute until veggies are tender.
Add flour and milk to veggie mixture and whisk until thickened. Stir in cheese, tomatoes, cooked chicken, and additional water or broth if necessary.
Turn heat to low to keep warm while you boil the noodles.
Boil noodles according to package directions. Drain and add noodles to sauce mixture.
Serve immediately OR put in a casserole dish, add extra cheese, and bake for 15 minutes at 350ºF (or until cheese is melted).
Refrigerate or freeze leftovers in individual serving sizes.
This dish is a great alternative to "regular spaghetti" and although my kids still prefer red sauce and ground beef or sausage versus a creamier sauce with chicken, they still ate it really well.
If you're short on time, you could easily prepare the meal the night before, or the morning of, and just pop it in the oven about 30 minutes before you're ready to eat (I'd probably cover it with aluminum foil until the last 10 minutes so the cheese doesn't get too brown).
I personally haven't tried freezing this dish yet, but based on my extensive experience freezing other pasta dishes, I'd say it's a pretty safe bet it will taste fantastic out of the freezer.
What's your favorite pasta dish?
Visit my virtual recipe box for more simple, delicious, family friendly recipes!