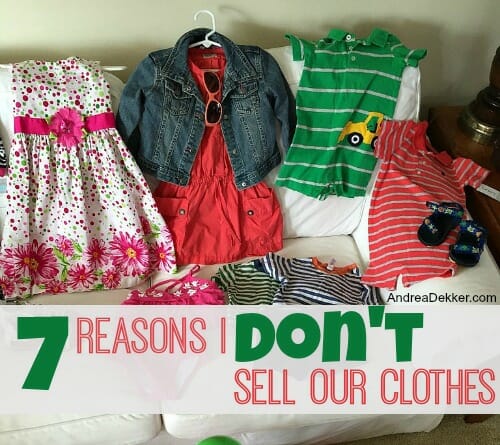 Due to my frugal nature, my love of buying and selling on Craigslist, and the fact that I purge regularly, I'm often asked how and where I sell my clothing and our kid's clothing (especially this time of year when garage sale signs litter every street corner!)
My short answer: I don't sell it.
Of course, that generates many more questions — like Why not? What do you do with the clothes? etc.
I don't have a short answer for those questions — but I do have 7 reasons why I currently choose to donate all our clothing instead of trying to sell it.
1. I want it out of our house ASAP!
First and foremost, the top reason I have chosen not to sell any of our clothing is because I want it out of my house ASAP.
I have sold hundreds of items on Craigslist and made thousands of dollars — so I know exactly how much time and effort that whole process takes. It's not bad when I'm selling $50 or $200 furniture pieces — but in my opinion, it's not worth it when I'm selling $1 clothing items.
I don't want to take pictures of every item, describe every item, post every item, answer emails and questions about every item, and deal with no-shows who say they are interested but then flake at the last minute — all to make $1 or $5 or even $20.
I also have no interest in pricing every single item or tagging it for a second hand sale.
And the consignment stores I know of in our area are quite far away and VERY picky about what they take — so it's not worth the drive for me.
I'd rather bag up what we have and drop it off at the local donation center that's just down the road. We go past it EVERY Monday morning so it's extremely simple and convenient to drop off a bag (or 10) when we drive past.
2. We don't have a good location for a garage sale.
Aside from the fact that I don't think I'm capable of hanging onto enough stuff to actually have a decent garage sale, our house is set back off the road and our garage is behind our house — you can't even see it from the road.
We also live on a fairly busy road with no on-street parking — so, like I said, not an ideal location for a garage sale.
3. Our clothes are almost all used to begin with.
As I mentioned last week, we buy almost all our clothing used (or accept free used clothing from friends and family).
The number of brand new items I have purchased my children is VERY small… in fact, the number of clothing items I have actually PURCHASED (new or used) is relatively low, considering I have 3 children.
We have been fortunate to borrow LOTS of clothing from friends and relatives, and we've gotten some great hand-me-downs as well. Plus, most of the used clothing I get for our kids is from ThredUp (using referral credit I've accumulated over the years).
So, considering almost all our clothing is used — and most of it is free or extremely cheap, I really don't feel like I need to "get my money back" by selling it when we're finished with it.
Even for myself, I've purchased so much from ThredUp (and Twice when it was still available) that I really don't feel the need to sell anything. I'd rather just donate it and pass the deal along to someone else.
4. We don't take particularly awesome care of our clothes.
Now, I don't want you to think we are needlessly rough on our clothing or picture my kids ripping their clothes to shreds. However, I will be the first to admit that I am NOT careful when I do the laundry and I'm NOT concerned about what my kids wear outside to play.
While we do have a couple nice "church outfits", my kids don't really have "play clothes". They can wear whatever they want, wherever they want and (for the most part) I truly don't care.
If it gets dirty, we wash it with Oxiclean. If the stains don't come out, we wear it with stains.
If Nora's leggings get a hole in the knee, we cut them off and wear them as shorts under skirts until they are too small. If (or rather WHEN) the boys' pants get a hole or a really bad rip, we just toss them.
As I've mentioned before, I don't sort colors, I don't pre-treat stains, I don't scrub, and I rarely worry about fading or shrinking. I wash everything with either warm or hot water and dry it in the dryer. I don't iron EVER.
Most consignment stores I know only want top-of-the-line items that look like they've never been worn… and 99% of our clothing looks worn 🙂
5. We really WEAR our clothes!
My kids don't have tons of clothing (at least not compared to many people we know) so they frequently wear the same things over and over and OVER again.
They are totally fine with this — in fact, both Nora and Simon have very strong opinions about what they wear, and they choose to wear the same few shirts and pants ALL the time.
Since we are always wearing and washing the same things week after week, our clothes get worn out much faster — so by the time the clothes are too small, they aren't in good enough condition to sell anyway (especially after both Simon and James are through with the boy clothes).
6. I don't buy brand names.
I have nothing against brand-name clothing, but for the most part, I just don't buy it. Even when I'm shopping ThredUp, I usually stick with Old Navy and Carter's as those are the less-expensive options.
Since most of our clothing is more basic brands (Target, Meijer, Kohl's, etc.) it's almost impossible to resell at consignment stores or via ThredUp.
Plus, Nora hates tags, so I often cut the tags out of her shirts — which makes them really hard to sell again.
7. I just don't care.
Maybe this sounds lazy… but I can assure you that I am NOT lazy.
I have done a great job at finding amazing deals on almost everything for my children (used toys, books, games, outdoor items, strollers, clothing, etc.) I have also resold many of the pricier items on Craigslist and gotten much (if not all) of my money back!
However, when it comes to clothing, I just honestly don't care about getting my money back. I have done the calculations in my head and it is not worth the time I would spend for the amount of money I could potentially make back.
Of course, if we had nicer clothing in better condition, it might be worth my time — but since I don't foresee that happening any time soon, I'll continue to go the donation route!
Where we donate:
My current system for purging my own clothing is to give the castoffs to my sister who lives down the road. She can pick anything out that she likes, and then donate the rest.
As for kids clothing, we have a few friends and relatives who we give certain items and sizes to — the rest goes to the local thrift store down the road.
Oh, and since I get asked this question ALL the time, I should mention that I don't record anything we donate for tax purposes. I used to do this, and my accountant told me it hardly made any difference on our tax refund (especially for used kids' clothing). So it's one less thing I feel I need to do — and a less paperwork to manage!
Of course, I certainly don't think it's bad to sell your kids' clothing (after all, I have benefited greatly from those of you who buy cute clothes and sell them on Craigslist, via ThredUP, and at garage sales!)
The reason I wanted to share this post today is because I know so many people who feel guilty about the fact that they don't try to "get their money back" out of their used clothing… even though they would rather just donate it.
If that sounds like you, I hope this post will alleviate some of your guilt and give you the freedom to just donate it!
If you like doing the garage sale and consignment thing — then keep doing it! If you don't, please just donate the items and be done with it. You won't regret it 🙂
How do you handle your clothing cast-offs?