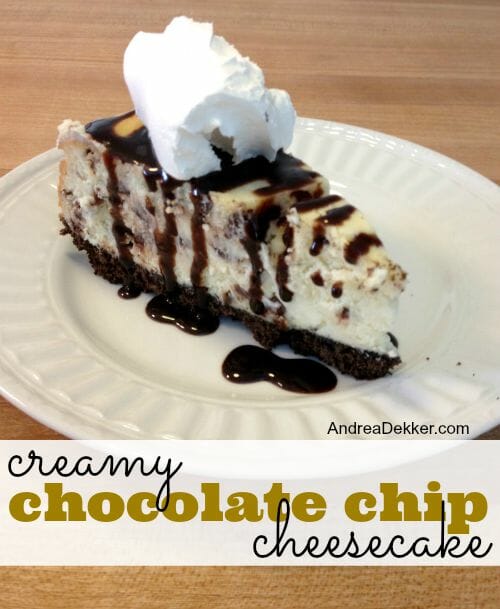 Cheesecake is, without a doubt, my most favorite "cake" ever. Yes, I realize it's not really a "cake", but since I don't care for traditional sheet cake with frosting, I always say cheesecake is my favorite cake!
I'm fairly confident I would like almost any type of cheesecake… but if I had to choose my ultimate favorite, it would be chocolate chip cheesecake with a chocolate crust.
So the other day, after stocking up on a huge cream cheese sale at the grocery store, I decided to make our family-favorite chocolate chip cheesecake.
It's a full-size cheesecake and uses 32 oz. of cream cheese (4 bricks) so it's a lot larger than the smaller cheesecakes I usually make… but it worked out perfectly as we ended up with unexpected company 2 nights in a row for dinner, and I could "wow" everyone by having this cheesecake in the fridge 🙂
One of the only things I don't love about cheesecake is the fact that I always second-guess myself as to if it's "done" or not. Since you don't bake cheesecake until it's fully set in the middle, it's always difficult for me to decide if it's still too "jiggly" or if I should take it out of the oven. However, recently, I came across a different method for baking cheesecake… and it's nearly fool-proof!
This new method requires you bake it in the oven like normal (without ever opening the oven door) and then, when the timer goes off, simply turn the oven off and keep the door CLOSED for the next 5 hours. After that, you can put it in the fridge and you're good to go!
I was slightly skeptical at first, but this method really has worked fabulously well for me, so I decided to share it here on the blog.
One thing I will say is that I have not mastered the art of a "non-cracked" cheesecake yet. Sometimes it comes out perfectly, sometimes it cracks (like the pictures in this post). I've tried many different tips and tricks but I've never found one that prevents cracking 100%.
That said, this recipe still tastes AMAZING, and it's really simple too. So cracks aside, this is a winner for sure!
Recipe for Creamy Chocolate Chip Cheesecake
Makes enough for one 9″ springform pan (probably at least 18 servings)
INGREDIENTS:
10 graham crackers; crushed (you can use chocolate or regular)
4 T. melted butter
4 packages cream cheese (8 oz. each)
1.5 c. granulated sugar
3/4 c. milk
4 eggs
1 c. sour cream
1 T. vanilla
1/4 c. all-purpose flour
1 c. mini chocolate chips
DIRECTIONS:
1. Preheat oven to 350*F and grease a 9″ springform pan
2. In a large bowl, mix graham cracker crumbs and melted butter. Press into bottom of springform pan
3. In the same bowl, cream together cream cheese and sugar.
4. Add milk, eggs, sour cream, and vanilla. Mix until combined.
5. In a small bowl, stir flour and chocolate chips. Add chips to cream cheese mixture and stir with a spatula until combined.
6. Pour mixture into springform pan and bake for 1 hour in preheated oven.
7. After 1 hour, turn the oven off but KEEP THE DOOR CLOSED.
8. Let cheesecake sit in oven for 5 hours. Then remove and refrigerate until cold.
9. Eat and enjoy!
Cover the leftover and store in the refrigerator.
This recipe is quite rich and about 3 inches thick — so yes, you can cut the slices very small to satisfy a large crowd with one dessert. It can also be made in a 9″x13″ pan, but then it will be thinner and you'll want to adjust the baking time accordingly depending on your oven.
In my opinion, this is the most straight-forward cheesecake recipe I've personally tried because I never have to worry about the cooking time. It comes out perfectly "done" every time.
It's delicious plain… but a little extra chocolate sauce and whipped cream couldn't hurt anything 🙂
What are your favorite cheesecake toppings??
Visit my virtual recipe box for more simple, delicious, family friendly recipes!