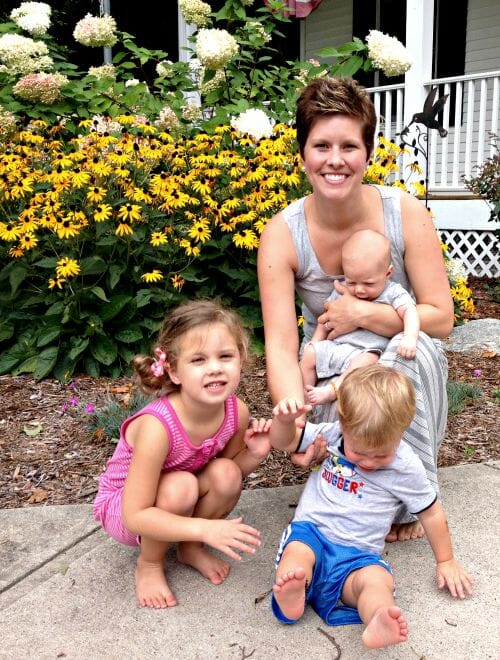 Today is Dave's first official day of school… and yes, I'm back to my normal blogging routine again too!
This was the latest Dave has ever started the school year… and boy was it the perfect summer to have a few extra days at home with him! However, we knew the blissful 2-parents-at-home-all-day situation would come to an end at some point, and I think we're all ready for a bit more structure and routine in our days.
Dave had meetings at school all last week, so I've technically be "on my own" for a few days already, and I can honestly say that things went really well.
I managed to keep the house somewhat clean, get dinner on the table every night, write my blog posts, do my VA work, go for a few walks, get groceries, and even venture to the mall with all 3 kids in tow! (Isn't it insane the mundane things we feel so accomplished doing once small people enter the mix!)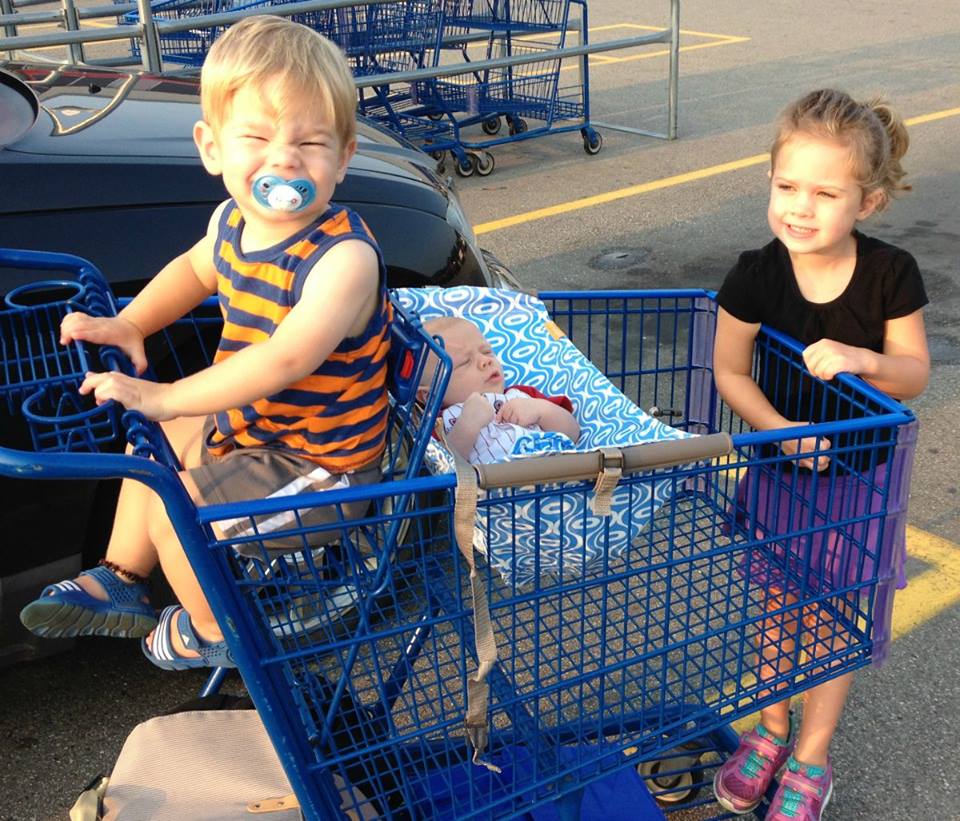 (the baby sling is from Binxy Baby)
I realize that with a newborn at home, our routine will continue to change for the next few months… but right now, James is napping like a champ! This has made it much easier to devote more attention to playing with Nora and Simon instead of always holding and feeding a baby (which is what I felt like I was doing all day for the first 6 weeks of his life.)
Of course, since James sleeps a lot during the day, he stays up pretty late at night; but right now, that's a tradeoff I'm willing to make. I actually kind of like spending the evening hours with just Dave and James after Nora and Simon go to bed.
I'm not getting nearly as much work done as I used to, but I'm also fairly content with my lack of productivity right now. I'm not feeling antsy or wishing I could do more — and yes, that's a HUGE accomplishment!
Aren't you proud of me 🙂
To be honest, I feel like a completely different mom this time around.
Maybe it's because I'm getting 'better' at it, maybe it's because James is potentially an easier baby, maybe it's because Nora is older and more capable of entertaining herself and Simon, or maybe it's because Dave was home all summer to help me.
Whatever the reason, I like it!
I'm not stressed out if my kids make a scene or have a mini meltdown in public, I'm not nearly as apprehensive to get out of the house with them, I didn't get nervous about being in front of church with everyone for James' baptism, I don't think twice about being gone when James needs to take a nap, and (most of the time) I don't even get uptight if we're not home exactly in time for Simon's nap.
I'd almost go so far as to say that I'm FINALLY learning to be a teeny, tiny bit "go with the flow".
James is warming up to his carseat and no longer screams the entire time he's in it, so that has made driving and going for walks more enjoyable for sure! And he's more than willing to sleep in the baby carrier for hours at a time if necessary. He even slept on the booth in Applebee's a couple weeks ago when Dave and I had a BOGO coupon and gift cards!
If we had gotten coupons and gift cards when Nora was a baby, I would have been SOOOOOOOO stressed out taking her to a restaurant, or SOOOOOO stressed out leaving her with one of our parents because she was really fussy. Now, I didn't even think twice about taking James with us… and I certainly didn't feel anxious leaving Nora and Simon behind.
I actually enjoyed getting out of the house, even with James along for the ride — this is totally new for me!
.
Although I still prefer the toddler and preschool stage MUCH more than the newborn and infant stage, I'm enjoying my time with James so much more than I ever did with either Nora or Simon.
Obviously, there is still lots of crying, temper tantrums, fighting, disobeying, food-throwing, nap-refusing, and general naughtiness… but there are enough good times inbetween the crazy times that I can handle it. Plus, I think I'm finally able to see the light at the end of the tunnel.
I can see that even though James is often fussy in the evening and still waking up a couple times at night, his sleeping stretches are getting longer and longer and he'll be sleeping through the night in no time.
I can see that even though Simon is almost impossible to reason with right now and throws temper tantrums over the most ridiculous things, he will grow out of it and life will become easier once he can talk and express himself more.
I can see that even though Nora tests my patience daily (sometimes hourly), she is learning and growing so much and she's actually pretty fun to hang out with sometimes!
Many people have told me, "it gets easier the more you have" — and while I don't quite agree with that, I will agree that SOME things have felt easier for me, while other things have felt more difficult (grocery shopping, ahem!)
Either way, I'm just thankful that things are going well, that I'm sleeping and relaxing as much as I can, that I feel ready to get back to a more regular blogging schedule, and that I'm enjoying this phase of life more than I ever thought I would.
I guess the third time's the charm!
So…. what would that mean for the fourth? 🙂