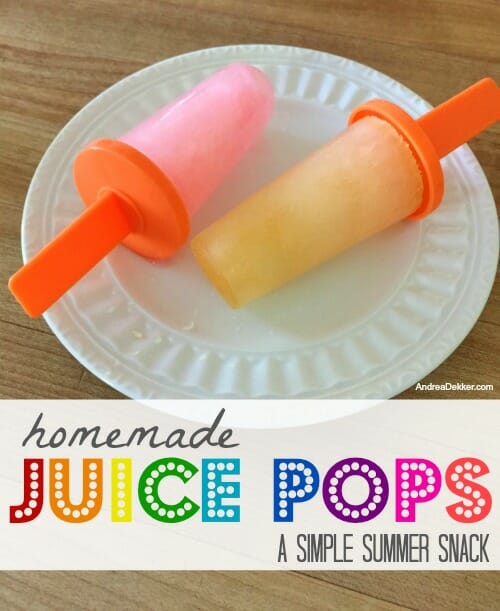 A couple months ago, the kids and I stumbled across a popsicle mold at the dollar store and I quickly snatched it up, promising homemade popsicles for a snack later that day.
The kids were thrilled… but I think Dave was even more excited when he walked in the door after a hot day at school to have homemade juice popsicles waiting for him in the kitchen.
Apparently he has VERY fond memories of making and eating "juice pops" as a kid and we heard all about them. 🙂
Based on Dave's reaction when he came home from school and the kids reactions to trying these juice pops for the first time, I think my $1 popsicle mold was a good investment!
Of course, the fact that they are ridiculously simple to make is another plus in my book… they might just be our go-to simple summer snack this year!
If you're feeling adventurous, you COULD get really fancy by adding fruit, using a complex recipe, or freezing individual layers of juice for a rainbow effect (search Pinterest for "homemade popsicles" and see what you find!)… or you could just dump in whatever juice or lemonade you have in your fridge and call it good.
You could even make your own juice with a juicer and then freeze it as a juice pop for a super nutritious afternoon snack.
Whatever you do, I'm pretty sure your kids (and maybe your husband) will enjoy this special frozen treat!
"Recipe" For Homemade Juice Popsicles
INGREDIENTS:
Some kind of popsicle mold and stick (even a small food storage container with a spoon stuck in could work)
Juice, smoothie mix, lemonade, Kool Aid, chocolate milk, baby food, yogurt, or any other liquid you think might taste good frozen
DIRECTIONS:
Pour liquid into molds almost to the top
Place stick into molds
Freeze for several hours
Let sit at room temperature for a minute (or run under hot water) and remove stick from mold
It takes roughly 10 seconds to fill the popsicle mold and a couple hours to freeze. I've already tried several different liquids, but so far the kids' 2 favorites have been strawberry lemonade (Country Time) and Apple Juice (store bought).
My favorite is mixing up an apple, banana, berry smoothie (or even just using regular yogurt) and freezing that as a "juice pop" — however, friends of ours said we need to try making "grown up juice pops" with alcohol. Sounds like a fun idea for an adults-only summer party!
I'm certain we will continue to make a variety of juice pops all summer long — and maybe in 30 years, our kids will tell their children about making and eating yummy juice pops with their mom and dad on hot summer days.
Simple pleasures, my friends!
Do you have a favorite juice pop recipe?
Visit my virtual recipe box for more simple, delicious, family friendly recipes!