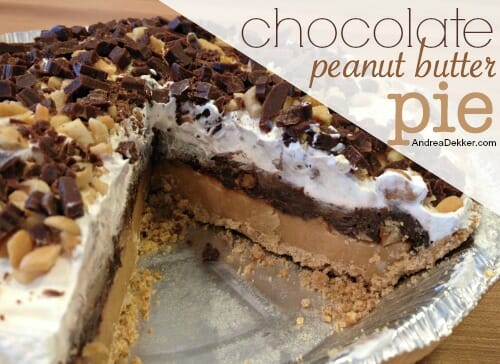 I've been big on desserts lately — especially no-bake pies!
A couple weeks ago, I shared this Triple Layer No-Bake Pie — and after I made that pie, I got the idea for a Chocolate Peanut Butter Pie.
I made this pie totally on a whim one day, not 100% sure if it would turn out, but I was pleasantly surprised by how delicious it was. It also earned me "Mom Of The Year" because I let Nora help (and eat some of the chopped chocolate) and "Wife Of The Year" because three of Dave's favorite foods are chocolate, peanut butter, and pie 🙂
Not bad for a simple no-bake pie!
It's definitely a rich pie so you don't need a huge slice — however the peanut butter and chocolate flavors meld so well together, it's worth every calorie!
I love how thick and rich the peanut butter layer is, how creamy the chocolate layer is, the fluffy whipped cream, and the crunchy topping. Everything just works together.
Oh yeah, and I love that it only took me about 10 minutes to make!
This will definitely be one of my go-to recipes for when company comes over or when we need a last-minute dessert.
Recipe for Chocolate Peanut Butter Pie
Serves 6-8
INGREDIENTS:
1 pre-made graham cracker crust (any type or flavor will do)
5 T. butter
1/2 c. peanut butter
1 c. powdered sugar
1 package (3.4 oz) instant chocolate pudding mix
1 c. cold milk
2 c. Cool Whip
chopped chocolate candies for garnish (optional)
chopped nuts for garnish (optional)
DIRECTIONS:
In a small bowl, microwave butter and peanut butter until melted
Add in powdered sugar and spread into prepared pie crust
In the same bowl, mix chocolate pudding mix with cold milk
Immediately pour on top of peanut butter layer
Spread Cool Whip on top of chocolate layer
Sprinkle candies and nuts on top of Cool Whip
Refrigerate for 30 minutes, or until 'set'
You can also freeze this pie (it's amazing) but you'll want to take it out of the freezer at least 30 minutes before you're going to serve it otherwise it will be too frozen to cut.
This pie was the perfect size for our small family — but I was thinking this recipe would be AMAZING if you doubled it (or tripled it) and made it in a larger 9″ x 13″ pan.
It would be fabulous for any holiday party, large family gathering, potluck, etc. It's so simple to make, it can easily be made a day or more in advance, it looks "fancy", and it tastes amazing.
Win, win, win, win!
I will most definitely be making this pie again once I stock up on graham cracker crusts 🙂
What are your favorite no-bake dessert recipes?
Visit my virtual recipe box for more simple, delicious, family friendly recipes!