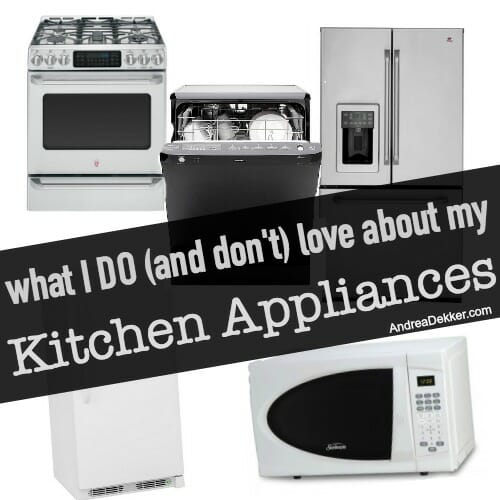 First of all, I must start this post by saying that Dave and I are so happy with ALL our kitchen appliances, as well as everything that went into our massive 2012 kitchen renovation.
Our new kitchen is 1000 times better than it was when we first moved in — so much more storage space, counter space, refrigerator space, eating space, etc. etc. Plus it's perfect for our house and our family, it's exactly my style, and I thoroughly enjoy cooking in it every day.
We are SO happy and content with our new kitchen and have no plans on changing anything in the near future.
That said, I get a bazillion emails and questions about our kitchen appliances — usually from people who are in the beginning stages of a kitchen renovation and looking for advice from someone who has "been there, done that".
So while I will mostly be sharing all the things we love about our various appliances… I will also be sharing a few things we might have tweaked if we were doing it again. However, I definitely don't want any part of this post to come off as complaining or like we are unhappy or dissatisfied.
We're not! I promise!
I'm just trying to be as honest as I can for those of you who might be in the market for new appliances 🙂
Our Refrigerator:
We purchased a GE Cafe French-door refrigerator with a bottom pullout freezer from a local scratch and dent store… we are STILL looking for the scratch and/or dent 🙂
At first, I wanted to purchase a counter-depth fridge because they take up less space, but when I realized they were literally twice the price for LESS storage space, I quickly changed my mind!
I'm so glad I didn't go for the counter depth… especially since every refrigerator we've ever had has been really small. So that fact that this refrigerator is over 25 cubic ft is pretty exciting for me.
I was also a little worried about the pull-out freezer since I never had one of those before, but we love that too. It has 2 separate pull out "bins" and a bunch of different organizing compartments, so it's really easy to find whatever we want.
PROS:
It's huge — literally one of the biggest "normal" refrigerators we could get without custom ordering something crazy expensive
Everything in the fridge is eye-level — this is SOOOO nice
The kids can't get into the fridge when I open it up to quickly grab something
Since there are 2 doors, they don't swing out as far, meaning the door doesn't take up as much space
It has water and ice in the door — I know some people don't like this, but it was a "must have" for us and we use it many, many times every day
There is a "lock" for the water and ice button so kids can't make a mess pushing buttons they shouldn't be pushing!
It has customizable storage — the shelves are easily movable to accommodate different foods, plus other shelves that fold "down" or push back for tall items.
It has a HUGE amount of drawer space — the bottom drawer is the entire width of the fridge and has a movable divider that can be removed to store large platters or cakes or casserole dishes
It has an quick-cool option — this is great for when you get home from the grocery store, load up the fridge with "warm" food and have the doors open for a while. You can use the quick-cook feature to quickly cool it back down again.
It's so bright — this is a weird one, but there are literally 8-10 lights on the inside of the fridge so EVERYTHING is super bright and easy to find whatever I'm looking for.
The freezer drawer is very easy to pull out and the extra top tray makes keeping things organized very easy
The ice maker is in the refrigerator door so it doesn't take up any room in the freezer
CONS:
Sometimes I open the wrong door and then need to open the other door (totally not a big deal though!)
Since the ice maker is in the door of the refrigerator (making more room for freezer stuff) there are only storage compartments on one door
The freezer is a tiny bit harder to access because it's not at eye-level — but we use the refrigerator more so we'd rather have that at eye level
A freezer drawer probably makes it a little bit more difficult to see everything, but we really don't keep much in our freezer (since we have a deep freezer downstairs) so this isn't an issue for us.
All in all, we LOVE our refrigerator and would NEVER want to go back to a side-by-side or a top mounted freezer.
.
Oven / Range:
We purchased the GE Cafe Duel-Fuel Range with Baking Drawer, also from a scratch and dent store — and we're still looking for the scratch on this one too!
When we were designing our kitchen, I was dead-set on having a double electric wall oven with a 5 or 6-burner gas cooktop. However, due to the fact that we ended up totally opening the kitchen and dining room area to the living room (by knocking out yet another wall) we no longer had the wall space for a double wall oven.
This meant I had to change my plans a bit — but when I stumbled across this unit, I was "sold".
Not only is it a HUGE oven with 3 racks, it also has a separate bottom baking drawer, convection oven settings, and it's a "dual fuel" which means both ovens are electric and the cooktop is gas (exactly what I wanted)!
PROS:
It's an electric oven which means more even baking + a gas cooktop for faster boiling and more heat control
The stove top is AMAZING for canning
The grates on the stove top are cast iron and really solid. They are also "continuous" which means the whole top is flush and it's really easy to slide pots and pans around to different burners
The center burner is replaceable with a griddle — which we love
The front right burner is a power-boil burner with 20,000 BTU's (normal burners are 8,000 BTU's) so it can often boil water in about 60-90 seconds
It's a "low profile" model, which means the controls are on the front versus the back and it fits more seamlessly with our counter tops for a more built-in look
The oven is massive and cooks so evenly. The convection feature is also fabulous for all the times I'm baking multiple goodies at the same time (it circulates the air evenly so everything cooks evenly instead of hot spots at the top and bottom
CONS:
The baking drawer definitely isn't a "second oven". Yes, it can get up to 450º but it takes a pretty long time to heat up and really doesn't "cook anything" all that fast. It's more of a glorified warming drawer that can bake and cook if necessary. However my oven is so large that I haven't really needed it for more than a warming drawer.
Since the controls are on the front, kids can reach them. This hasn't been a huge issue because I'm always close by… but we have had many times when Simon or Nora inadvertently turn the oven off while I'm in the middle of cooking something.
The griddle has a recessed area all the way around (to catch the grease) but its so skinny that it's pretty hard to clean out.
In summary, we are extremely happy with our oven and range and really feel like it's the perfect fit for our kitchen. Yes, a full double oven would have been nice — but we definitely enjoy having our kitchen more open to the living area — it's been a pretty good trade-off!
The Exhaust Fan:
As MANY of you have already noticed (and asked me a bazillion times why) we do not have an exhaust fan above our stove 🙂
I have no great reason for it except that I don't really like the looks of them and I didn't feel like it was fully necessary in our kitchen.
There is a chance we'll get one some day (we have all the electrical in place in case we change our mind) but for now, we've been managing just fine without one!
.
The Dishwasher:
Our dishwasher is a "paneled" dishwasher — which means it looks just like the rest of our cabinets. Can you see it hiding in our island?
We purchased a Jenn-Air dishwasher because it was literally the ONLY paneled dishwasher at our scratch and dent store. There was definitely a big scratch and a couple small dents on the front of this dishwasher — but since we were putting a cabinet panel over the front, it didn't matter to us at all!
I REALLY love this dishwasher!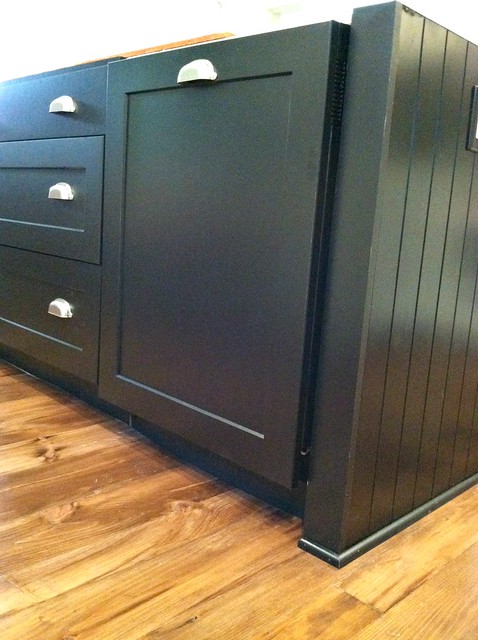 PROS:
It's all stainless steel inside
It has a bunch of customizable options to fit different size dishes
The control buttons are all on top so you don't see them when the door is pushed all the way in
It has a massive silverware caddy — which is perfect for us because we go through SO much silverware
It has a quick cycle that takes less than an hour and gets the dishes sparkling clean
It has a top-rack-only cycle that is great for when you just need to wash a few things
It's so quiet you almost can't hear it running
It's the same size as a standard dishwasher… but because of the different ways to customize the inside, I truly believe we can fit more dishes in our dishwasher
CONS:
The ONLY thing I can think of that we don't absolutely love about this dishwasher is the fact that the cabinet panel on the door makes the door heavier so it makes a "creaky" noise when it opens. We regularly put WD-40 on it, but the creaky sound always comes back eventually.
We use our dishwasher daily and definitely wouldn't want to live without one… I'm SO happy we found a discounted paneled dishwasher that worked for our kitchen!
.
Microwave:
We have a teeny-tiny 700-Watt Sunbeam microwave — but we specifically wanted a tiny microwave so it would fit inside our pantry cabinet.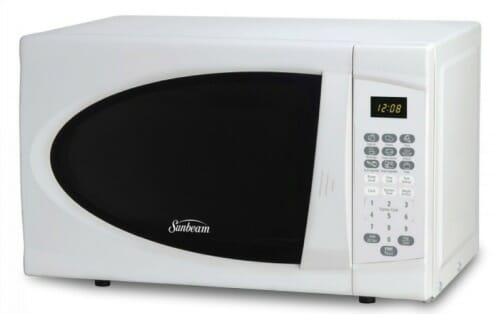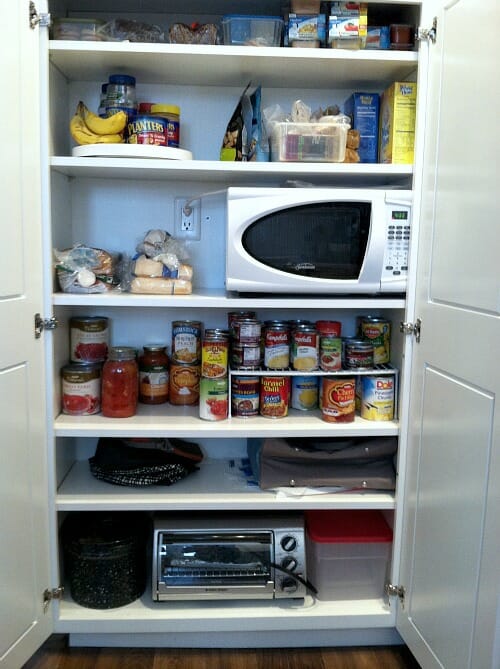 PROS:
It's hidden
It's still very easily accessible
It fits perfectly inside our pantry cabinet — almost like we planned it that way 🙂
It's low enough that Nora will be able to reach it in another year or two and reheat food herself
It was SUPER cheap ($45 from Target) so if/when we need to replace it, it won't break our budget!
CONS:
It's small and low wattage — this is basically the only downside but definitely a worthy trade off for us!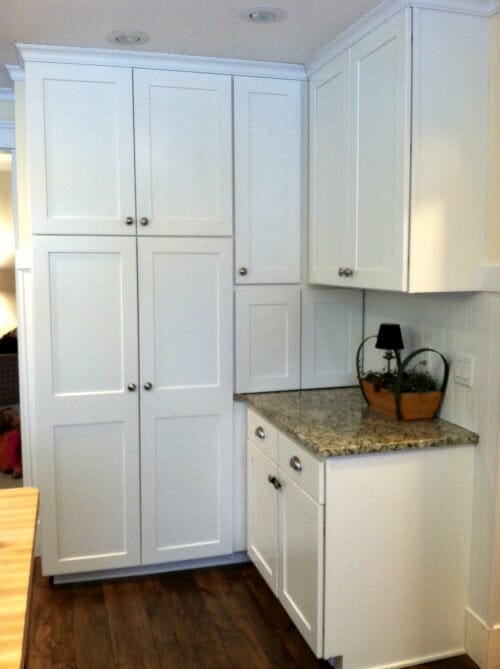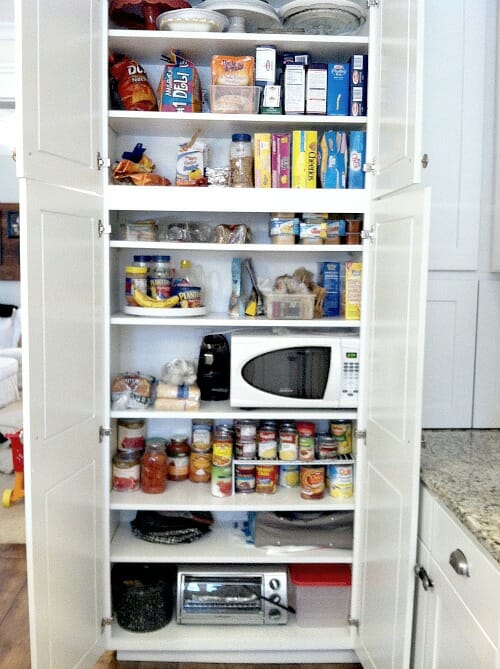 I personally love having the microwave hidden and out of the way. I know it wouldn't make sense for every kitchen, but considering we specifically designed our kitchen to have a hidden microwave, we are thrilled with the results.
.
The Deep Freezer
About 6 months after moving into this house (and after 6 months of searching Craigslist for a used deep freezer) we went ahead and purchased a brand new 14.4 cubic foot, Frigidaire MANUAL defrost freezer.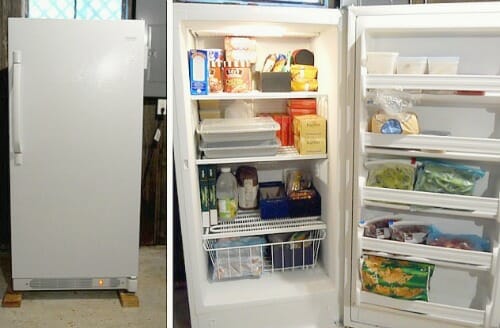 PROS:
We have tons of extra freezer storage space.
It's a manual defrost freezer (which is half negative — see below) but it also means that our food stays much fresher for longer than it would in our freezer in our kitchen.
It's an upright which means it's easier to organize and see what we have inside.
CONS:
It's a little smaller than we would have ideally liked, but it's the largest size that would fit down our basement stairs.
It's a manual defrost (which means we need to defrost it every 2 years). However, we specifically chose a manual defrost as it keeps food fresher longer.
We are very thankful for all the extra storage space our deep freezer gives us — as well as thankful for the amazing delivery men who managed to SQUEEZE the freezer down our narrow basement stairs 🙂
.
So there you have it — the ins and outs of what we do and don't love about all our kitchen appliances.
What are your favorite (or least favorite) features of your kitchen appliances?