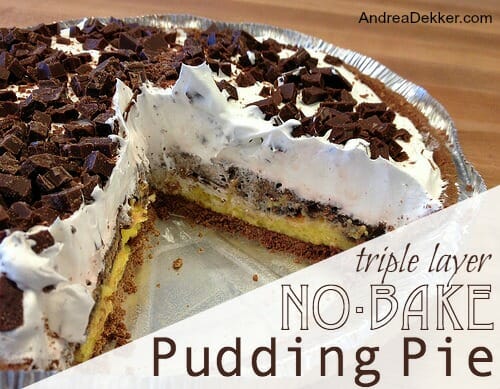 A couple weeks ago, we celebrated "Pi Day" in our math-loving household 🙂
Nora was VERY excited to help me bake a pie — but I wasn't as excited to bake one. So I decided to use up the lone Chocolate Graham Cracker crust that had been sitting in our pantry for the last several months.
I didn't have much time for baking that day and chocolate sounded really good to me. So, a spur-of-the-moment decision was made and in less than 10 minutes (no lie) I had a triple-layer no-bake pudding pie in the fridge.
And let's just say EVERYONE in our house thoroughly enjoyed it for dessert later that night!
Not only did it taste delicious, it was extremely quick and simple to make, and I only got one small bowl dirty in the process!
If you're looking for a refreshing no-bake dessert for tonight (or right now), give this triple layer pie a try.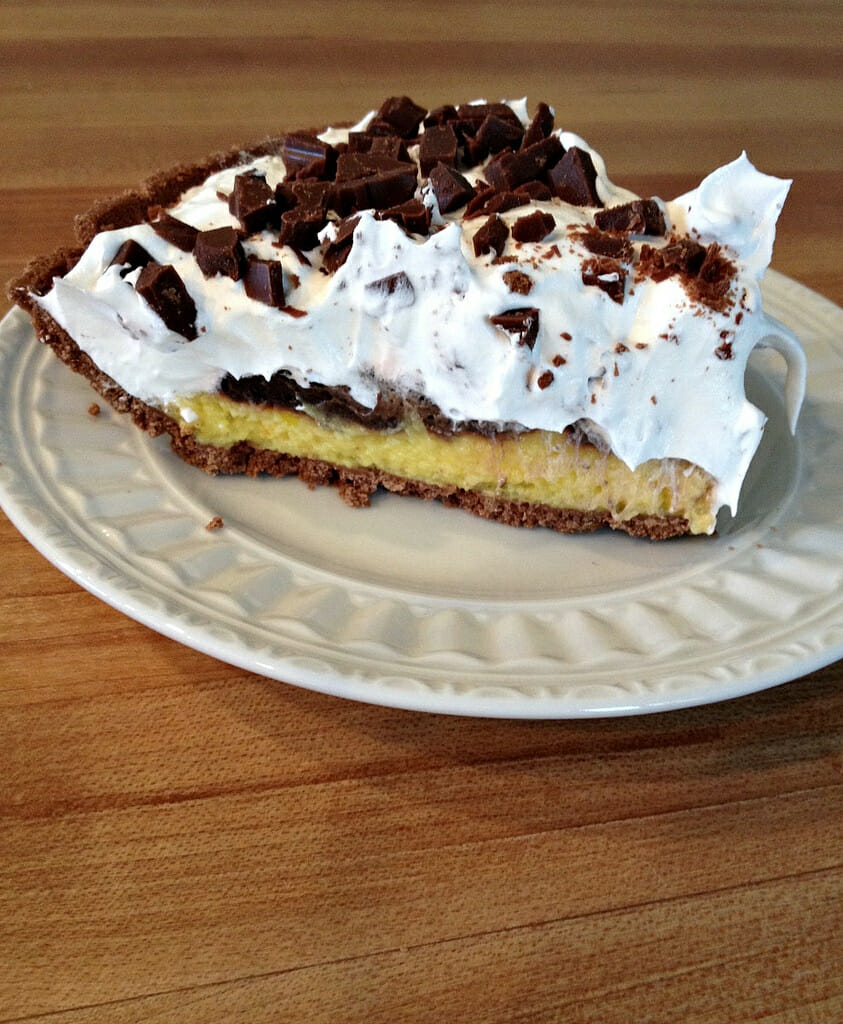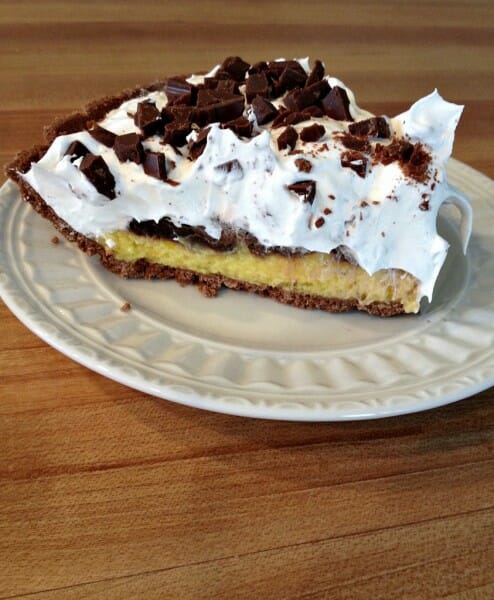 Recipe for Triple Layer No-Bake Pudding Pie
Serves 6
INGREDIENTS:
1 pre-made graham cracker crust (I used chocolate, but any type will do)
1 package (3.4 oz) instant vanilla pudding mix
2/3 c. cold milk
1 package (3.4 oz) instant chocolate pudding mix
2/3 c. cold milk
2 c. Cool Whip
chopped chocolate candies for garnish (optional)
DIRECTIONS:
In a small bowl, mix vanilla pudding mix with 2/3 c. cold milk
Immediately pour into prepared pie crust before it get's too thick
In the same bowl, mix chocolate pudding mix with 2/3 c. cold milk and immediately pour on top of vanilla layer
Spread Cool Whip on top of chocolate layer
Sprinkle candies on top of Cool Whip
Refrigerate for 10-15 minutes, or until 'set' and refrigerate any leftovers
That's it!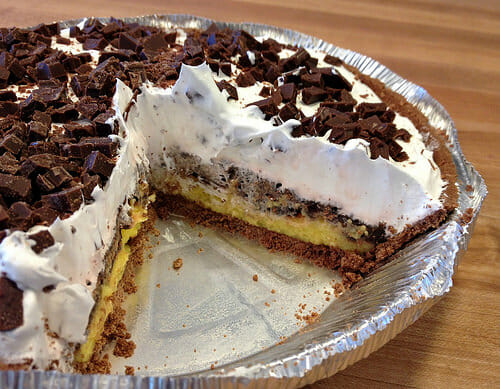 Of course, you could easily make a from-scratch version with a homemade Graham Cracker crust, homemade pudding, and REAL whipped cream (yum!) but I can't guarantee it will be a "10 minutes or less" recipe if you go that route 🙂
Everyone kept raving about how yummy this pie was… even Simon continually grunted and held out his fork for more!
I certainly plan to make this recipe on a more-regular basis — especially now that the weather is warming up and refrigerated pies sound even more yummy.
In fact, I think the next time I make it, I'll try popping it in the freezer to see how it tastes as a frozen pie!
What are your favorite no-bake dessert recipes?
Visit my virtual recipe box for more simple, delicious, family friendly recipes!