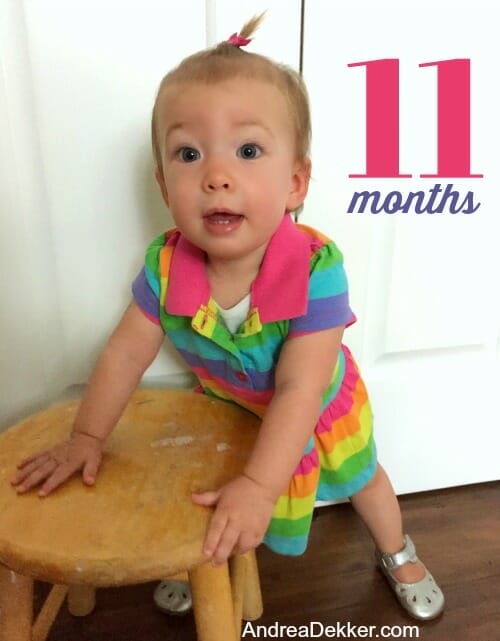 Clara is officially 11 months old, as of Saturday!
She is developing such a fun little personality, and makes the cutest facial expressions throughout the day!
Also, as you can see by the photos above, she officially has a teeny, tiny ponytail. 🙂
She pulls herself up on anything and everything and is walking along furniture (and with helping hands). She loves to "brush her teeth" after her bath each night, she loves playing peek-a-boo any time she can find something to cover her eyes, and she babbles constantly.
Clara has 7 teeth now (soon to be 8), she is eating well, she loves guzzling water from her sippy cup, and she is still generally a VERY happy little girl who sleeps fairly well at night and takes at least one decent nap everyday.
So yeah… life is pretty good when you're happy and you sleep and eat well!
.
At this point, Dave and I are pretty sure we won't have any more babies… so we're having lots of "last firsts" as I call them.
The last time we'll hear their first words (it was 'dada', by the way!)
The last time we'll try various foods for the first time
The last time we'll watch our baby take her first steps
The last time we'll celebrate a first birthday
etc. etc.
I'm not sentimental about it at all (I promise, there have been no tears!) but I have been thinking about how Clara's first year has compared to my other 3 children's first years.
Obviously, the concept of "the end is near" puts a completely different spin on things. I know (pretty much for sure) that I'm almost finished nursing, we're basically finished with sleepless nights, we only have another year (or so) of diapers, and soon enough, we won't even need to plan our days around nap times. Glorious!
However, in my opinion, there is an even bigger factor that has completely revolutionized the way I feel about parenting an infant now versus when Nora was a baby…
The biggest game-changer for me was simply having a smart phone!
When Nora was born, I still had an old-fashion flip-phone with no internet, no apps, no texting, no email, no camera, no nothing. It's only function was to call people (imagine that, a phone to call people!)
So ALLLLLLLLL those long hours spent holding, rocking, feeding, bouncing, massaging, shushing, pacing, etc. were just me, a crabby baby, and my own thoughts. And after hours and days and weeks and months of only having a screaming baby and my own (fairly negative) thoughts to keep me company, I felt like I was going crazy.
I had nothing to distract myself, nothing I could do easily with only one hand, nothing to pass the long hours, nothing I could do in dark or dim lighting, nothing… except hold, rock, feed, bounce, massage, shush, pace, feed, and repeat. Over and over and over again, while thinking through everything else I had to accomplish that day.
We did take lots and lots of naps together (the only way she would ever sleep), but even then I just wanted to get up and accomplish something instead of being connected to an infant all day long!
By the time Simon was born, I had a smart phone and we had Netflix… and the rest is history!
Now, instead of feeling like I'm cooped up in the nursery, I look forward to my time alone with Clara.
I enjoy the dark quietness of her nursery while I feed her and often rock her to sleep (because I want to, not because I need to). Meanwhile, I can text a friend, respond to emails or blog comments, read a book, play a game, browse new recipes I might want to try, catch up on social media, scroll through my photos, even watch Netflix with earbuds!
I know it might sound silly, but this one change has made such a HUGE difference in how I feel about the somewhat lonely infant stage, when mom often needs to bare the majority of the responsibilities and rarely ever gets a break.
Thanks to my smart phone, I feel like I get several mini breaks all throughout the day, because every time I feed her or put her down for a nap or get up with her in the middle of the night, I have a few minutes of peace and quiet where I can zone out a bit, think my own thoughts, and do my own thing. Even if it is just 5 minutes… I'll take it!
As many of you know, Clara has basically been a dream baby compared to my other 3. She is so happy, so sweet, so easy-going… and her first year has been better than I ever hoped it could be.
However, I'm 100% confident that my ability to kick back, relax, zone out, and enjoy the peace and quiet of me, my baby, and my smart phone for a few minutes everyday has helped tremendously as I waded through the muddy waters of parenting an infant.
Screen time for the win with this mama of 4!
Happy 11 months sweet Clara! We look forward to celebrating your FIRST birthday next month!