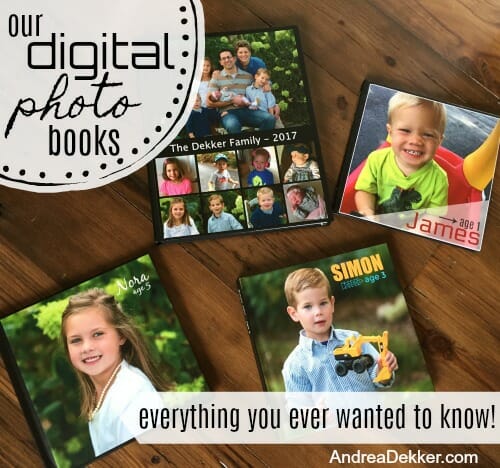 As part of my summer blogging break, I was planning to share 1 week of re-posts in June, July, and August… however, I'm switching things up for the month of August.

Instead of sharing a week of reposts, I'm sharing a week of "compilation posts" where I compile all the information I've shared on a specific topic into one post for easy reference.
Today, I'm sharing everything I've posted about my digital photo books for the past 8 years!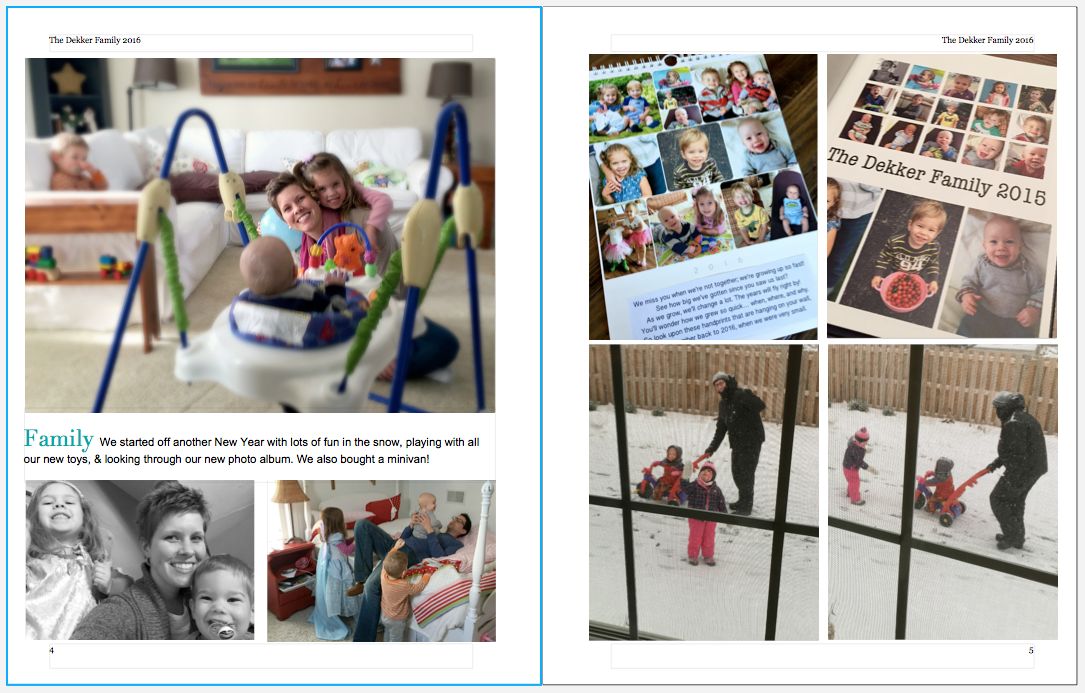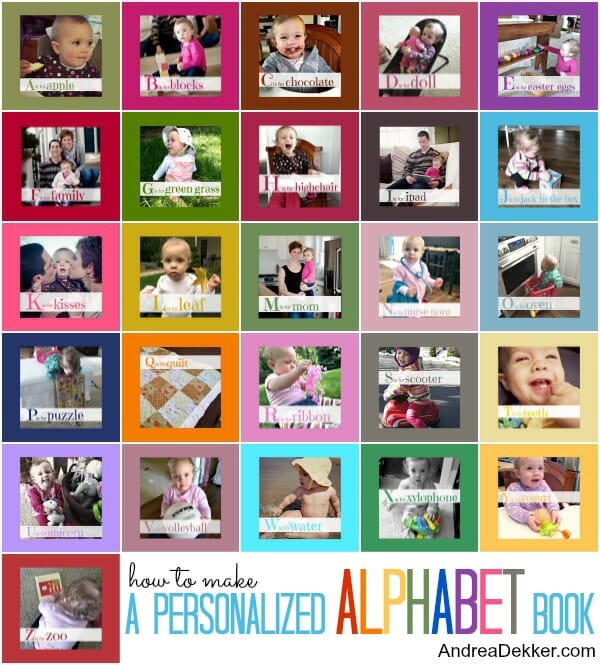 The main focus of my blog is (and always has been) simplifying, organizing, de-stressing, and "un-buysing" the daily in's and out's of real life for real families.
That said, the number of questions, comments, and requests I've gotten regarding my digital photo books is CRAZY!
Every day (or at least multiple times a week) I get emails with questions, comments, inquiries, inspiration, and testimonials from those of you who want to get started making digital photo books, from those of you in the process of making your own books, and from those of you who have successfully finished your first book (or many books) and just want to share your excitement with someone!
I get it – the books are awesome!
But it still just baffles me how many conversations have been generated over the past 8+ years just because of my very simple digital photo books!
So, in honor of the fact that James' 2-year photo book just arrived, hot-off-the-press, and the fact that my photo book posts are some of the most-visited posts, I'm compiling all the information I have on my blog, to-date, in one concise post!
First… a Bit of Background Information:
I started making digital photo books in the fall of 2006, right after Dave and I got married. A lady from my first job brought her books in to work and I was immediately amazed at how awesome they were. I asked her a few questions, and started my own book weeks later!
THE PROGRAM I USE:
I use the online program Blurb, and (obviously) I'm SUPER happy with their services. There are most definitely other photo book programs that are as good as Blurb, probably a bunch that are even better. However, I got hooked on Blurb in the beginning because I didn't need the internet to work on my books (we didn't have internet at home back then). I could simply download the program to my computer and work off-line until it was time to upload my finished book.
Now, 12 years later, I continue to use Blurb because it's what I know and what I'm comfortable with. There are a few things I would like to see changed (namely the fact that I can no longer upload photos directly from Flickr — SO annoying) but I'm sticking with Blurb for now.
COST OF THE BOOKS:
The books can be pricy — especially because I always order the Hard Cover Image Wrap books (which are more expensive than softcover, but also more durable).
The prices are based on the size of the book and the quantity of pages. There are also several up-charges if you want special paper, super thick pages, a special spine, etc. but I never get any of those options.
I ALWAYS wait to upload my finished books until I have a 40% off or 45% off coupon code, but even then, the kid's books are usually around $25-$30 and our family books are closer to $60.
I know there are much cheaper options, but as I mentioned above, I'm really impressed with the quality of our Blurb books and I just generally like using their program to create my books. It's less than $200 a year for all 5 of our books (1 family, 4 kids) and right now, that's a yearly expense I'm willing to pay!
THE PROCESS:
I talk more about this in the list of posts below — but in general, I spend roughly 30-45 minutes at the beginning of each new month to update our family book for the previous month. I do this fairly faithfully every month and then print our family book as soon as I get a coupon code after the 1st of the New Year.
I don't work on the kids' books all year long because they are super quick to make. I wait until after their birthday and any "late" birthday parties, then I literally create their entire book in one afternoon/evening. It takes me 2-4 hours of working on it (usually broken up by dinner, naps, kids needing things, etc.) and then I'm finished!
I save it for a couple days, then go back and look over everything to make sure I didn't double-up pictures or mis-spell words (Blurb has a spell check feature!) Then I wait for my coupon code and order the book when I get one.
HOW WE STORE OUR BOOKS:
Yes, we are amassing quite the collection of photo books… and we'll keep getting 5 more every year!
I have thought about switching to softcover books once the kids are older and "gentler" with their things — the soft cover books would take up much less space, but I do love the look and feel of a nice hard cover book.
We currently have all our photo books stored on a shelf in our game/puzzle closet. This way the kids can easily reach the books as they absolutely LOVE looking through them on a very regular basis!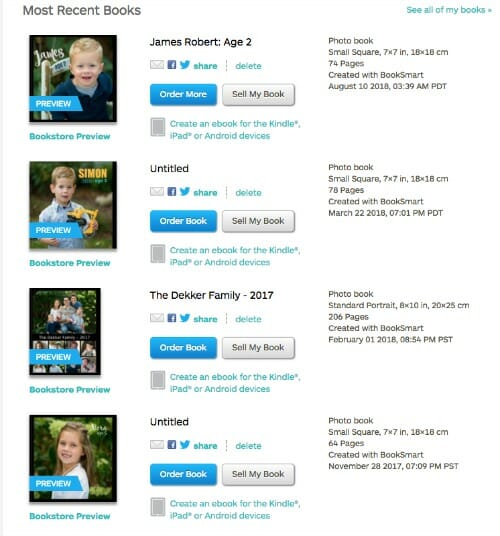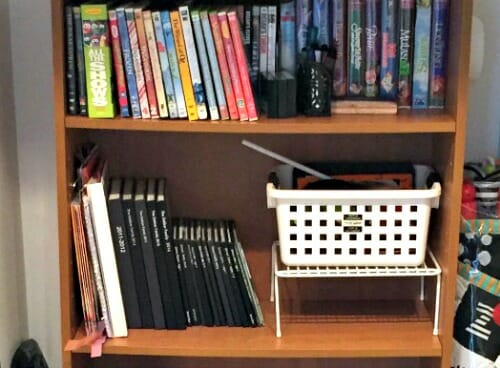 More Posts About Our Digital Photo Books
NOTE: If you don't want to scan all your photos in on your own, consider hiring this out to another company like Legacy Box.

We've used them twice, as a gift for my parents and for Dave's parents, and were very happy with the services both time.

They do more than just photos too — they will digitize slides, video, photo negatives, and almost any other outdated form of media!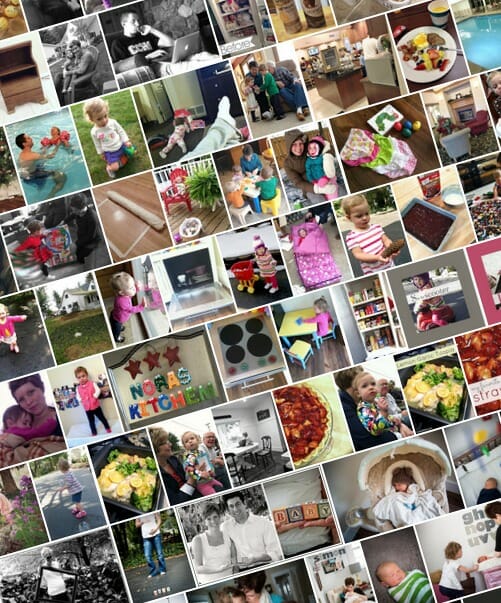 Whew… I think that covers (almost) everything for now!
I'm certain I will continue to have more and more and more to write regarding our digital photo books… but if there's one piece of information I'd love for you to take away from today's compilation post, it's this:
Just get started!
Even if you have 6, 16, or 60 years worth of old photos you want to eventually go through, don't let that stop you from starting NOW. Seriously, just start with 2018 and move forward.
Make a photo book this year and see how you like it. If you hate it, stop! If you like it, make another book next year… and in the process, work back and do a book for last year too.
Even if you never go all the way back to digitize your older photos into books, or even if you don't have as many photo books for your older children as you do for your younger children, you'll still have the books you started now!
Oh, and one more tip… don't worry about perfection!
My books are very nice, but they are also very simple. I don't include any text in the kids' books and only a short paragraph for each month in our family books. I don't narrate vacations, I don't write down funny things the kids said, I don't record very many written memories at all, I don't scan in all our Christmas cards, I don't include pictures of ALL their artwork, and I don't include even close to all the cute photos I have of them — simply because I don't want to invest extra time into these books right now.
In the future, I might do more — but not now.
I've forgotten to add certain pictures, I've accidentally duplicated pictures (once on the same page! whoops!) and there are certain things I would do differently now that I've made so many books and know how to work the program better… but that's OK.
My books are DONE for my family to enjoy… and as I always say, "DONE is better than PERFECT"!
If you have any desire to try digital books, don't worry about perfection… just get started!