Our New, Super Early Morning Routine
posted by Andrea | 08/29/2018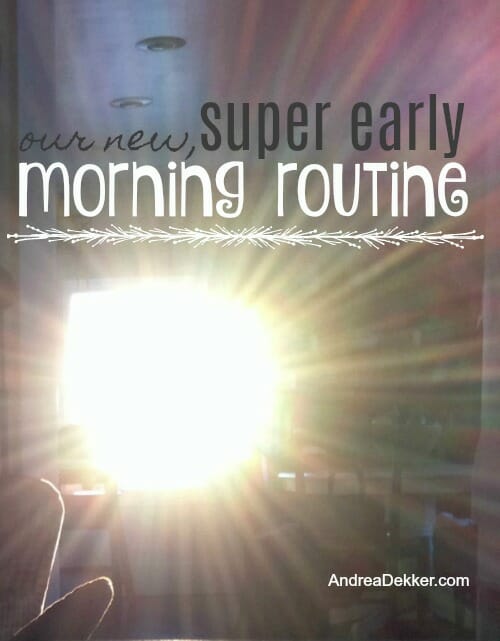 I'm currently typing this post at 4:15am… not because I couldn't sleep, not because Clara woke me up, not because I have too much to do, but simply because this is the time Dave and I have CHOSEN to get up every weekday for the foreseeable future.
I know… it's sort of crazy!
We are both very much "morning people" and are naturally more productive earlier in the day versus later at night. However, for the past (almost) 7 years, we've had to continually tweak and evaluate our daily routine based on how well (or how poorly) our current babies and toddlers are sleeping. This meant often staying up later than we'd like to finish everything we had to finish that day… and then being too tired to wake up as early as we'd like to the next morning.
Who can relate to that?!
Over the past 9 months — essentially since Clara magically started sleeping really well — Dave and I have been setting our alarm earlier and earlier in an effort to regain our morning productivity. We even managed to (mostly) stick to our goal of waking up between 5 and 5:30am throughout the summer months (although I think I did a better job of this than Dave!)
A few weeks ago, Dave mentioned an article he had read about someone who went to bed around 9pm every night so he could wake up at 4am every morning. We were both intrigued by this idea, so we decided we'd give it a try for a couple months to see if it works for us.
And here we are… waking up at 4:00 Monday – Friday, and diligently getting to bed by 9 or 9:30 every night.
NOTE: We wake up around 5 or 5:30 on weekends. 
Although this might sound completely insane to some of you, it honestly was not that hard of a transition for us to make — especially since Dave previously woke up between 5 and 5:30 on school mornings, and we had been waking up quite early all summer long.
If anything, we're actually getting a bit MORE sleep now as we make every effort to be IN BED by 9:30 — otherwise we'll feel too tired the next day.
.
Why So Early?
You might be wondering the obvious question of WHY we would want to wake up this early… especially since our kids go to bed super early and we have several glorious hours of uninterrupted quiet time in the evenings.
Well, there are several reasons — one of which is that we now have several hours of uninterrupted quiet time in the morning, when we feel more awake and refreshed from a full night of sleep! 
Also…
we are both morning people and enjoy waking up early (as mentioned above)
we are both much more "with it" in the morning versus later at night
we are now able to get a good jump-start on our day by plowing through several of our to-do's before the kids wake up and before Dave heads to school
Dave likes to go running early in the morning versus late at night
I like to have time to prep that day's meals before people wake up
we both prefer to be awake and 100% ready for the day before any of our kids wake up
.
What do I do at 4:00 in the morning?
Obviously, you won't find me vacuuming or doing any sort of noisy construction project at 4am… but there are SO many things I can easily do without disturbing our sleeping children:
Look over my to-do list and mentally prepare for the day ahead
Laundry — I can usually have 3 loads finished before the kids wake up!
Respond to emails and blog comments
Write blog posts
Work on my VA jobs
Schedule social media posts or respond to comments and messages
Prep dinner (especially if I need to marinate meat, chop a bunch of veggies, or assemble a casserole)
Bake
Get dressed and ready for my day
Stretch and/or do my physical therapy exercises
Go for a walk outside
Read or listen to a podcast
Wrap gifts or write cards (I do this for something at church)
Water my potted plants
Pick the vegetable garden (it's usually light enough by 6:45 to do this)
Pack any bags we'll need for the day (we usually pack lunches the night before)
Get groceries (thank-you to Meijer for being open 24-hours a day!)
Start breakfast (I'll often have everyone's plates lined up with some of the food on it, and then just transfer the hot food to their plates when it's time to eat.
Even if you are not a morning person, I'm sure I don't need to elaborate on how fantastic it feels to accomplish the majority of my day's to-do list before anyone else's day begins! 
I feel so much more awake and "with it" by the time my kids come downstairs (between 6:30 and 7:00), I'm more-than-ready to serve breakfast and get Nora off to school, my entire day home with the younger kids feels less chaotic, and everything seems to run smoother.
There have been several mornings when I have completed 90% of my to-do list before our kids wake up… the only reason I didn't finish it was because it involved making phone calls, making noise, or running errands to places that weren't open until 10am!
This means my brain is more free to focus on my family during the day (which was increasingly difficult for me to manage when I had so many other to-do's on my list each day).
.
Our Strategy for Getting to Bed On Time:
Obviously, if we're waking up at 4am, we NEED to get to bed on time, otherwise we simply won't get enough sleep to make it through our day. So when Dave proposed his idea of waking up at 4am, we both decided we had to get serious about a strict 9:30 bedtime.
Since our kids are usually all sleeping by 7:30pm, we dedicate an hour after that (7:30-8:30) to wrap up our day…
finish picking up the house and yard
pick the garden if necessary
clean out the dishwasher and/or wash and dry dishes
pack lunches for the next day
write out our to-do's for the next day
look over the menu plan for the next day and defrost any food items I'll need
respond to necessary emails, messages, voicemails, texts, etc.
We take showers and get ready for bed between 8:30 and 9:00, and then, depending on how tired we feel, we might watch a short Netflix show, read, or complete something else off our to-do list.
Then it's lights out by 9:30pm (or earlier)! 
.
Early Mornings and Early Evenings are NOT For Everyone!
I certainly can't write a post about waking up at 4 and going to bed at 9:30 without a HUGE DISCLAIMER that waking up and/or going to bed early are NOT for everyone! 
I realize that "waking up early" has been a trending topic for the last 5-8 years (maybe longer)… and it IS a great way to boost productivity. However, as a born and raised morning person, I am living proof that there are seasons of life when it is unfathomable to wake up by 7am, let alone 4am!
If you aren't a morning person, embrace that and don't try to force your body to do something so unnatural. Find your groove late at night, and enjoy some quiet productivity during the evening hours instead.
I also realize many of you with older children (and more evening commitments) are potentially laughing at the idea of 2 grown people going to bed by 9 or 9:30 every night! I know, it is somewhat comical!
And for those parents struggling through a long period of sleeplessness, thanks to a baby or young child who just doesn't sleep, give yourself a free-pass on this topic and sleep whenever you can!
I'm sharing today's post, not as a guilt trip for anyone who loves to sleep in and stay out late, but simply as another option to consider if you're currently struggling with a lack of productivity.
The beauty of our 4am wake-up time is that IT WORKS FOR US… FOR NOW! 
It's 100% OK if it doesn't work for you (I know it won't work for many of you!)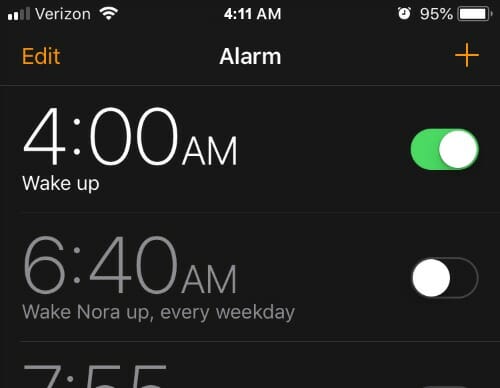 I doubt Dave and I will wake up at 4am forever, especially once we have more evening commitments with older children.
If/when it stops working as well, we will re-evaluate at that time and probably try something new. But for now, it's working… and we do what works! 
.
Looking For More Productivity Posts?
Here are several of the Productivity Posts I've shared over the years — in chronological order so you can get a feel for how our productiveness has morphed and changed over the years!
Just for discussion purposes, I'd love to know what time you wake up!