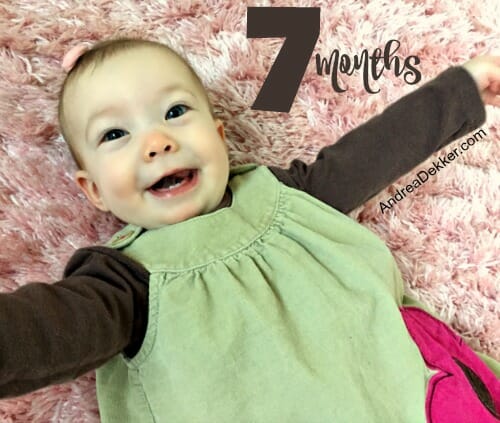 My favorite baby girl is 7 months old today — and she's still as happy as ever.
Clara loves bath time, pulling her shoes off, grabbing her feet, chewing on anything she can grab, and watching her older siblings play. She also still loves her carseat and falls asleep almost any time she's buckled up inside.
Her bottom front teeth have officially popped through, and I can see the top 2 teeth will be coming in soon!
She is ALMOST sitting up, and she can get almost anywhere she needs to go by rolling and scooting.
She is still very chill, mellow, and quiet — but so quick to flash smiles to anyone she makes eye contact with.
This child is such a perfect addition to our somewhat crazy, loud, and energetic family — she brings us down a notch for sure. Plus it's nice to know one of my children will always return my smile! 🙂
.
As we approached Clara's 7 month milestone, I started thinking back to when I was 7 months pregnant with her — oh, so many pounds ago!
I had a doctor's appointment that day, and we were starting to talk more about my "birth plan".
As many of you know — I don't have a "birth plan" with any of my children, except to push the baby out quickly whenever he or she is ready to come out!
However, that day, I told my doctor the one thing I REALLY wanted for this delivery (most likely my last delivery) was simply to not cry when I took her home from the hospital.
That's it… that's truly ALL I wanted.
.
So, she prescribed me a very low dose of Zoloft (25mg), with instructions to start taking it 2 weeks BEFORE my due date so it would already be in my system when the baby arrived.
She said she couldn't be positive it would work completely (hormones after delivery are SO crazy), but it would certainly be better than the boys' deliveries when I didn't start taking it until after they were born.
And of course, I never took anything with Nora — so I basically felt horrible the first 2 years of her life!
.
Since Clara was born a week late, the medication was in my system for 3 full weeks before she was born… and I can honestly say this time around was a 180-degrees different than with any of my other 3 babies.
It was amazing!
I was so happy, so calm, so collected, so relaxed.
And… I never shed even one tear!
Of course, now I actually feel a little teary-eyed just thinking about how happy I was in the picture above, and how happy I am that I finally got to take my sweet baby home from the hospital without crying!
The nurses thought this picture was so cute (because of my "home" t-shirt and the fact we were going home — yes, I planned it!) They asked if I had taken the same picture with all my babies… Dave and I just looked at each other and grinned.
With my other babies, I had all I could do to make it out to the car without attracting unwanted attention due to my puffy, swollen eyes (not from pushing so hard, but from crying). Though no part of me wanted to be unhappy, I always cried, starting exactly 24 hours after delivery until roughly 3 days after I got home.
For a very unemotional person like myself, it felt so foreign, especially when I was supposed to be happy.
So here we are, 7 months later, and just as happy!
Of course, it helps that Clara is a rock-star sleeper and relatively happy all day long. But I have no doubt in my mind that taking the medicine a few weeks early was the only reason I brought Clara home from the hospital tear-free.
Six weeks after giving birth, I stop taking the Zoloft and I'm "back to normal" again!
It's just the craziest thing, and it certainly makes me appreciate modern medicine so much more.
Happy (truly happy) 7 months, sweet little girl!