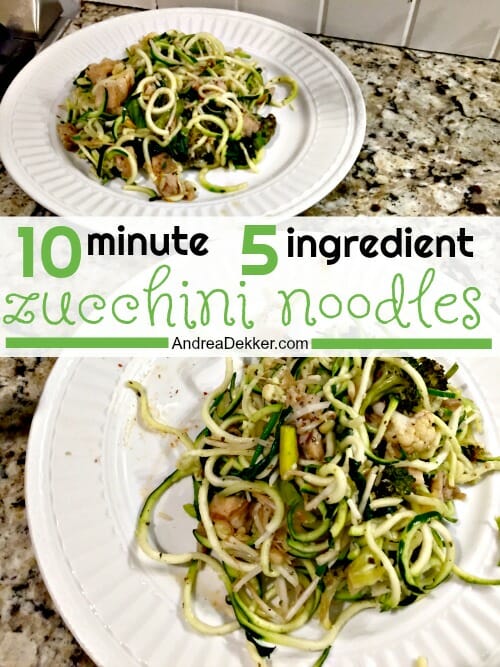 A couple weeks ago, I shared a post about general tips for making, cooking, eating, and storing zucchini noodles (a.k.a. zoodles).
I also mentioned how much Dave and I really enjoy eating these yummy, low-carb, high-fiber noodle alternatives in many of our favorite pasta dishes.
And it's true — zucchini noodles are FANTASTIC with any of your favorite store bought or homemade marinara, meat, Alfredo, pesto, or cheese sauces. So if you want something REALLY simple, just cook the zoodles as I mentioned in this post and top them with whatever sauce you use for eating regular pasta.
DONE!
.
However, if you're looking for another very simple, very basic recipe that is slightly different than most traditional pasta recipes, I'm sharing that today!
Dave and I have eaten this exact recipe (along with many slight variations) more times than I can remember — and every time, we just can't believe how tasty and easy it is.
Plus, the leftovers are fabulous for lunch the next day — which is a huge bonus in my book.
NOTE: This is the spiralizer we use.
10 Minute, 5 Ingredient Zucchini Noodles:
serves 2
INGREDIENTS:
2 T. olive oil
1 t. minced garlic
2 small-medium zucchini, spiralized
2 c. fresh spinach
1/4 c. Parmesan cheese
salt and pepper to taste
Optional Add-ins
Grilled, roasted, sautéed, or steamed veggies
Grilled chicken cut into bite-size pieces
Small bacon pieces or cooked and crumbled sausage
Bean sprouts (or any other sprout)
Your favorite fresh or dried herbs
Cherry tomatoes
Canned or roasted artichokes
Pesto sauce
Pine nuts or sunflower seeds
DIRECTIONS:
Heat oil in a large frying pan. Stir in garlic until fragrant over medium heat.
Add zucchini noodles and spinach and cook, stirring regularly, until spinach is wilted (3-5 minutes).
If you want to add any of the extras I mentioned above, add those after about 2-3 minutes of cooking.
Remove from heat, add Parmesan cheese, and season with salt and pepper to taste.
Serve with roasted vegetables, grilled chicken, burgers, steak, salmon, pork chops, or almost anything else!
.
That's it — literally less than 10 minutes from start to finish; and yes, that's even including the 45 seconds it takes me to spiralize my zucchini!
This basic recipe is so quick and easy, and is a fabulous side dish for almost any type of meat.
However, as I mentioned above with the "additional mix-ins", it can quickly transform into a fantastic main dish if you throw in a little grilled meat and/or pre-cooked veggies — which is often how I use up any of our leftover roasted vegetables (roasted broccoli, cauliflower, asparagus, peppers, and zucchini pair really well with zoodles).
So far, I haven't tried freezing the zoodles (we never have enough leftover!) but I'm told it works just fine.
Also, for those of you who aren't quite ready to invest in a spiralizer, you can buy pre-spiralized zucchini in most grocery stores now. It's much more expensive than making it at home, but it might be a good way to test your tastebuds to see if zoodles are really something you and your family will eat!
Based on how popular spiralized veggies are right now, I have a feeling many Italian restaurants will start serving zoodle options (with an up-charge, I'm sure). Who knows, maybe they already do and I just don't get out enough!
If you have a really great zoodle recipe or tip, leave it in the comments!
And as always, visit my virtual recipe box for more simple, delicious, family friendly recipes!