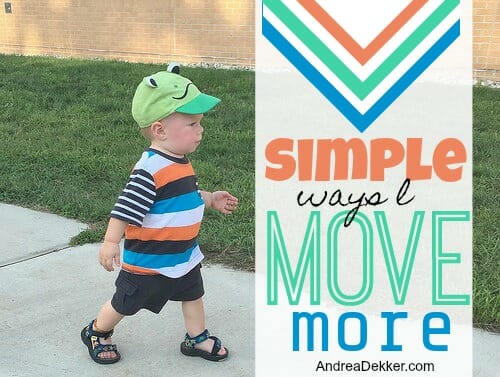 I recently heard someone in the medical field say, "sitting is the new smoking" in response to a question about our culture's sedentary lifestyle — I instantly knew I wanted to remember that phrase.
Sitting is one of those things that seems harmless now (after all, we're just relaxing), but 20 or 30 years down the road, we'll finally realize how detrimental our sedentary lifestyle was for our physical health and wellbeing.
And just think how much we sit every day!
On our commute to and from work
At our desks at work
In meetings
On our breaks and at meal times
When we get home (because we're tired and "just want to sit down")
After the kids are in bed, scrolling through social media on our phones
Watching our favorite shows at night
At the computer until we finally head off to bed
Whether we realize it or not, our lives tend to be very sedentary (especially compared with past generations).
.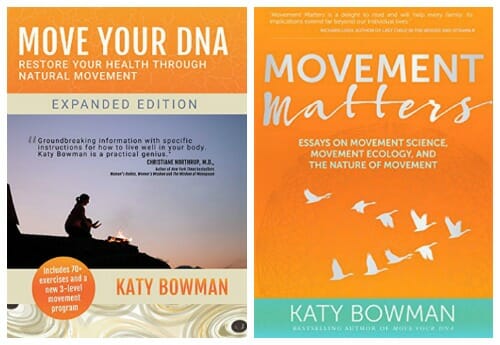 Awhile back, I checked out a couple "movement books" from our local library — NOT in an effort to lose weight, but simply to learn about living more healthily.
Movement Matters: by Kathy Bowman
Move your DNA: also by Kathy Bowman
I'll be honest, I only skimmed through each book — but I truly gleaned so much helpful and interesting information just from skimming, and (best of all) I realized I have been doing several things she suggests in her books for many years of my life. Yahoo!
One thing that really caught my attention was the concept that regular movement throughout is thought to be even more beneficial for our physical health than shorter bursts of rigorous exercise in the middle of an otherwise largely sedentary day.
For example, someone who simply chooses to take the stairs instead of the elevator, do a little stretching throughout the day, and walk a loop around their neighborhood in the evening could be doing just as much good for their bodies as someone who goes for a rigorous run after sitting all day at work and then sitting all night watching TV.
This is great news for those of us who don't particularly love to exercise! 🙂
Although I know there are many health benefits from more rigorous exercise, I also realize that fitting 30-60 minutes of cardio or strength training into each day (and then cleaning up from being all sweaty) is completely unrealistic for many people… me included.
So no, I'm not going to pressure you to join a gym, exercise every day, or even really DO all that much.
I'm simply going to encourage you to take a few minutes (literally 3-7 minutes) to MOVE MORE.
Here are a few ways I move more each and every day… no workout gear required!
Oh, and I really want to reiterate that the movements I share below are in NO WAY my attempts to lose weight — I simply want to stay active to keep my body healthy and well.

If your goal is to actually lose weight or shed inches, you'll want to focus on cutting calories and doing more rigorous exercise (along with regular movement throughout the day).
1. I play with my kids.
OK, so I get an easy pass on this one because not everyone has the opportunity to act silly with little kids and pass it off as movement!
My kids ALWAYS want to run, walk, jump, swing, ride bikes, etc. so I'm instantly the "fun mom" if I jump on the tramp with them, chase them around the driveway while they ride their bikes and I push the stroller, swing with them, play tag, or take them on a walk.
Even if it's just in 5-10 minute spurts of time (I seriously only last 5 minutes on the tramp!) it's still a great way incorporate so much movement into my day.
2. I stretch regularly.
I've been an advocate for daily stretching ever since I played sports in college… and I almost always do several minutes of stretching every single day — often multiple times a day.
I try to stretch my legs and back well before I go to bed (I have restless legs and this seems to help). I also do a few stretches after I wake up in the morning, and periodically throughout the day if I feel like I've been sitting too long.
Not only do they help get my blood flowing again, they increase my flexibility, they help me relax, and they feel SO GOOD!
3. I do squats or lunges in the shower.
I know this might sound super silly, but I feel less "guilty" about taking a nice long, steamy shower if I'm moving a little bit.
So I do a few lunges, squat for 20-30 seconds, sometimes even do a few wall pushups or calf raises, all while hot water pours down my back — it's practically like a spa! 🙂
4. I do 25 jumping jack regularly throughout the day.
This is another crazy one, but several times throughout the day, I'll simply stop what I'm doing and do 25 jumping jacks.
The kids think it's hilarious and usually want to join in on the fun (although it often makes James cry since he can't do jumping jacks yet!)
My jumping jacks are especially helpful during the colder months as they warm me up too!
5. I multi-task during sitting activities.
It is very rare that I just sit for the sake of sitting — I know this might make me sound a little high-strung, but I'm just not a big "sit and relax" type of person.
If I decide to watch anything on TV or Netflix, I use that time to fold laundry, stretch, do jumping jacks, or do my physical therapy exercises on the living room floor. If I'm working on my computer, it's not uncommon for me work while sitting on an exercise ball. Even when I'm riding in the car, I usually flex my legs and ankle muscles to keep from getting stiff.
In fact, now that I think about it, some of the only times I just sit without movement are when I'm feeding Clara or reading books to the kids.
I'm certainly not saying you should never sit back and relax, but rather, see if you can still find ways to move during sitting activities.
6. I walk or bike most places during warmer weather.
Due to my natural quest for productivity and desire to cross things off my list, it's difficult for me to be willing to work any time for dedicated exercise into my days (especially since I don't enjoy exercise). Instead, I make it my goal is to walk or bike anywhere we can walk during warmer weather.
We are fortunate to live super close to the library, Nora's school, the bank, the post office, the hardware store, the dollar store, the thrift store, our dentist office, several parks, a handful of restaurants, and even a small grocery store — so the kids and I bike or walk daily during warmer weather.
I feel good about it because I'm crossing to-do's off my list at the same time, and the kids love an excuse to ride their bikes fast or stay back and actually walk next to me.
Coordinating a productive walk with multiple small children can be tricky, but right now, we can usually walk during Clara's nap as she loves to sleep in the stroller, or I wait until Dave is home and go for a bike ride with the older kids.
I know I could add more to this list, but in my opinion, these are all very simple ideas almost anyone could try — no matter your age or physical abilities.
Here are a few other ideas I don't personally do right now — but they might get you thinking:
take the stairs instead of the elevator
park at the far end of the parking lot so you need to walk further
stop your cab a few blocks from your destination if the weather is nice
walk laps around your office during break or lunch
if you have an office job that requires lots of sitting, set your timer to beep every hour and use that alarm as an opportunity stand up, stretch, and move for a few minutes
ask for a standing workstation at work (or put one in at home)
Even if you have no desire to exercise, there are still plenty of ways you can move more.
How do YOU move more?